Footy club pulls socks up for Red Shield Appeal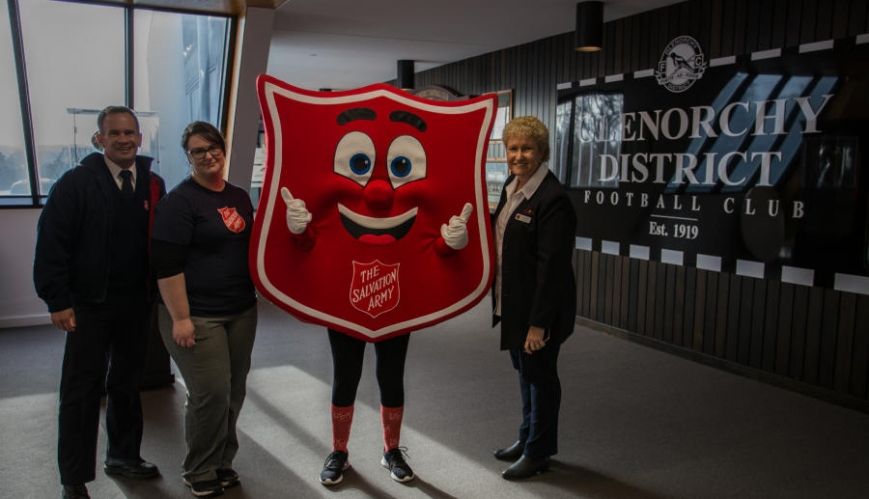 Footy club pulls socks up for Red Shield Appeal
31 May 2019
'Shieldy', complete with Salvation Army socks at the Red Shield Appeal charity match at Glenorchy Football Club, with Major Brad Watson and Captain Jacky Milkins (left) and Divisional Commander Captain Kim Haworth (right).
By Jessica Morris
An Australian Rules football club in Tasmania is spreading The Salvation Army message of hope on and off the field.
Glenorchy District Football Club in Hobart's northern suburbs has partnered with nearby Moonah Corps for the past seven years, promoting the Red Shield Appeal throughout the month of May.
Each year the campaign culminates with the Red Shield Charity Game, where a special luncheon is held and players from the Glenorchy Magpies team wear red socks in honour of The Salvation Army.
"People in this community are working class, and local football is really big here because there isn't a Tasmanian AFL (Australian Football League) team," said Captain Jeff Milkins, the Moonah Corps Officer.
"The club is a great supporter of The Salvation Army and plays a pivotal role in giving young people something to get behind and be a part of in this community."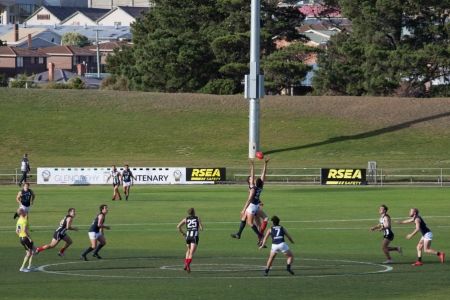 Players showed off their Salvos socks during the game.
The match this year was on Saturday 25 May, with about 700 people turning up to watch Glenorchy play against Launceston. Encouraged by the appearance of 'Shieldy', The Salvation Army Red Shield Appeal mascot, supporters donated more than $1200 at the ground.
"The club is a huge supporter of our efforts over the whole month of May," said Captain Milkins. "It is a fantastic partnership with a key local organisation within our community."
Hobart is experiencing a housing crisis, with 57 per cent of the state's homeless population finding shelter in the capital and north-east suburbs, according to the 2016 census.
Moonah, Hobart, Derwent Valley and other corps in the Hobart area see the consequences of this first hand, with many young people also experiencing issues with addiction and social isolation.
When Moonah Corps relocates to its new premises in September, the corps will be just 300m from the football club, which will further strengthen the bond.
"The club is a beacon in the area and something the whole community can get behind. Like us, they are here to give people hope," said Captain Milkins.