'First floor' journeys on display during exhibition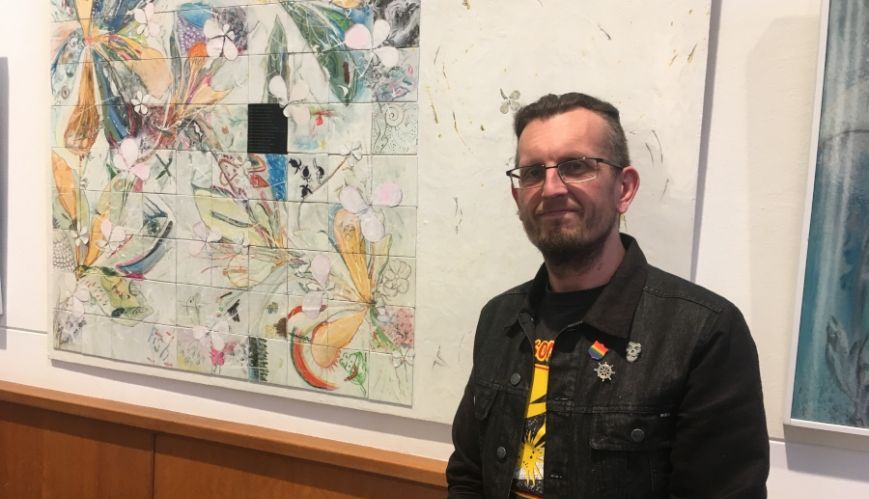 'First floor' journeys on display during exhibition
18 June 2019
Psychologist Maris Depers with one of the artworks featuring in The Salvation Army First Floor Program art exhibition at Wollongong Art Gallery.
By Lauren Martin
Artworks from participants of an innovative Salvation Army support group in the Illawarra region of NSW are on display during a public exhibition at Wollongong Art Gallery.
The Salvation Army First Floor Program, which operates on the first floor of Wollongong Corps, is a holistic, community-based drug and alcohol service supporting and empowering families and individuals impacted by substance abuse, mental health issues, grief and loss.
The program has been assisting families in the Illawarra for more than 20 years and its programs and model of 'Family Empowerment' are offered at various locations in NSW, ACT and Queensland.
The program runs various support groups utilising art as therapy. First Floor Program psychologist Maris Depers said the exhibition was curated for the Wollongong Art Gallery through connections with a local artist Gennifer Anderson. 
"We've been using art for over a decade in our support groups to help give people a way to express their inner world and allow others into their inner world or to capture a journey or an experience," said Maris.
The exhibition features artworks, collected by the First Floor Program over the past 10 years, that encapsulate the personal journeys of program participants.
"People will be granted access to some really deep and personal aspects of the creators' lives," said Maris. "Some of the works tell the stories of traumatic events that police have attended in the community, that have left an imprint on them.
"Visitors will also get to meet some of the people that we've not met, that have died by suicide, whose families have been connected to us. You get to know a little bit about their life story as you interact with it.
"They will also get to see and maybe understand a little bit about what it's like to have a loved one in jail or parole. It will be a very emotive and evocative kind of exhibition, but hopefully one that just helps everyone to gain a bit of insight and helps to show the place of creativity in healing and expressing emotion."
The exhibition, titled 'To Everything There is a Season', has been made possible by a Wollongong City Council Wards Based Arts Grant. It is showing at the Wollongong Art Gallery until 23 June.