A fresh perspective in Colac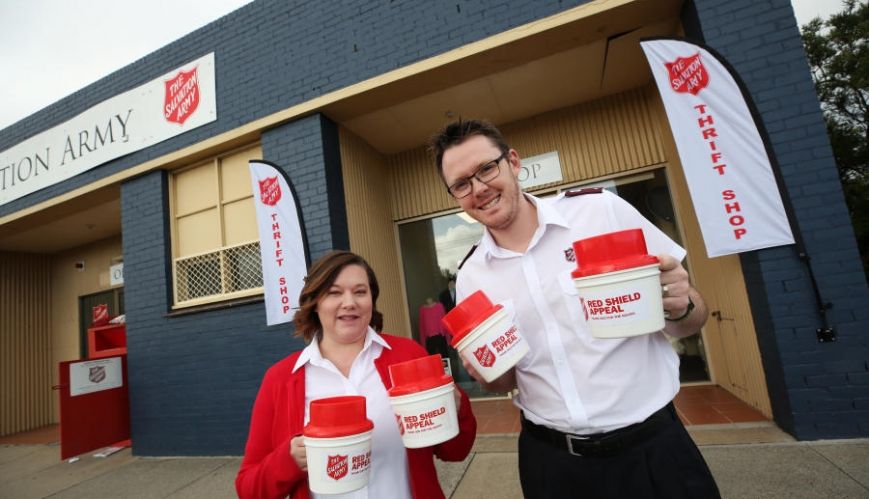 A fresh perspective in Colac
21 June 2019
Colac Corps Officers Keryn and Aaron Coombes collecting for the Red Shield Appeal outside the town's Thrift Shop. Photo: Tammy Brown, courtesy of Colac Herald.
By Jessica Morris
Lieutenants Aaron and Keryn and Coombes are 'looking for young blood' to revitalise the small Colac Corps in Victoria's Western District.
Fresh out of college, the Coombes were appointed to the rural corps this year and quickly identified what they had in common with the local community – a fresh perspective.
"Colac is exploding with lots of young families who have moved from Geelong. Some have lived here for five years and are struggling to fit in," said Keryn.
"We're looking for young blood to dream about the community ... we are very excited!
"We wanted to [create a space where this] community can just be together and dream about what we can do in Colac."
Their first port of call was to use Facebook to instigate a playgroup for the young families in the area. An 'Evangelism Grant' from the Victoria Division assisted in getting the playgroup started. 
"We had 32 expressions of interest, and 35 people turned up to our latest session," said Keryn. "People want to find a group of friends, and with our new playgroup we are starting to see needs being met."
Colac, which is located 70km south-west of Geelong, has a population of about 20,000 but is expected to grow by several thousand in the next 30 years. Keryn said the corps was already feeling the effects of this growth, particularly an increase in people experiencing homelessness.
The playgroup is just the start of a multi-faceted community approach, which includes giving the Thrift Shop a facelift, focusing on community services and partnering with schools.
It's a tough job, but there's no doubt the Coombes' are up for the challenge. With fire in their blood and determination in their bones, they are ready to revitalise Colac one life at a time by using a domino effect.