Celebrating decades of college childcare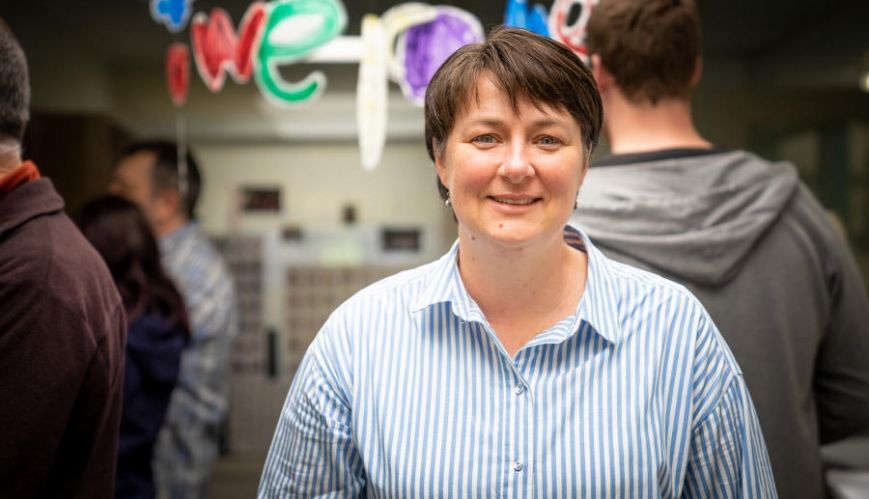 Celebrating decades of college childcare
2 July 2019
Booth College Early Education Centre Director Tracey Robinson at the celebration day to mark the closure of the centre in Sydney's Bexley North. Photos: Lena Pobjie
By Lauren Martin
A celebration day has been held to mark the closure of The Salvation Army Booth College Early Education Centre in Sydney's Bexley North.  
The event was held at the college on Saturday 29 June with food stalls, a jumping castle, petting zoo and live entertainment honouring the positive impact the centre has had on the community over the past 39 years.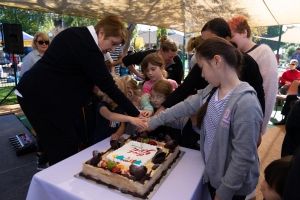 Cake cutting at the event.
The centre opened in 1980 when The Salvation Army Officer Training College relocated to Bexley North from nearby Petersham. At that stage, the centre catered only for the children of cadets and staff; however, it was opened up to the community as an official childcare provider in 1993.
Centre Director Tracey Robinson, who has worked at the centre since 1998, said it had been an honour and a privilege to care for children over the years, especially the children of cadets.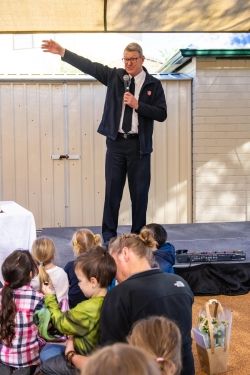 Colonel Mark Campbell speaks at the EBC farewell celebration.
"You're going on a journey in those two years with each cadet family," Tracey said. "Sometimes they're putting their children in care for the first time. They need to be confident that their children are going to be well cared for. That's been really important."
The centre also forged deep connections with the local community over the years, with children who had gone through the centre often returning for work experience many years later. 
Tracey knows first-hand the benefits of Salvation Army children's ministry. She calls herself a "bus-kid" – a child from the local area who was 'bussed' each week to Campsie Corps for Sunday school.  
"We didn't have a car," she said. "We had connections in our street with two Salvation Army families and we started catching the bus to Campsie Salvation Army… my brother ended up inviting so many other kids along that we had a full bus!"
Tracey went on to become a Sunday school teacher, section leader and then young people's sergeant major (YPSM) and is still a Salvation Army soldier.