Running towards a hope and a future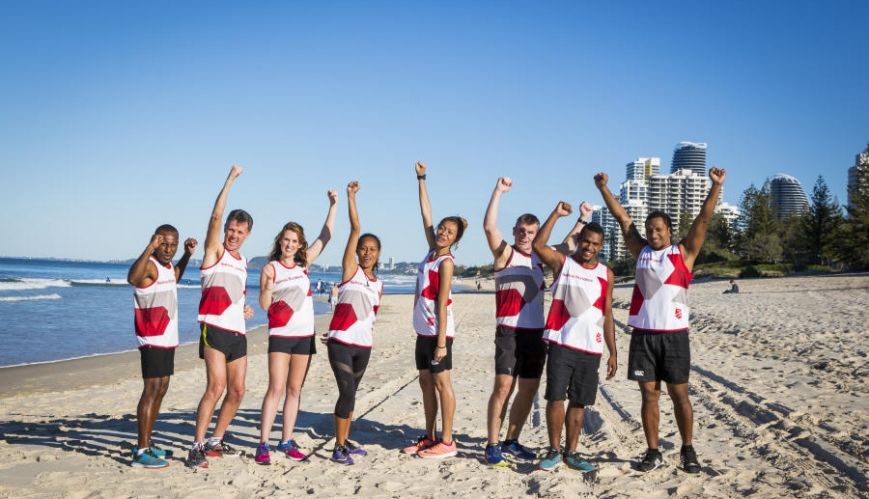 Running towards a hope and a future
3 July 2019
Participants in the Hope and a Future program do their final training on the beach for the Gold Coast Marathon.
By Simone Worthing
Nine young people from Papua New Guinea will run the Gold Coast Marathon this weekend as part of The Salvation Army Hope and a Future program.
The program, now in its sixth year, is modelled on four key pillars – faith, fitness, education and leadership. It aims to give young PNG nationals, identified as future leaders in their country, the opportunity to be mentored to help develop them into those future leaders in their corps, family, community and workplaces.
The young people train for and run the marathon with mentors from Australia along with two PNG nationals who are former participants in the Hope and a Future program.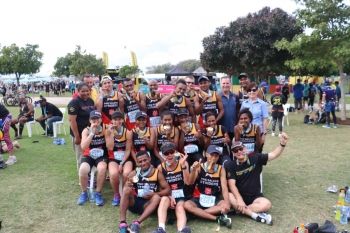 The 2018 participants and their supporters after the race.
The program has been life-changing for all participants, with many reaching educational goals that would not have been possible otherwise, and all growing spiritually in their leadership potential and in the ability to engage in the community and local church.
Families, corps and local communities are benefitting as a result as well.
Each year, the Australian mentors also say that this program is life-changing for them.
Two mentors – Captains Brad McIver and Krista Andrews – share some of what they have learned.
Captain Brad McIver
Mentoring for the fourth time, Brad says the Hope and a Future program is a "wonderful partnership" between the Australia and Papua New Guinea territories that creates a "deeper hope and a better future" for everyone involved.
"This is not about us doing something for or to others; we gain as much from the participants and local communities as they gain from us," he said.
Brad, who is a public relations secretary for The Salvation Army in NSW, explained that he tells the team what a blessing this opportunity is for them, but knows, too, that he is blessed from his involvement, including the time he spends in PNG.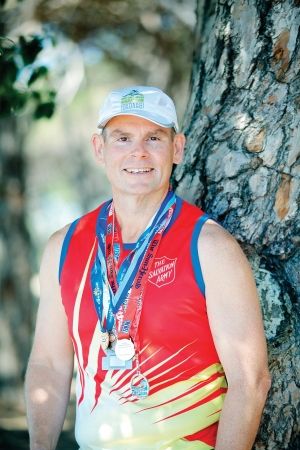 Mentoring in the program has changed Brad's life.
"I love coming to PNG," he said. "The noise of the Australian culture sometimes gets in the way of my relationship with God, and I celebrate with the people there (in PNG), that as individuals, as The Salvation Army and as a country, that they have a wonderful connection with God.
"Their culture, family structures and respect of elders is also something we can learn from.
"I come back a better person after every visit to PNG – a better husband, father, and deeper in my spiritual journey.
"I want my young-adult children to have an experience of the leadership, perseverance and commitment my friends in PNG have, and know it would stand them in good stead for the future. They are amazing, and I tell them that!"
Brad also spoke about several communities in PNG that are experiencing transformation through the program, particularly Boroko, a suburb of Port Moresby.
"We run a 3km loop around Boroko three times per week, and the whole community engages with us," he said.
"Only four years ago this felt very unsafe, but now, even though we're still aware of safety, the community comes out, says hi, asks us how we are, and run with us. This just wouldn't have happened before.
"The fitness program run by former Hope and a Future participants at the Hohola Corps in Port Moresby is also attracting many local people, so we are seeing tangible examples of change in people, families and the rhythm of the community."
Captain Krista Andrews
Krista, who is a mentor for the first time, says that being a part of this journey with the young people, hearing their stories and investing in the opportunities God is placing in their pathways, has been a "rich and beautiful" experience.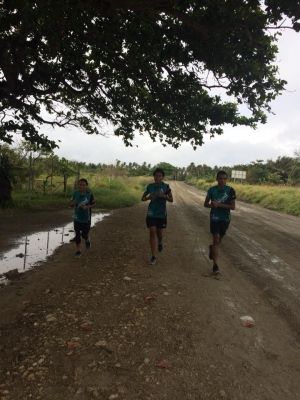 Mentors train with participants in PNG.
"Through the marathon, the local communities, and The Salvation Army, this is a spiritual journey," she said. "These learning experiences enrich all of us and enhance the lives we live from day to day."
Krista, Carindale Corps Officer in Brisbane, shared that her initial visit to PNG to train and mentor program participants was her first experience in a developing world setting.
She visited the little village of Lea Lea, one hour outside of Port Moresby, where The Salvation Army has a "strong expression of ministry" and works in "challenging circumstances".
"This village has no running water, but the people are hearty, joyful and innovative, building a healthy village of a considerable size where their young learn to read and write and where hope for the future is bright," she said.
"The corps officers were so proud of their place of ministry, the honour of this appointment, and I could sense from them the deep calling that we shared.  
"They had just completed a building project for $40,000 [Australian] and their corps stood proudly in the village as a significant landmark – a corps built by the very hands of its people – four pillars, strong roof and bare floor.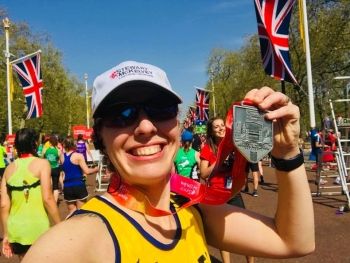 Krista was overjoyed to complete the London Marathon last year.
"I didn't walk away from Lea Lea feeling sadness, despair and guilt. I walked away with a deep sense of joy, hope and courage. I walked away celebrating humanity, the strength of the Papua New Guinea people and the diversity of people God created. I walked away with confidence that the God we serve is being proclaimed to all people through The Salvation Army in the most remote parts of our world.
"It's wrong to feel sad for them. What they have accomplished and have happening is amazing. I respect their culture, strength and courage, and they can teach us so much.
"There are many times when the developed world gets it wrong, and we have to keep that before us all the time, and not go to these places with the 'Saviour complex' (thinking we are responsible for, or destined to, save others).
"The marathon is about spiritual transformation and it's been a blessing to see this from a totally different perspective."