Indigenous congregation finds a home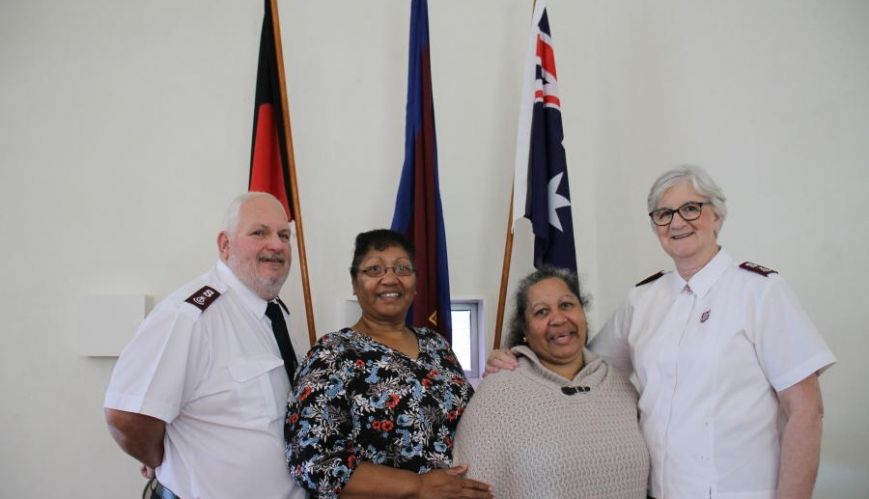 Indigenous congregation finds a home
8 July 2019
(From left) Major David Cook, Maryanne Roberts-Henderson, her sister Pastor Lois Johnson and Major Meryl Cook, unite in ministry.
By Kevin Elsley
A combination of God's voice, a serious flood and an Aboriginal memorial service has resulted in an exciting ministry for The Salvation Army in Lismore.
This is a story about how God can move in strange and mysterious ways to accomplish his purpose.
It began in May this year, with then Lismore Corps Officer Major David Cook standing at the audio-visual console at the rear of the corps worship centre, captivated by what was unfolding in front of him.
The hall was packed with people praising the Lord, singing and clapping, the like of which David had not heard during his and wife Meryl's time at the corps.*
"It was like The Salvation Army meetings I remember from my younger days, but these people weren't Salvationists, they weren't even members of the corps – they were from the local Aboriginal community, remembering one of their own, Greg King, an Elder who had died 12 months earlier," David said.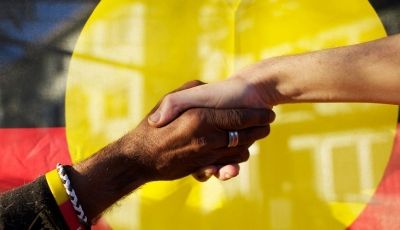 Working together for the glory of God.
Lismore Corps had built a good relationship with the Aboriginal community over the previous 12 months and David was seeking God's direction and his purpose for that relationship.
As David stood there, he heard God's voice: "These people need a place to worship."
David was introduced to the Aboriginal pastors after the service and shared with them what God had told him. They stood in silence with their eyes wide and tears starting to run down their cheeks.
"God spoke to you and told you we needed a place to worship?" they asked David again.
"Yes," he said.
"You mean God speaks to you?" they asked.
"Yes," he said again. "He's been doing a bit of that lately."
David was introduced to other pastors and Elders, who asked to repeat God's message.
"The message was sinking in and I was witnessing something wonderful unfolding before my eyes," he shared. "They were visibly moved and the Holy Spirit was doing his work."
Over the following week, David learned that this Aboriginal congregation had been disbanded after Lismore's major flood two years earlier, which had forced the congregation to vacate a building in the Central Business District they were using for worship.
A series of unsuccessful attempts to use other churches' facilities followed and after two years without a home, the Indigenous congregation's future looked bleak – until God spoke to a Salvation Army officer they had never met.
"A list of their activities – Sunday worship, prayer meeting, Bible study, women's fellowship, music rehearsals, youth group – sounded so much like one of our own corps programs," said David.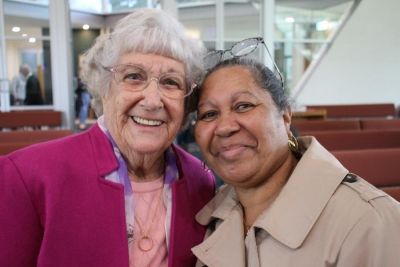 Lismore Salvationist Letty McCully reunited with Aboriginal Pastor Lois Johnson. 
"They even asked if their children could attend our Sunday school and the Kids Club on a Friday afternoon, and could their people also attend our worship if they wanted to?
"If excitement is a measure of blessing, then I was being blessed. It was an easy decision to open our building for them."
The Aboriginal congregation is known as Arising Ministries and is settling in well at its new 'headquarters'.
There is a message on the foundation stone in front of the Lismore Corps building that says, "Opened to the glory of God". Surely God is being glorified in the use of the building by Arising Ministries!
In a touching postscript to this story Lois Johnson, a senior pastor with Arising Ministries, and her sisters, attended Sunday school at the Lismore Corps and learned to play the timbrel 50 years ago! Lois and her sisters were reunited with the two surviving teachers, including Salvationist Letty McCully, during a recent corps worship service.
"How little we know of the working of the Holy Spirit in the lives of those we teach as little children," David said. "And how wonderful it is when we see the evidence of the working out of God's plan.
"I have learned to trust God and to follow his instructions for both my personal life and in ministry. I cannot find the words to adequately explain my continued amazement at the way God works."
 * Majors David and Meryl Cook retired on 1 July.