Canberra couple answer Cooma calling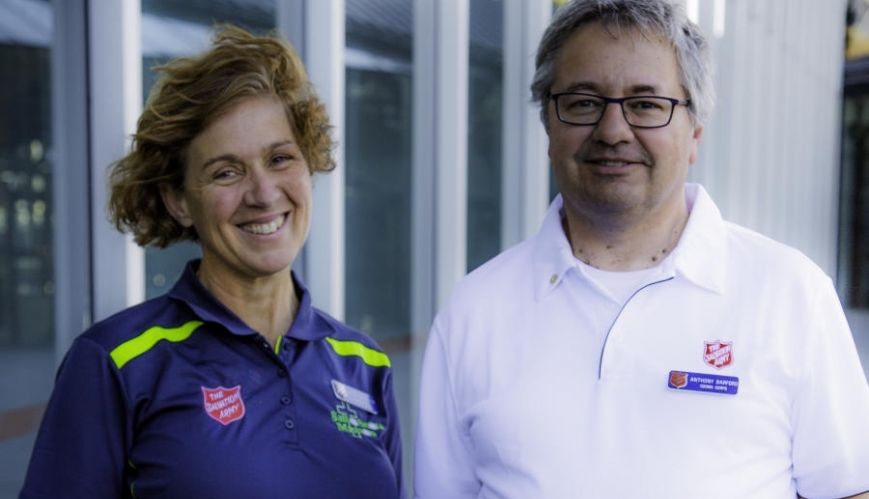 Canberra couple answer Cooma calling
11 July 2019
Salvation Army soldiers Sandra Mortimer and Anthony Barford lead the Army's mission and ministry in Cooma, southern NSW.
By Lauren Martin
It's mid-winter and each day a steady stream of cars flows through the southern NSW town of Cooma on their way to the snowfields.
Many, however, will stop at The Salvation Army's massive Family Store on the highway to browse and look for a bargain.
Greeting them is usually Sandra Mortimer, the leader of The Salvation Army work in Cooma, or Store Manager Ingo Muschinski and his team of volunteers.
The store is one of the many connection points The Salvation Army has with the community. Until recently, Sandra's husband, Anthony Barford, worked down the road at The Salvation Army E-Plus centre. He often linked community members with the Family Store for volunteering experience or other assistance.
It's been a whirlwind 12 months for Sandra and Anthony, who met later in life and don't have any children. A little over a year ago, they were working in steady public service jobs in Canberra. They attended Tuggeranong Corps in Canberra's south, and held leadership roles. They both, however, had a sense that change was imminent.
Cooma was a corps without officers and The Salvation Army was looking for lay people to take over mission and ministry in the town. Sandra and Anthony knew this was where God wanted them.
"We both got to a stage in our careers that we were hitting up against a wall," Sandra says. "It was a combination of me having an opportunity to do something that's been in my heart for many decades."
It was a calling to full-time ministry with The Salvation Army that Sandra had felt in her youth, but one that, for various reasons, she hadn't actioned. Decades later, when the opportunity arose, Sandra and Anthony grabbed hold of it with both hands. They have settled into Cooma and even expanded their family with two little 'fur babies' – brown Labrador pups that aren't so little anymore!
Sandra oversees the corps and mission in Cooma. "The Family Store is the largest ministry expression," she says. Partnerships are also being made with local churches and other community organisations. The Salvos assist with a community-run cafe for disadvantaged youth and also run a weekly breakfast club at the local high school.
"Both of us are passionate about social services," Sandra says, with the majority of their careers in high-level government social service delivery. "We strive for excellence when it comes to helping other people. We want to be able to ensure that there is a stable, safe way, particularly when it comes to helping disadvantaged people."
Sandra concedes she and Anthony stand on the shoulders of 'giants' in taking over leadership of The Salvation Army in the area. "So many generations of Salvationists remember Cooma … my family remembers 'Camp Cooma' [Salvation Army land in Cooma was used for youth camps and youth ministries in the 1950s to 1970s, and from the early 1980s the land was used for women's retreats and family retreats].
"So, we really do stand on the legacy of some wonderful people here in ministry in Cooma – a wonderful location with associations as a place of holiday camps, and of peak spiritual experiences, as well as strong community connections within the town itself."