New territorial leaders put Jesus at the helm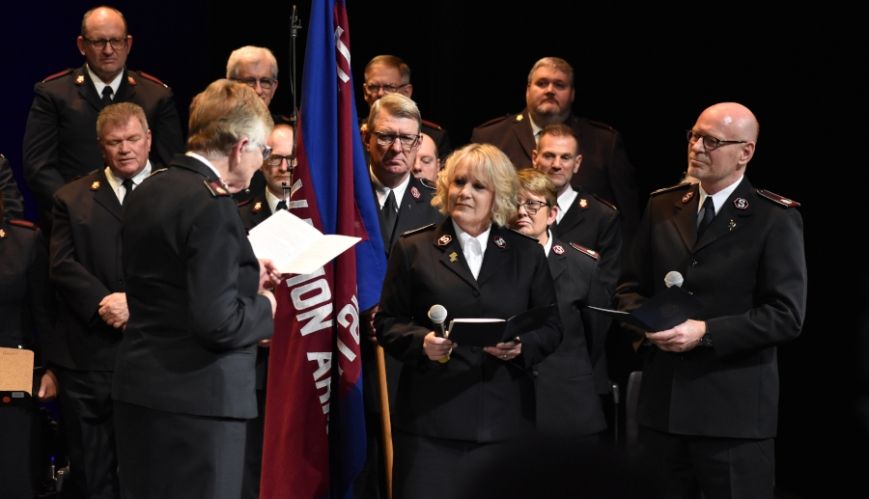 New territorial leaders put Jesus at the helm
15 July 2019
Commissioner Lyn Pearce (left) installs Commissioners Janine and Robert Donaldson as leaders of the Australia Territory yesterday. Photo: Steph Glover
By Lieutenant-Colonel Laurie Robertson
Holy living, authenticity, wholeheartedness, attention-catching difference, delivering on the vision, mission and territorial values combined with total consecration of ourselves to God were some of the repeating themes of the welcome and installation meeting for the Australia Territory's new leaders, Commissioners Janine and Robert Donaldson, on Sunday 14 July in Melbourne.
"When people interact with Salvos they should notice a difference. We represent the King of kings and Lord of lords. Our behaviours and interactions should be of a quality and standard that is pleasing to God and noticeable to people," Commissioner Robert Donaldson emphatically stated. "It is not just about what we do but how we live."
While the meeting was focused on the Donaldsons, the commissioners quickly reframed it to be centred on Jesus Christ and how Salvationists, employees, volunteers – Salvos – can be used to transform Australia.
During an engaging interview with Anna Goodluck and Auxiliary-Lieutenant Adam Purcell, Janine and Robert shared openly about faith and paralleled the Australia Territory journey to the journey of the Hebrews with God.
Giving a fresh perspective of the coming together of the two former territories, the Donaldsons linked the God-given purposes to the Jewish nation with his purposes for The Salvation Army in Australia. 
The official installation, conducted by Commissioner Lyn Pearce, was also totally focused on God, concerning Janine and Robert's relationship with and responsibility to him. This involved their personal accountability to God for their spiritual condition as well as the wider charge for them to lead The Salvation Army in Australia.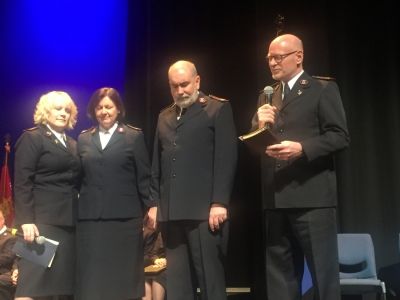 The newly installed territorial leaders pray for Colonels Robyn and Wayne Maxwell.
Prayer was pivotal throughout this welcome meeting, including when Janine and Robert acknowledged and prayed for Colonels Robyn and Wayne Maxwell (pictured right). The Maxwells leave for International Headquarters soon to take up leadership roles for the South Pacific and East Asia Zone of The Salvation Army.
Highlights of faith-centredness were many. Janine recalled how God had deeply impacted her when they were in Melbourne last year for Still Others (before they knew of their appointment as leaders in Australia). She said, "When so many people gathered around the map of Australia during the final Still Others meeting I was so moved and I still get excited about it now. It gave me an image of lives being saved and transformed throughout this large country."
A key call by Janine and Robert was that we must not lose focus or become distracted in carrying out the vision and mission that has been articulated for the Australia Territory – we must live it and do it.
Their call echoed what Captain Stuart Glover stated in his Acknowledgement of Country at the beginning of the event. He presented the Donaldsons with The Salvation Army reconciliation painting and outlined how it all focuses on Jesus and how we then spread his message together throughout the nation.
And the welcome video compiled from around the nation certainly brought home the message to Janine and Robert that they are well and truly welcomed.