Chinese community strengthens links with Salvos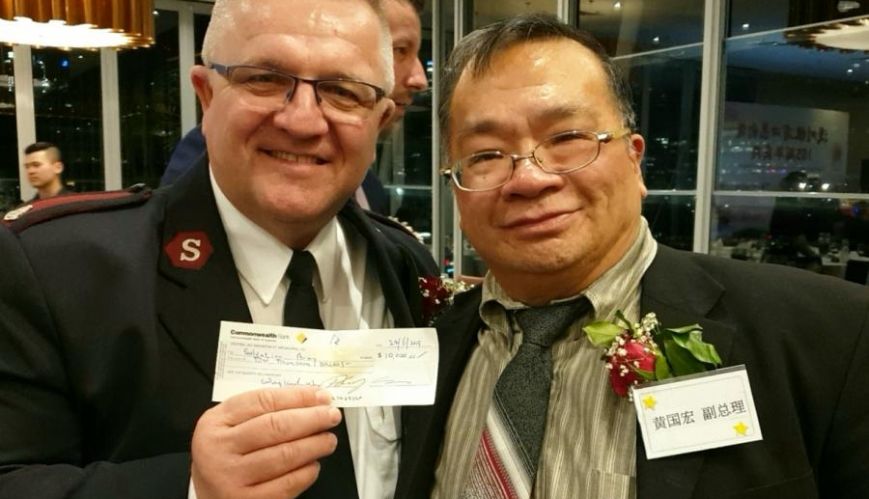 Chinese community strengthens links with Salvos
19 July 2019
Salvation Army Public Relations Secretary Major Bruce Harmer and See Yup Society treasurer John Wong at the society's 165th anniversary dinner.
By Jessica Morris
The Chinese community in Melbourne has again thrown its support behind The Salvation Army, donating $10,000 through the See Yup Society.
The Salvation Army was one of three organisations to receive a donation from the society at its 165th anniversary dinner.
"See Yup Society is the oldest and longest-running Chinese community organisation in Australia," said Leanne Wong, The Salvation Army Relationship Manager for the Multicultural Community. "It was formed to support migrant workers during the gold rush [1850-60s]. They like to give back because they know what it's like to struggle and see the need to support people facing difficulties."
Major Bruce Harmer, Public Relations Secretary for Victoria, accepted the cheque on behalf of The Salvation Army and thanked the society in Mandarin for its ongoing support. It is the fourth year the See Yup Society has donated to The Salvation Army to support its work with vulnerable people in the community.
"Attending events like the See Yup Society celebration are a stepping stone to forge lasting relationships with the Chinese community," Bruce said.
"As we continue to develop our relationships, we will also need to create more opportunities for the Chinese community to engage in tangible and practical ways through our local mission expressions.
"We are well on our way towards deeper engagement and will continue to work as closely as we can with our brothers and sisters from the Chinese community."
More than 200 Chinese community leaders witnessed the presentation, including Gladys Liu MP and Long Zhou, Consul General of the People's Republic of China in Melbourne.
"The Chinese population is growing – in Melbourne there are about 360,000 Chinese," said Leanne. "The Salvation Army is not familiar in this community, but we are making inroads and enjoying the support we are receiving."