Special guests to celebrate with Taree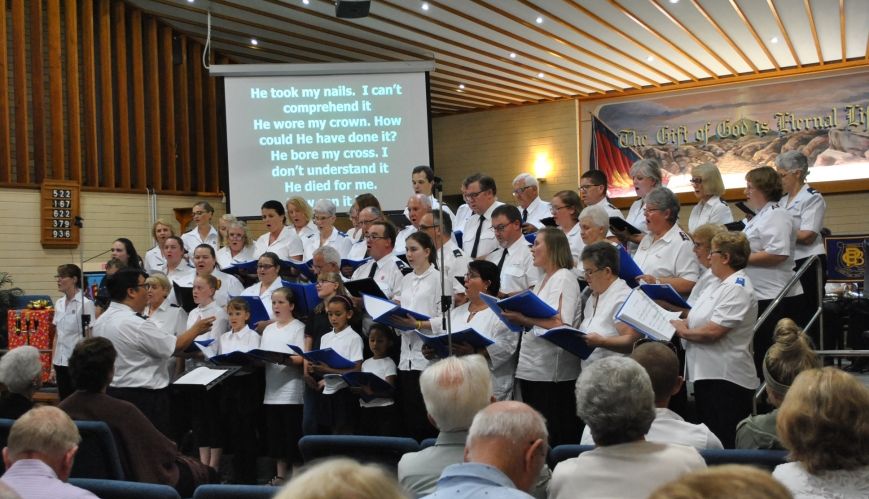 Special guests to celebrate with Taree
22 July 2019
Parramatta Songsters and Taree all-age choir perform together.
By Scott Simpson
Taree Corps, on the Mid North Coast of NSW, will mark its 130th anniversary early next month with a weekend of celebration.
Former Taree Corps Officers Majors Rodney and Leonie Ainsworth and the Sydney Staff Songsters will be the guests for the official anniversary weekend on 3-4 August.
"This occasion will be an opportunity to remind us of the great things God has done in and through Taree Corps throughout its 130 years, and also to look forward in faith to 'greater things' that he will do," said current Taree Corps Officer Major Sandy Hogg.
The corps has already held a number of significant events as part of a year of anniversary celebrations.
In March, the band, songsters and youth timbrellists from Parramatta Corps visited Taree. Among the events were an outreach at the local Bunnings featuring Parramatta band; the songsters joining Taree's all-age choir for a workshop led by songster leader Tannie Kwong; and an evening concert which featured musical presentations from the visiting groups.
Sunday morning worship, under the leadership of the band and songsters and which included a message from Parramatta Corps Officer Major Grant Sandercock-Brown, focused on Taree's theme for their anniversary year, 'Greater Things'.
A month later, the Sydney Veterans Band was the special guests at Taree. They also entertained and encouraged shoppers at Bunnings, before presenting a Saturday evening concert that was a celebration of brass music.
The Veterans Band also led Palm Sunday morning worship, before the weekend concluded with a Hymn Fest afternoon featuring the band and an Easter segment presented by Manning Valley Christian Choir.