Italian food on the menu at Nambour Corps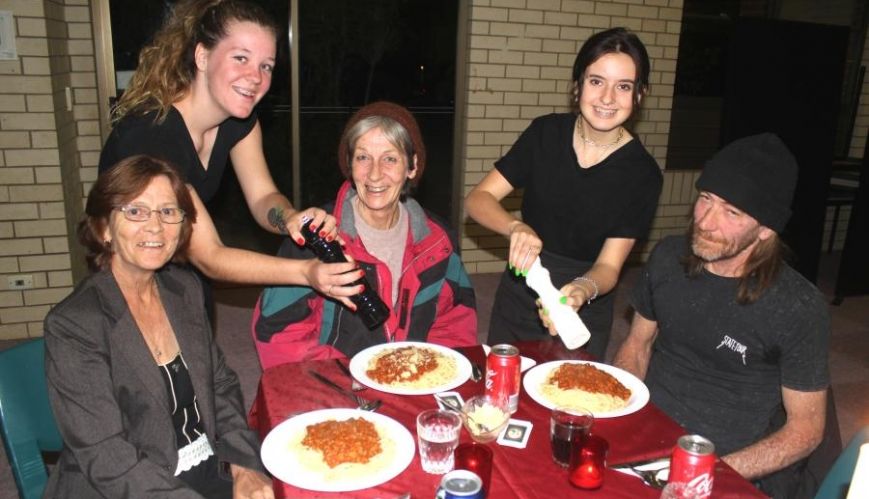 Italian food on the menu at Nambour Corps
23 July 2019
Lily Leacy (standing, left) and Samara Frederiksen, serve an authentic Italian meal from Cappriccios to (from left) Beverley Conway, Jackie Graham and Al Byrnes during a special community event at Nambour Corps. Photos courtesy Richard Bruinsma, Sunshine Valley Gazette.
By Simone Worthing
Cappriccios pizza restaurant has brought a taste of Italy to the Sunshine Coast's Nambour Corps to give people doing it tough a special night out.
Cappriccios owners, Tamara Leacy and Dom Venditti, with their team, recently provided a pop-up restaurant experience with authentic Italian food, table service and live music to more than 30 people connected to The Salvation Army.
The diners were people who are experiencing homelessness, who come from situations of domestic violence, are on low incomes, are chronically unwell, isolated or lonely.
Tammy and Dom reveal the donated winter items for customers.
Tamara and Dom also brought new scarves, beanies, woolly socks and blankets, donated by the community in nearby Maleny, where Cappriccios is located, to give to the guests.
"We wanted to be able to spread some warmth and love to those in need this winter," Tamara said.
"We didn't want to just make up meals to give to Salvation Army clients, but wanted to organise an evening, just like going to the restaurant, with friendly staff serving a hearty three-course meal at tables, with live music to set the mood."
Cappriccios' regular musician, John Mays, provided the music.
The staff, and John, all volunteered their time for the night.
"This really was an exchange," said Tamara, after the event. "Seeing the joy of the customers, and hearing the stories – one couple hadn't been out for 12 years, and one mum with her children had never been to a restaurant – this just filled us up."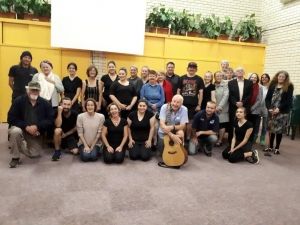 Cappricios staff and happy diners after the meal (corps photo). 
Nambour Corps community worker Rosemary Campbell said Tamara, Dom and their team gave everyone a wonderful night out.
"It was just fantastic, a really lovely and enjoyable time," she said.
"The volunteers serving the meal sat and chatted with the guests, danced with the kids, and just made everyone feel so special.
"It was wonderful to see the excitement in the room, people connecting with each other and sharing their stories, and to hear laughter and singing."
Cappriccios plan to work with Nambour Salvos again, although, as Tamara says, they're not sure yet what that will look like.
Rosemary Campbell (centre) chats with clients. 
"It's rewarding for everyone, and we're happy, also, if anyone wants to collaborate with us," said Dom.
Nambour Salvation Army is making a positive difference to many local lives – as well as the lives of those as far away as Caboolture and Gympie who travel to the former sugar town to get comfort and support.
Nambour Salvos quietly offers a range of services, from community support, counselling, financial advice and casework, through to free haircuts, free clothing and home bric-a-brac, free food and, perhaps most importantly, a free cup of coffee and sandwiches accompanied by a listening ear.