Homelessness goes beyond the classroom in Perth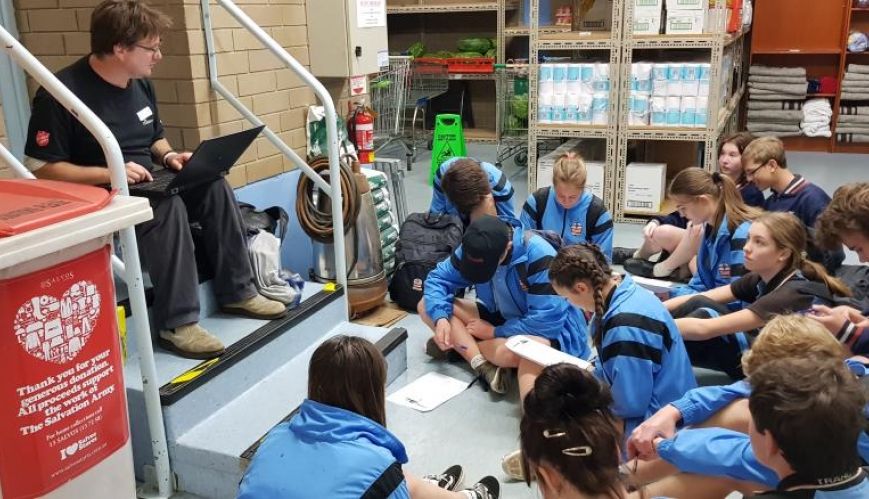 Homelessness goes beyond the classroom in Perth
28 July 2019
The Immersion Program is the newest addition to the WA Schools Program.
By Jessica Morris
"If you had nowhere to sleep for the night, what would you do?"
This is just one question students answer when they take part in Beyond The Classroom; the Salvo Schools Program, pioneered by the Western Australia Division.
More than 15,000 students from Busselton to Geraldton engage with the program each year, and the results speak for themselves.
"[Through the Immersion Program] we were able to get a valuable insight into the risks and potential affects of drugs and alcohol use, and the reality of financial pressures on many in society," said Bailey Thompson, a Year 10 student at Tranby College in Baldivis. [As well as] how these factors affect homelessness and how The Salvation Army is assisting those in need. 
"[It] was an insightful and eye-opening day. It made us realise how much we take for granted."
The Immersion Program is the newest addition to the WA Schools Program. Over three hours, they are taken through three Salvation Army service centres in metropolitan Perth – The Beacon, Bridge House and Doorways Perth. By asking students to fill out a series of questionnaires, the team gives them permission to walk in the shoes of the city's most vulnerable people.
"At the beginning of the tour students are given a fictitious scenario that has led them to experience homelessness and at each location students make decisions based on what they're facingm such as where to sleep and what to eat," said Darren Reynolds, Schools Engagement Coordinator.
"At the end of the tour we process their decisions and award them with an overall grade, with explanations as to why some decisions are more beneficial than others."
Traditionally, the WA Schools Program focused on fundraising, tours of Salvation Army centres, workshops and assistance with the Christmas Appeal. The program was rebranded in 2015 as 'Beyond The Classroom', allowing Darren, his team and local corps to take a more service-oriented approach to engage students from Year 1 to Year 11.
"We've seen schools commit to regular involvement with The Salvation Army's daily morning street outreach program, food preparation for a number of centres and other hands-on opportunities for students to assist with our mission," said Darren.
"Our hope, which is supported by anecdotal evidence, is that students that engage with the Beyond the Classroom program receive a deeper understanding of the causes and true nature of homelessness, the work of The Salvation Army in this area and to respond to this knowledge with a genuine compassion for those experiencing these issues."