Little 'Green Warriors' bring out the 'God Colours'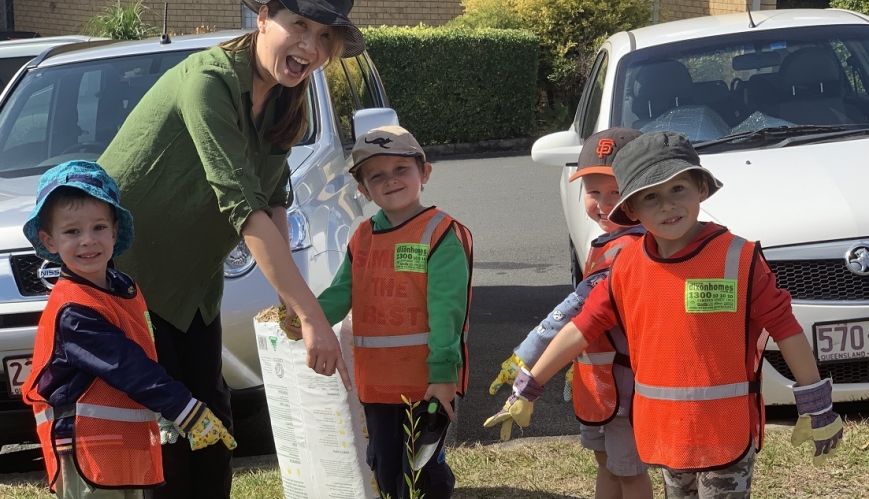 Little 'Green Warriors' bring out the 'God Colours'
31 July 2019
Kindergarten teacher Yvonne Lou shared in the excitement of children planting the trees as part of their learning about sustainability and the environment.
By Simone Worthing
More than a dozen excited little 'Green Warriors' from The Salvation Army Carina Child Care Centre and Kindergarten planted trees and flowers as part of National Schools Tree Day on Friday 26 July.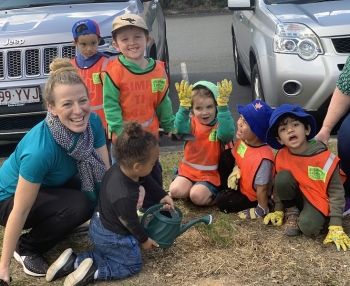 Captain Krista Andrews (left) helps the children water the tree.
In their child-size gardening gloves with matching spades and watering cans, the children planted, mulched and watered the trees on the site of both the centre and Carindale Corps in Brisbane's south.
The planting was part of a full program of events to mark the day and celebrate all they had learned about sustainability in the preceding weeks.
"The General [Brian Peddle] posted on Facebook on 6 July about our International Position Statement regarding sustainable environmental practices, and as Christians and as Salvationists we have a responsibility to not only care for the world but to nurture, love and care for this gift," said Captain Krista Andrews, Carindale Corps Officer.
"Sharing sustainable environmental practices with our next generation confirms this commitment. We are here to bring out the 'God colours' of the world."
Environmental sustainability is part of the children's programs, but a personal passion for the staff as well.
"The children have been learning about composting, recycling and worm farms, and we wanted them to have a hands-on experience with planting too," said Monique Orendain, Director of the Centre.
"They especially loved being able to hold the worms!"
Kindergarten teacher Yvonne Lou explained that flower boxes, a herb garden and a veggie garden were also part of the plans for the centre.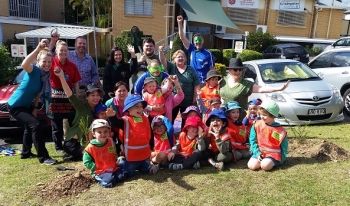 The tree-planting group was very proud of its efforts!
"I am personally very passionate about sustainability and how important it is to get children thinking about this, learning about it and living it as well," she said.
"The children love being 'Green Warriors' putting their fruit scraps in the compost bin, watering the plants and learning about how to save water too.
"They know about the 'magical powers' of trees to provide oxygen and shelter for animals, which materials to put in which recycling bins and how to reuse some materials as well.
The younger children loved planting flowers.
"And they're teaching their parents too!"
Christine Dittmann, from Community Involvement at Bunnings Cannon Hill, has been an integral part of the program, speaking to the children about sustainability and helping with the planting projects. Bunnings also donated the trees, flowers, worm farm, potting mix, gloves, spades and other items to the centre.
Ian Kaye (LNP) assisted with the tree planting. Local Councillor Fiona Cunningham presented a book to the children on sustainability and the environment.
Australia marked National Tree Day on Sunday 28 July.