A church that's AccessABLE to everyone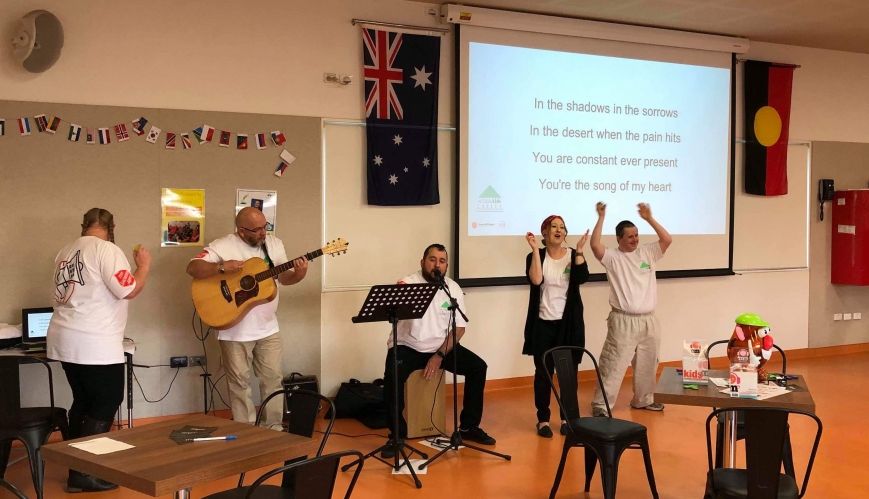 A church that's AccessABLE to everyone
5 August 2019
Alli and Liam Holland (Liam at the mic and Alli to his right) with AcessABLE Church volunteers.
By Lauren Martin
Imagine being told that you're not welcome at a church because your kids are too disruptive. Or feeling so uncomfortable at your place of worship due to the fact that a member of your family is different.
It doesn't sound like the church that Jesus spoke about but unfortunately, these scenarios are all too common among families with special needs.
Alli and Liam Holland are Salvos that can genuinely say to these hurting families that they know how it feels to be looked at and treated differently, sometimes, in social settings.
Their son, Asher, has MECP2 Duplication Syndrome, a rare condition that results in physical and intellectual disability, hindering his ability to communicate and compromising his immune system.
Hospitalisations are common and in the four-and-a-half years that the Hollands have lived in north-west Sydney, they have developed relationships with many families in similar situations. 
"I don't think that there's been a time in the last four years (or ever) when we haven't walked out of hospital without a new person's phone number," Liam said during an interview with Others magazine in 2018.
The Hollands worship at Rouse Hill Region Corps, with Liam and Alli working there in Project CSC as Team Leader and Family and Community Engagement worker.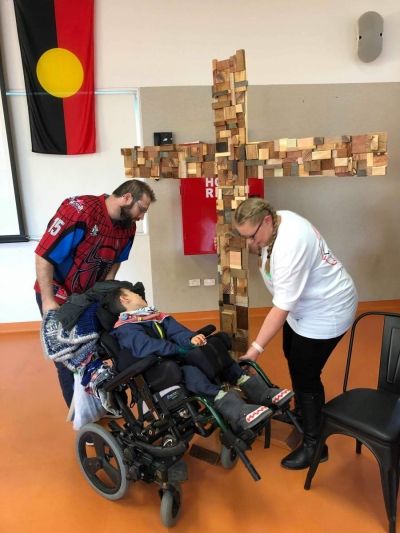 Families add wood to a cross – a symbol of belonging in God's family.
There are four special-needs schools within a 10km radius of the corps, with another 11 schools that have a special-needs unit attached.
So, as Alli and Liam have engaged at Asher's school, attended appointments at various specialists and health professionals and made semi-regular hospital visits, they've quickly developed a network of friends in similar situations. 
They're the type of friendships that go deep pretty quickly.
"People have seen our hearts through our actions," says Alli. "Actions always speak louder than words. Then that's led to some faith conversations that we haven't initiated. We had a few people bring up the question: 'Why has God allowed my child to be disabled?' So, we would say, 'Let's talk it out'. Or some have said: 'I was asked to leave church. Where do families like us fit?'"
Conversations like that stirred a yearning in the Hollands to create a space for families of all abilities to worship Jesus together.
Two years ago, they launched Project CSC (Connect, Support Community), which was created to support families of children with medically complex or additional needs practically, socially, spiritually and emotionally within the Hills District and further into the north-west Sydney corridor.
The initiative creates community around the support structures of meals, family and carer support, financial assistance to help cover the cost of non-PBS medications, support groups, accessible events and outings for special-needs children and their families, home and hospital visits.
"We know that caring for a family member with a disability can be emotionally taxing and physically draining. Carers have the lowest wellbeing of any large group measured by the Australian Unity Wellbeing Index," says Liam. "The demands of caring can leave little time for other family members or friends and carers often miss out on important life opportunities, particularly for paid work, a career or an education."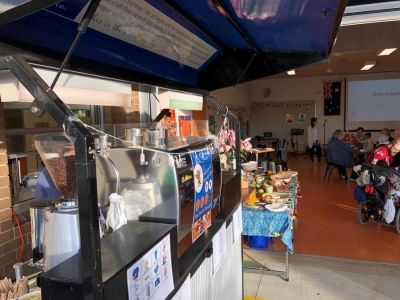 AccessABLE Church is a space for families of all abilities to worship Jesus.
This year, Project CSC, in partnership with Rouse Hill Region Salvation Army and a team from other local churches, launched a completely inclusive church service, an initiative that was born from conversations Alli and Liam were having with families who wanted to delve deeper in faith but didn't feel welcome at traditional church.
AccessABLE church focuses on members' abilities, taking the needs of participating families into account in its individual design, which changes from month to month. 
A coffee cart and jumping castle create a relaxed mood from the moment people arrive, and while the 'formalities' of the service last just 40 minutes, the gathering runs for two hours, allowing plenty of time for conversation. 
It's the little things that make AccessABLE church inclusive, rather than simply being accessible. Instead of chairs being arranged in rows, making it difficult to manoeuvre walkers or wheelchairs into position, the seating is arranged at tables, café-style.
Large bean-bags litter the floor, hand-held instruments are available for kids to play, there's space for dancing and running around.
Alli explains that each aspect of the service is designed for multiple levels of engagement.
"We realise that not everybody learns in the same way," she says. "For someone to sit and to listen to a speaker may not be the way that a child with autism or a child with sensory-processing issues receives information. We wanted to make it an 'all-streams of communication highway'. So, each activity involves an element of sensory activity, so everyone is actually part of the message but in their own way. They can engage as much or as little as they choose."
While only four families with special needs attended the first AccessABLE church service at the launch, the feedback was overwhelmingly positive. 
"One of the most profound things that we got back from one of the family members about Project CSC as a whole was that she said, 'We can come to these events and not feel like the weird ones or the odd ones out. Nobody looks at my child any differently'," says Alli.
Liam adds, "One of the dads came up to me during it and he said, 'I did tell you I hate church'. And I said, 'I know,' and he said: 'Well, I just rang a few of my friends for the next one because I love this, this is great.'"
Word spread and the next AccessABLE church (held monthly) saw double the number of families attending (61 people).
The Hollands have been told to expect more people next time, as previous attendees are telling friends about the amazing space where they can be themselves, learn about God and enjoy each other's company without having to worry about the safety of their children, or whether they're being judged or stared at.
"It is absolutely life-changing," says Alli.
She describes one family with a son with autism and another son who doesn't have a disability. It was the first time they had been able to worship together as a family. 
The boy had egg-shakers and was enthusiastically making music during the worship time, and the rest of the family had huge smiles on their faces, as they watched him and participated in their own way. "This is what church should be!"
And Liam says that it's what church can be, everywhere, if people take the time to be aware of how they can be inclusive. "I think including can be done anywhere, it's just thinking out of the box of how you do it in your space.
"Accessibility is not just a physical thing. It's not just access to a building. It's all levels, it's how you speak, it's how you communicate with your congregation. We need to ask questions around the services we offer: 'Can everybody participate in a meaningful way?' And, 'Are we using all people's giftings?'"