Encouragement and hope par for the course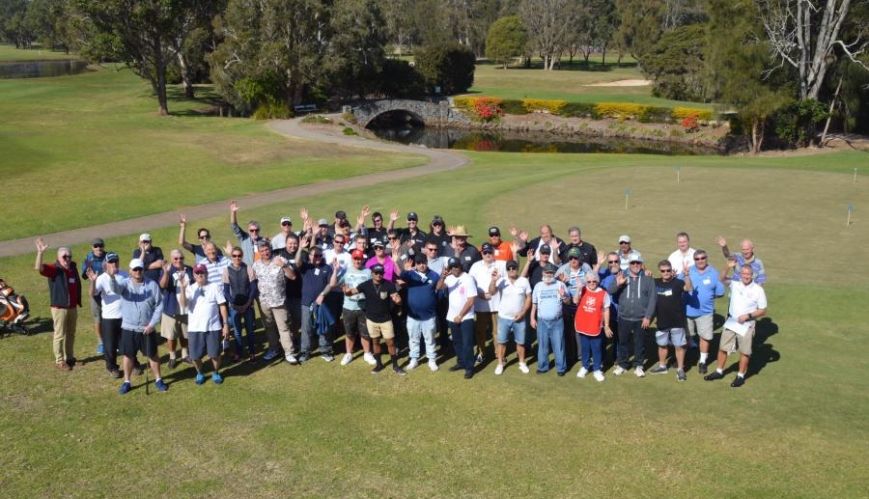 Encouragement and hope par for the course
5 August 2019
Men from Dooralong Transformation Centre and Port Macquarie Corps took part in their annual golf day last month, which is part of a special weekend hosted by the corps.
By Simone Worthing
For 15 years, Port Macquarie Corps has hosted an annual golf day for men from The Salvation Army Dooralong Transformation Centre.
The event, held at Port Macquarie's Emerald Downs Golf Club this year, provides encouragement and a sense of acceptance and hope for Dooralong participants, who are overcoming drug and or alcohol addictions at the Central Coast recovery centre. 
It has also given Port Macquarie Corps members a sense of being part of helping both transform lives and being transformed through involvement in something bigger than themselves.
The men enjoyed mixing together and golfing during the weekend.
"Men from the corps played nine holes of golf with the guys, which helps them bond and build friendships. We mix up the teams so everyone gets to know each other," said Major Heather Unicomb, Port Macquarie Corps Officer, with Major Kevin Unicomb.
Salvationist James Capner, who organises the Port Macquarie side of the event, knows the impact that it has – and continues to have – on those who experience it.
Just a few weeks ago he was in Canberra when a man approached him and said he recognised him from Port Macquarie.
He told James: "I was going through the rehabilitation program and was about to give up when I was given the opportunity to go to the golf day at Port Macquarie. The encouragement I received there was a turning point for me. I finished the program and my life changed."
Majors Gavin and Wendy Watts, who were the corps officers at Port Macquarie Corps in 2004, began the event with Miracle Haven, the name of the drug and alcohol recovery services centre at the time.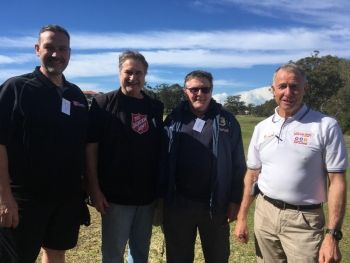 Major Gavin Watts (left), Major Kevin Unicomb, Grant Hume, and James Capner.
"We wanted to give the corps an outward focus and be part of helping others recover physically, emotionally and spiritually," said Gavin. "And we wanted to give the residents an opportunity to be accepted and encouraged."
The event last month continued this tradition.
Gavin, who is now the manager at Dooralong, accompanied 20 residents to Port Macquarie for a day of golf on 27 July, a meal with the corps that night, and worship on the Sunday.
Two caseworkers, including Grant Hume, a former Dooralong participant and now senior caseworker who is involved in this event each year, accompanied Gavin to Port Macquarie.
The corps hosted a special meal on the Saturday night, where a few golfing trophies were presented, and a couple of Dooralong participants shared their stories.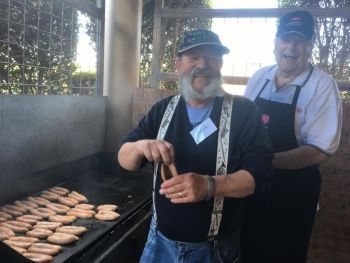 Dave (Dooralong) and Hugh (Port Macquarie Corps) prepare the Sunday barbecue.
"It's good for the guys to get up and be vulnerable and share with others the change and difference happening in their lives," said Gavin. "They also see that they are accepted and are encouraged."
Heather explained that the families of some participants attend the evening and that a few corps members are also former participants from Dooralong – which helps two groups come together even more closely.
"We see our people sharing the love of Jesus with the participants and just spending time with them and being part of their journey," she said.
"It's a shared blessing and very powerful – the corps hears the transformation stories of those on the road to recovery, and the participants are blessed by experiencing the love and hospitality here."
The corps fundraises to provide accommodation for participants at a comfortable local hotel, before Sunday worship, some sightseeing and a barbecue.
Gavin led worship, and another participant shared his testimony during the meeting.
"It's great for the guys to be treated like normal people and accepted, regardless of the huge mistakes they may have made in life," said Gavin.
"Seeing this acceptance, and love is one of the biggest impacts this event makes. Their past doesn't need to define them.
"We are looking forward to developing these, and other partnerships, into the future."
*A recent announcement about changes in the ongoing operations at Dooralong has led to some suggestions that the centre is closing. This is not true. Secretary for Mission, Lieut-Colonel Lyn Edge, says that while there will be a reduction in the number of residents at Dooralong, and a future change of location, the program is highly valued and will continue.