Tasmania Housing team picks up major award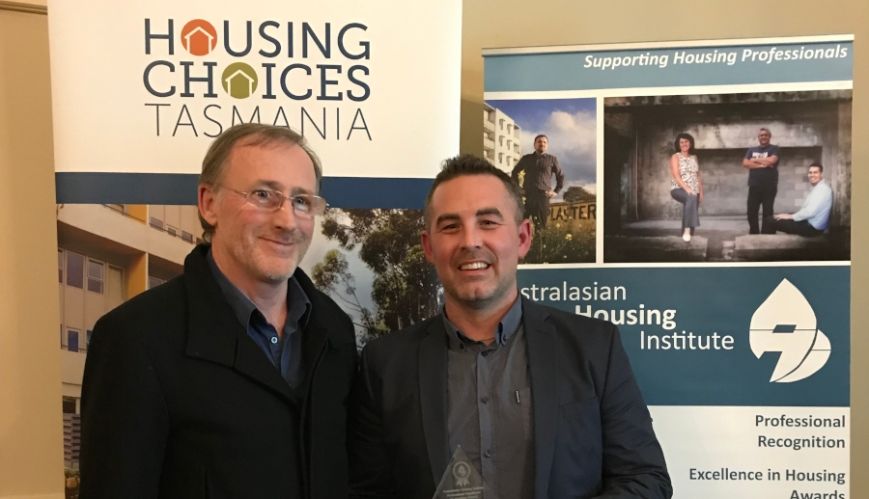 Tasmania Housing team picks up major award
12 August 2019
Dr Jed Donoghue (left), Housing and Homelessness State Manager for Tasmania, and Jade Munnings, Tenancy Manager at Campbell Street in Hobart.
By Jessica Morris
A day on the greens has earned The Salvation Army Housing team in Tasmania a national award.
The team was recognised at the Australasian Housing Industry awards last month, which honours the hard work and innovation of the community housing sector in Australia and New Zealand.
The Salvation Army team at Hobart's Campbell Street accommodation residence received the award for 'Leading and Innovation' after organising the Common Ground Cup golf day to raise funds for The Salvation Army's Common Ground sites in Hobart.
"We organised a golf day at Ratho Golf Course, the oldest golf course in Tasmania, with former international cricketer David Boon to raise money for tenants," said Dr Jed Donoghue, Housing and Homelessness State Manager.
"It is important to promote, recognise and reward the good work undertaken by the staff in our community housing programs. [It] also provides encouragement to the team and the tenants."
Homelessness is a statewide crisis in Tasmania, with more than 1600 people sleeping rough, couch surfing or living in supported accommodation. The Salvation Army Housing works closely with other services, as well as local corps, to provide people with safe, secure long-term accommodation.
"We can achieve better outcomes for people experiencing homelessness in a small state like Tasmania by working together rather than competing for limited resources," said Dr Donoghue.