Bunbury brings soap and salvation to community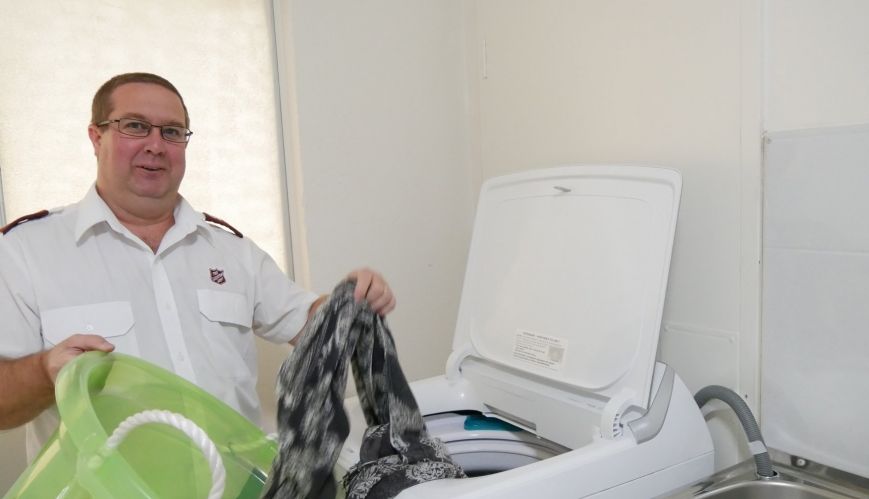 Bunbury brings soap and salvation to community
22 August 2019
Captain Mark Schatz, Corps Officer at Bunbury, south-west Western Australia, in the new laundry/shower facility to support locals who are homeless or suffering hardship. Photos: ABC South West WA.
By Lauren Martin
The Salvation Army in Bunbury, south-west Western Australia, has opened a shower and laundry facility for people experiencing homelessness and hardship.
Corps Officer Captain Mark Schatz said the facility was fully booked the day before it was officially opened, demonstrating the huge need in the area for such a service.
"It has been utilised by the homeless community in Bunbury and also by those living in cars and those who are low-income earners where their washing machine has actually blown up or broken down and they can't afford to buy another one straight away," said Mark.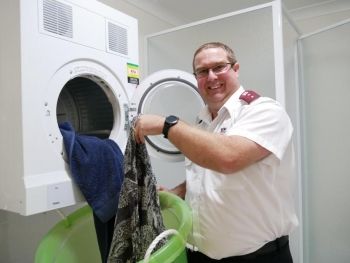 Mark puts the new dryers to the test.
"They can come and do their laundry, have a shower, have a hot meal, get new clothes and obviously sit with any of the Salvos around here or the staff and have that emotional connection as well as that spiritual connection into the church."
Bunbury Salvos approached the local Apex Club about 12 months ago to ask for funding support. The club jumped on board and donated a portion of its homelessness sleepout fundraiser to the initiative.
Mark said that sparked a community connection with the project that gained huge momentum. "One of the guys at the sleepout said, 'I'm part of a business group and our business group tends to do projects like this, and this would be perfect for us to get on board with'."
From there the dream became a whole-of-community vision, with more than 15 local tradespeople and businesses supplying all the tools, time and materials needed to construct the laundry and two showers.
"This is a true community project," Mark said. "It's all been funded literally from the community from a simple dream of wanting to help alleviate the pressure on those who are struggling."
The laundry and shower facility is free and open five days a week. It complements the corps' existing services, which include The Salvation Army Doorways Program, a 'prevention of homelessness' worker and a Thrift Shop.
"A shower can transform our day from a pretty bad day to a really nice day," said Mark. "If we have a bad day we go home and have a shower, and we automatically feel better. But can you imagine not having a shower for two or three days and then having one? It would be transformational, just emotionally and mentally, let alone physically – wearing clean clothes and having that fresh, clean feel again."