Schools warming to Salvo breakfast programs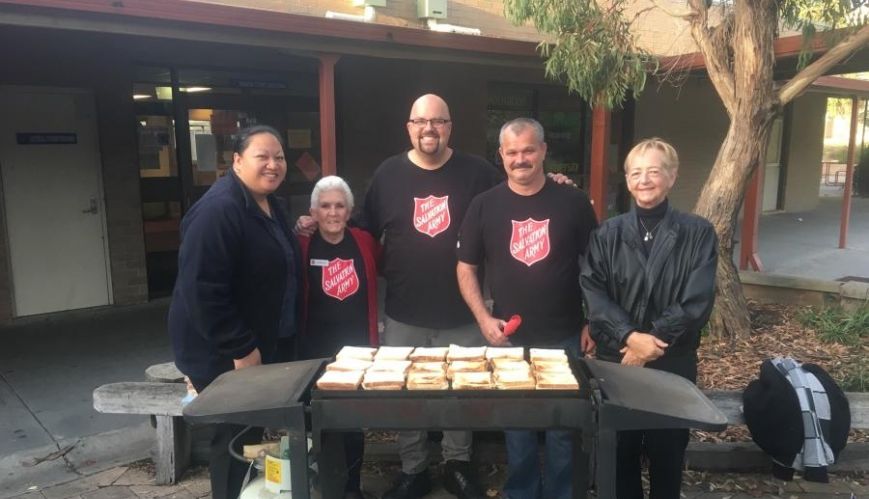 Schools warming to Salvo breakfast programs
26 August 2019
Captain Peter Brookshaw (centre) and some of the volunteers who help run the school breakfast program at Craigieburn Secondary College in Melbourne's north. 
By Lauren Martin
It's winter and most people would prefer to stay in their warm bed for as long as possible in the morning. But this isn't the case for a group of Salvo volunteers who operate school breakfast programs on the outskirts of Sydney and Melbourne.
Cold winter mornings are the busiest time of day for these volunteers at Craigieburn Secondary College in Melbourne and Oran Park Public School in Sydney.
Craigieburn Corps Officer Captain Peter Brookshaw and his enthusiastic team have been serving toasted cheese sandwiches once a week at Craigieburn Secondary College (a joint venture with Craigieburn South Primary School) for nearly two years, and with an average of 650 toasties served each time, that's a lot of cheesy goodness!
"The 'wellbeing' teacher did a survey of students at the school," says Peter. "He surveyed 101 students and pretty much six in 10 said that they had not had breakfast before they came to school. Now, I reckon 60 per cent would be pretty standard across schools.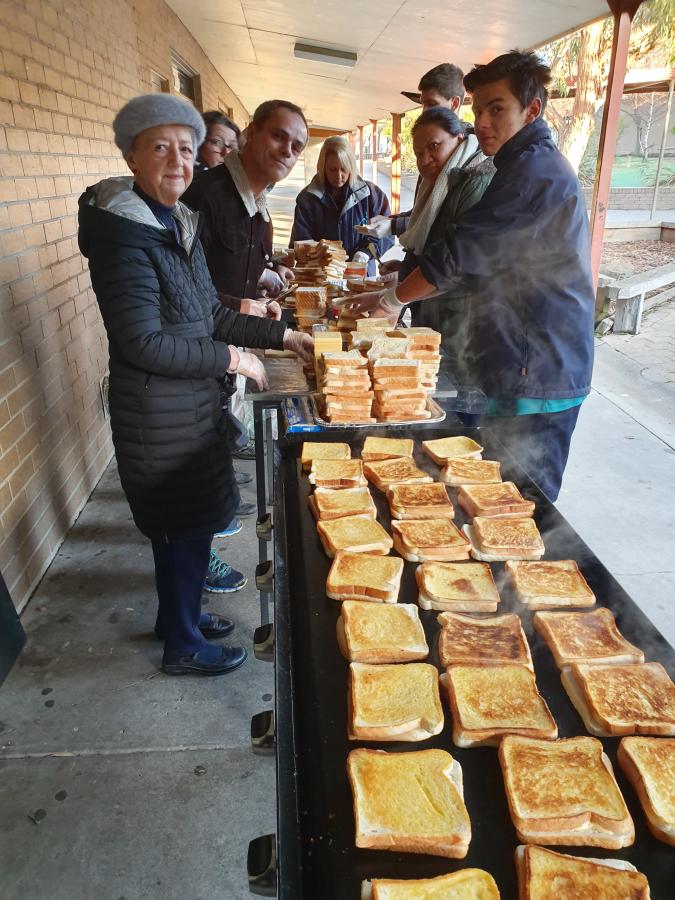 Craigieburn Salvation Army volunteers serve toasted cheese sandwiches.
"So, the Salvos school breakfast program is about the community aspect [engaging with the students and forming relationships] but it's also about the engagement with their schoolwork on the days that they have breakfast."
Craigieburn Salvos have started a second breakfast program at nearby Aitken Hill Primary School and are gearing up for a third at Newbury Primary School, which is also in the Craigieburn area.
"We envisage, through the new Red Shield Appeal funding initiative, to be able to employ a student outreach worker who will oversight our schools' ministry into the future," says Peter.
Research shows that across Australia, one-in-five children don't eat breakfast before school. For corps like Craigieburn, running school breakfast programs are a practical way of engaging with children and families.
"Who knows the benefits?" wonders Peter. "Ten or 15 years from now when they're struggling with youth unemployment or whatever, and they think, 'who can I reach out to?' and they remember, 'Oh, the Salvos were there'."
Breakfast boom in Sydney's west
For Lieutenants Jacqueline and Matt Gluyas, who were appointed to establish a new work in the booming greenfields housing area of Oran Park in south-west Sydney, approaching the local school was a natural first step. They emailed each of the schools and set up meetings with principals and deputy principals.
"From those conversations, we said, 'What can we do? Give us your needs and we'll see what we can do'," says Jacqueline. A school breakfast program at Oran Park Public School was the result.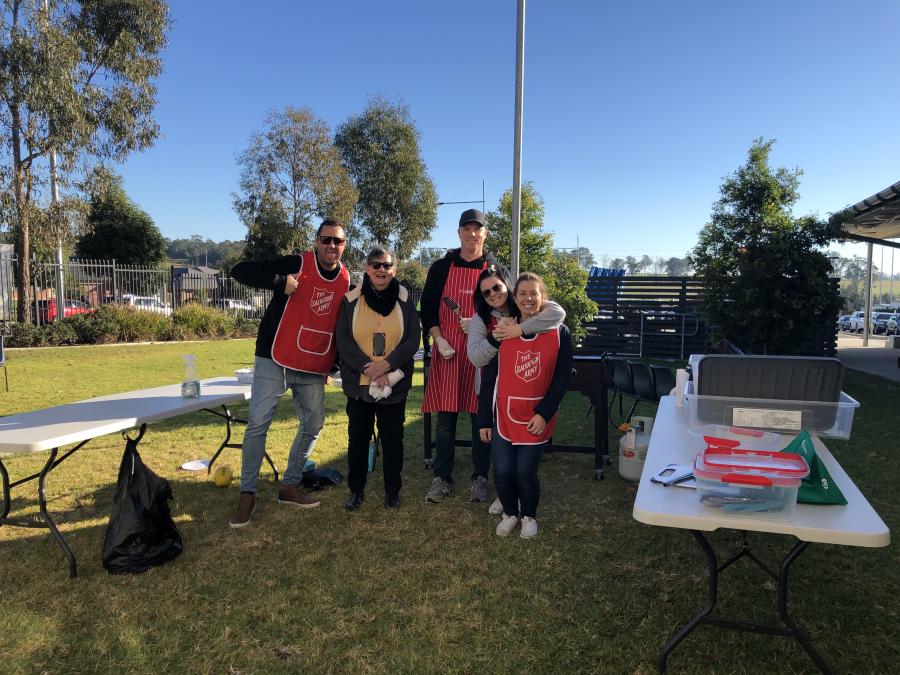 Volunteers work with the local primary school at Oran Park, in south-west Sydney.
"Oran Park is a brand-new school built purposely for the area and in five years they've gone from about 300 to 1500 students. So, it's just an incredible amount of growth happening so fast and it's still continuing," says Jacqueline. "Each new school year and in the mid-year intake they have about 200 new students that could come and be enrolled so they have to generally add a new class at the end of each semester ... the growth [of housing in this area] has just hit them so much.
"We thought, you know what? If that was us in that space, we'd probably want someone just to help us out and to have an extra set of hands."
'Toasty Cheese Tuesday' is now held every week at Oran Park Public School, with between 300 and 400 students attending. A grant from The Salvation Army Innovation Fund is allowing Oran Park Salvos to establish the school breakfast program as a 'Parent Hub'.
Jacqueline says the purchase of a barbeque and trailer will allow the local Salvation Army expression to create 'pop-up' community connection points at schools and other venues.
"We could have breakfast offered, tea and coffee for the parents, and parents could come along and have a connection with other parents while the kids are getting fed," she says.
"We're starting to see more parents come along for breakfast at the school, they bring their kids down and then have breakfast together. We're hoping to see that connection happen there. But then also maybe one afternoon a week we could do an afternoon tea before the bell goes to invite that engagement between parents.
"We're trying to explore and see what works within this community of predominantly parents who are full-time-workers," says Jacqueline. "I don't think that we're necessarily going to see families flocking into a church building so what we're doing is engaging with families in the schoolyard, at the classroom, or where ever it is. That's where the people are."