Feeding community spirit in Shepparton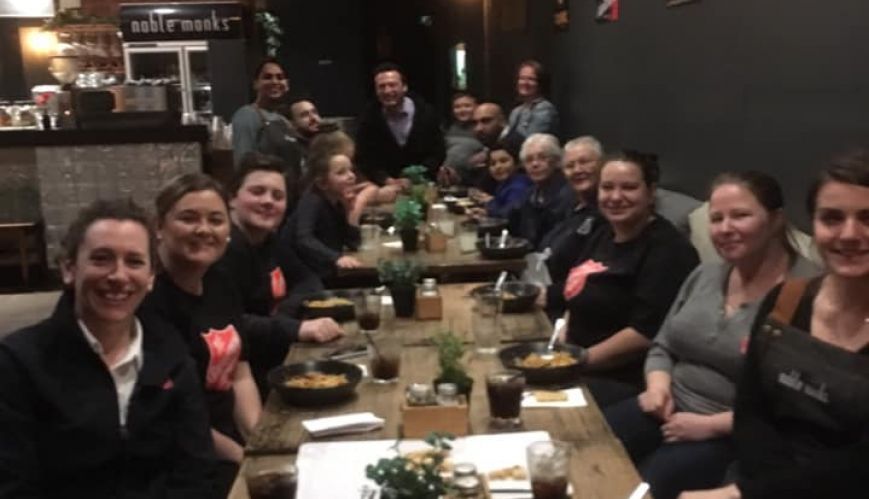 Feeding community spirit in Shepparton
27 August 2019
Dinner with Dignity at a local Shepparton restaurant gave people connected to Salvo services there a special night on the town.
By Jessica Morris
Whether they're reaching out or welcoming locals in, Captain Karyn Wishart and the team at Shepparton Salvos know there is more than one way to show people the love of Jesus.
Their newest initiative – Dinner with Dignity – was a special evening recently where guests were treated to a night on the town, courtesy of a partnership between The Salvation Army and local restaurant Noble Monks. And the best part? They were served by the town mayor, Kim O'Keeffe.
Instigated by the business owners – Raman, Sam and Arsh Grewal – more than 40 people who are connected to Salvo services were treated to an evening out.
"Everyone should have the opportunity to take their family out for a meal and bless them with the experience," said Sam.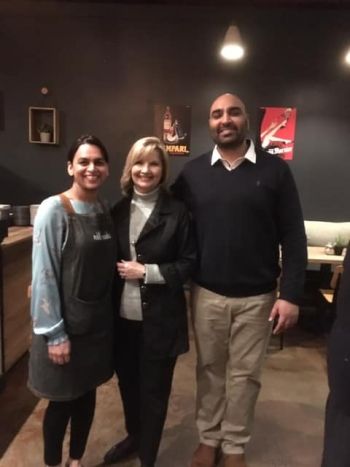 Sam Grewal, Mayor Kim O'Keeffe and Arsh Grewal at the dinner.
Dinner with Dignity is a snapshot of the collaboration happening in Shepparton, and while plans for a second dinner are still being discussed, a Salvos-run weekly meal is filling the gap.
A linchpin for all seven of the local Salvos expressions, it brings together the homelessness team and integrative services to extend an invitation to every person in contact with The Salvation Army.
"We want to meet the needs of people who are on their own and give them community," says Karyn. "We have somewhat of a 'lonely hearts club' who attend our weekly community meal, and we use this as a crossover between our services."
With a population just under 50,000, the need in Shepparton is great because locals are spread between suburban areas and country farms. Homelessness is the predominant issue in the town and by creating community hotspots — either through programs or by visiting locals, the Salvos have begun to transform Shepparton one life at a time.
The weekly 'pub run' is a mainstay ministry in Shepparton, enabling Salvos to reach locals who would otherwise never enter a church. And, in some cases, a visit from a member of the team is the only contact locals may have with the community all week.
Add in the First Steps playgroup and you could say the Salvos have become more than a network in Shepparton – they've become a community.
"It's about relationship ... and we've had people drive into town and donate because of our contact with them," said Karyn.
"It's about connecting with people who [may] never come to church."