Transforming Australia, one hug at a time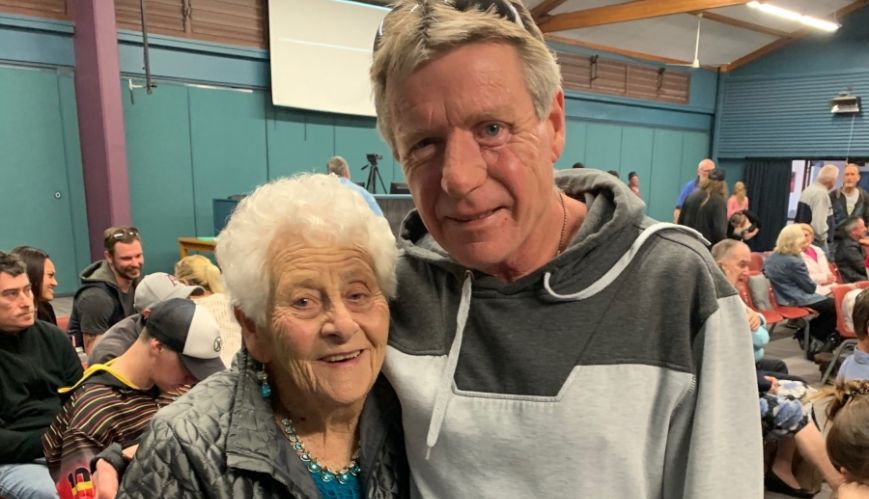 Transforming Australia, one hug at a time
2 September 2019
Isabell Callender with Ron – a recipient of one of her hugs – at Eastlakes Corps in NSW.
By Lauren Martin
When men from The Salvation Army Dooralong Transformation Centre on the NSW Central Coast began to worship at Eastlakes Corps every Sunday, 91-year-old Isabell Callender simply wanted to share God's love with them.
"I love the Lord very, very much," she said. "He's the most personal God. He loves us so much! And I just wanted these men to know that they're loved and how much the Lord loves them."
So she came up with a plan – a grandmotherly hug for each Dooralong man every Sunday.
Many of the men are going through the 12-step Bridge Program and, realising the majority of them have experienced more pain than love in their lives, Isabell said a hug can often help them in their recovery. 
"I tell them first of all how I love them," she said. "But then I say, 'Somebody loves you much more than what I do. That's Jesus. He died for you.' And I say, 'I wouldn't do that for you, I don't think!' And then they have a laugh and they give me a cuddle."
She's has been hugging her way through Sundays for a couple of years now and recently had to spend a few weeks in hospital. She said when she came back, many of the Dooralong men came up to her even before she had approached them, saying, "I want to make sure I get my hug!"
Isabell and her husband have been attending Eastlakes Corps in Lake Macquarie for the past 18 years.
"We just adore Isabell," said Corps Officer Auxiliary-Lieutenant Terri Muendel. "She's such a gift to our church family. Her unconditional love for the boys is a beautiful example of God's love.
"When Isabell had her accident, she was out of action for eight weeks. She asked us to organise someone else to take over her role of 'hugger' for a while. She said, 'Make sure they know it's just temporary, I'll be back hugging them again soon'."
The Australia Territory vision statement states: 'Wherever there is hardship or injustice, Salvos will live, love and fight, alongside others, to transform Australia one life at a time with the love of Jesus'. Isabell Callender is playing her part through the simple action of a hug, yet there is huge power in its simplicity and love.