Salvos support ramps up as bushfires continue to rage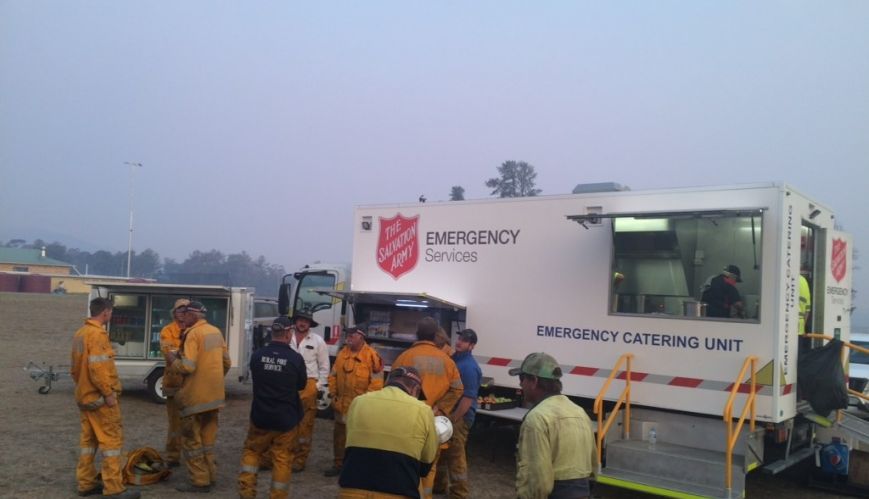 Salvos support ramps up as bushfires continue to rage
10 September 2019
Salvation Army Emergency Services volunteers at the Ballandean fire-staging ground providing meals for firefighters battling blazes in southern Queensland. 
By Lauren Martin
Salvation Army Emergency Services (SAES) teams have worked through the night on Queensland's Sunshine Coast to support firefighters and those affected by devastating bushfires that are still burning out of control.
As fires ripped through Peregian Beach and other areas of the Sunshine Coast last night, SAES teams at Coolum and Caloundra were activated and worked to assist people at evacuation centres, and to support Queensland Fire and Emergency Service personnel.
Crews from Fassifern and Toowoomba, west of Brisbane, continue to offer support at fires burning around Ballandean and in the Gold Coast Hinterland. "Conditions are changing all the time," said Fassifern Corps Officer Captain Wes Bust.
"I'm really humbled by the fact that our volunteers are prepared to step out of their comfort zones and work in a space that brings hope where there is just real uncertainty around what the next day might look like. We're there not just to provide a meal but to plant seeds of hope that will manifest in the years to come."
Fires are still burning out of control in northern NSW, with SAES teams active at Dorrigo, Yamba and Tenterfield, assisting evacuees and Rural Fire Service personnel.
"We've tipped over 1000 meals served," said Norm Archer, The Salvation Army Strategic Emergency and Disaster Management Coordinator for NSW/ACT. "And we'll keep serving meals and providing support for as long as it's needed."
Coffs Harbour Corps Officer Major Andrew van Gaalen said SAES teams from Coffs Harbour, as well as volunteers from Grafton and Nambucca Corps had been active at the Dorrigo evacuation centre since Sunday, providing meals for firefighters both in the centre and at the front line. They're also supporting and feeding people who have been affected by the blaze, which has destroyed a number of homes.
"When we came in, the Country Women's Association had already been working for quite a while and had been doing an amazing job, so we're working with them," Andrew said. "And the people in the local community, they've been absolutely amazing with their support and generosity."