Pam and Craigieburn Salvos are the 'perfect match'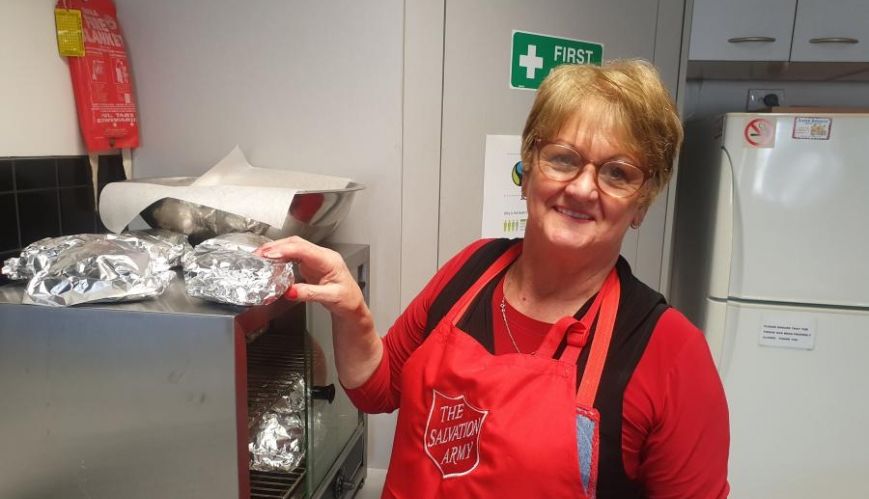 Pam and Craigieburn Salvos are the 'perfect match'
17 September 2019
Volunteer coordinator Pam Kelly has been a 'godsend' for Craigieburn Corps and its weekly community lunch. "I needed them as much as they needed me," she says.
By Lauren Martin
Retirement is long-awaited and relished by many. But for Pam Kelly, the idea of stopping work was daunting, and when it happened, she grew incredibly lonely. She'd always been a woman of action, so she moved quickly to source some volunteer work.
"First I approached the RSPCA. But I had to walk these great big dogs that nearly pulled my arm off," she says with a laugh. "So, it wasn't really suitable."
A resident of Craigieburn, north of Melbourne, Pam stopped one day to have a chat with the regular Salvation Army volunteer at her local shopping centre. "Do you like to cook?" she was asked, to which she quickly replied in the affirmative. ("My former husband and I used to have a catering business.") The next thing she knew, she was assisting at Craigieburn Salvation Army's weekly community lunch.
"I have a son in his 40s who has a lot of problems and a disability ... and you feel a bit isolated," she said. "When I first walked in there, everyone came up and gave me a nice little hug and I nearly burst into tears – I've never felt so welcomed and part of the place. I think I really needed that at the time."
After a few months of assisting, Pam became the volunteer coordinator of the lunch and it's clear that she is in her 'element'. She does all the shopping for the event, coordinates the recipes and the different volunteers on the day, which includes local disability service volunteers and school groups, as well as occasional corporate volunteers. 
"The Broadmeadows Disability Services (BDS) clients share our premises on weekdays and are encouraged to assist with serving the meal, setting up and cleaning the dining room and drying the dishes," she says. "In doing this they can also learn about health and safety issues, food-handling practice and they can attain a certificate in dining room and kitchen assistant competency.
"We present their certificates at one of the lunches and they come up on stage and they just think it's so wonderful."
The Craigieburn Salvos Community Lunch is attended by up to 50 people each week. Some are lonely, some are struggling financially, some are experiencing homelessness. It's a community where faith is shared and explored in a relaxed way. A number of worship songs kick off each luncheon, with a prayer before the meal and a short talk. "We feel that our community lunch is a bit of a congregation in itself," said Corps Officer Captain Jo Brookshaw.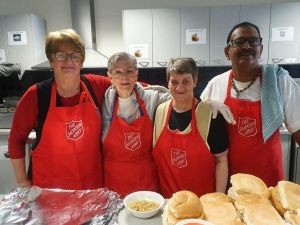 She and fellow Corps Officer Captain Pete Brookshaw said Pam's arrival to take on coordination of the ministry was an answer to prayer. "We started praying at the end of last year [for someone] and then Pam comes along, and her mum and grandma used to run a café and she used to be the kitchen hand. She's also got a Certificate IV in Disability, she's done leadership and hospitality – she just ticked every box!" said Pete.
Although she doesn't attend Craigieburn's Sunday service, Pete says Pam is as 'Salvo' as they get. "For us, not all the roads lead to Sunday morning. Pam is clearly being transformed by Jesus, there's no doubt about that. Even the disability volunteers are being transformed by Jesus. You can see it when one of them has tears in their eyes after we sing 'Amazing Grace' at the community lunch and you go, 'God is doing the work here'."
Pam leaves the possibility of a 'divine intervention' leading her to the Salvos quite open. "I never question that. A lot of things happen in your life and you think, 'Gosh, that just came along at the right time'. I mean, I needed them as much as they needed me so, who knows?
"I've made a lot more friends and I'm really enjoying retirement!" she added.