Prayers for rain to break the drought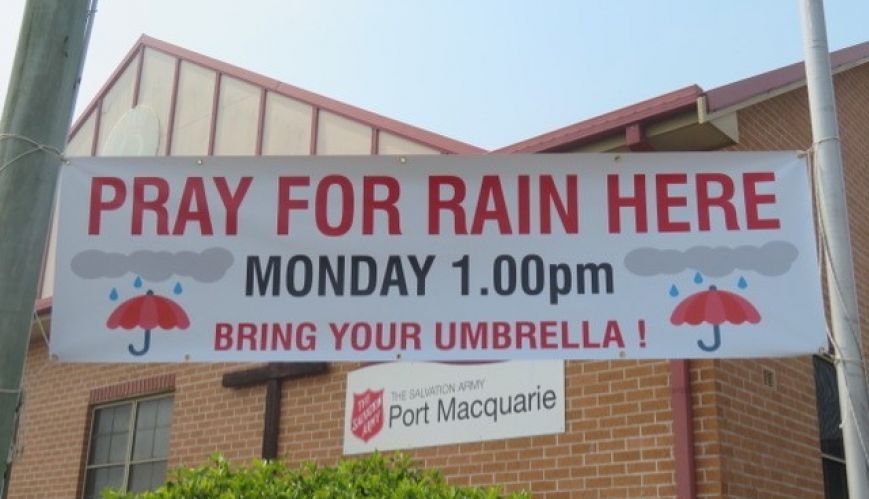 Prayers for rain to break the drought
17 September 2019
Port Macquarie Salvation Army in northern NSW held a community prayer meeting to pray for drought-breaking rain to fall across the state. 
By Lauren Martin
A prayer meeting at Port Macquarie Corps in northern NSW yesterday afternoon saw people from the corps and the community gather to pray for rain. And it seems that God has delivered, with rain falling over parts of the state today.
Prayer meeting organiser Rosemary Gebhardt, a Port Macquarie Salvationist, said the corps felt called to pray specifically for rain with much of NSW in the grip of one of the worst droughts on record and large bushfires still burning in the north of the state.
They set a date and time and put up a sign out the front of the corps, which attracted attention from townsfolk. "We had a few people from the community who came just from seeing the sign out the front," she said.
During the meeting, information was shared about the extent of the drought, the state's water shortage and The Salvation Army's rural chaplaincy work. Many people also shared their personal experience living or working in rural and regional areas.
"Prolonged drought is severely affecting rural NSW and Queensland. Farmers and graziers are hardest hit. Drought-quenching rain is needed. And so we come together today to pray as a community that God will send us rain, confidently believing that he will hear and answer our prayers," the prayer meeting heard. 
Port Macquarie Corps Officer, Major Heather Unicomb said the meeting was very powerful: "There was a real sense of expectancy and confidence that God was answering, it was great!"
Overnight, rain clouds started gathering. "This morning it started raining in Port Macquarie – God is good!" said Rosemary. But plenty more rain is needed the corps won't stop praying.
"We hope to hold prayer meetings more often in Port Macquarie until the drought breaks and we'd be happy to join with other corps to do it simultaneously."
Port Macquarie's Prayer for our Land:
"We hear the promise spoken in Isaiah of the refreshment of the creation; of water in the desert, of renewal for the land, of hope, of life:
Isaiah 44:3: "For I will pour water on the thirsty land, and streams on the dry ground; I will pour my Spirit upon your offspring, and my blessing on your descendants."
Isaiah 45:8: "You heavens above, rain down my righteousness; let the clouds shower it down. Let the earth open wide, let salvation spring up, let righteousness flourish with it; I, the Lord, have created it." 
"Heavenly Father, our need is simple – rain for our thirsty land – and only you, and you alone can fulfil that need. Our tanks and dams are nearly empty, like our hopes for this season.
"Please, loving God, bring us rain to renew the ground, to replenish our dams, to bring some chance of feed, to bring the possibility of some reward to those who have toiled so hard. We turn to you in faith and hope.
"We pray for our community. We pray for all those whose lives are under the shadow of drought. We think first of those who work with the land, for farmers and their families, for those who rely upon the land for their life and relationships.
"We pray for contractors, merchants and truck drivers, for rural counsellors and support workers, for all our rural community.
"We pray, too, for justice; for fair prices for our stock and our wool and our crops. We pray for governments, banks and corporations – to be driven by the wisdom of community, justice and compassion not simply the folly of the dollar and the bottom line.
"We pray for each other. Keep us aware of the needs of those around us: for those who are struggling, who are grieving, who are ill, who are dying. Restore those who are far from you with the knowledge that they are loved and valued. Give them not just a sense of renewal, but a sense of hope and purpose for lives that are finding the journey hard.
"Let us see the miracle of healing in relationships, in lives, in communities, where there is illness and hope is far away. Keep us always conscious of the task we have in ministry and mission in your world.
"We offer all these prayers in the name of Jesus. Amen."