Streetlevel walking group steps out in faith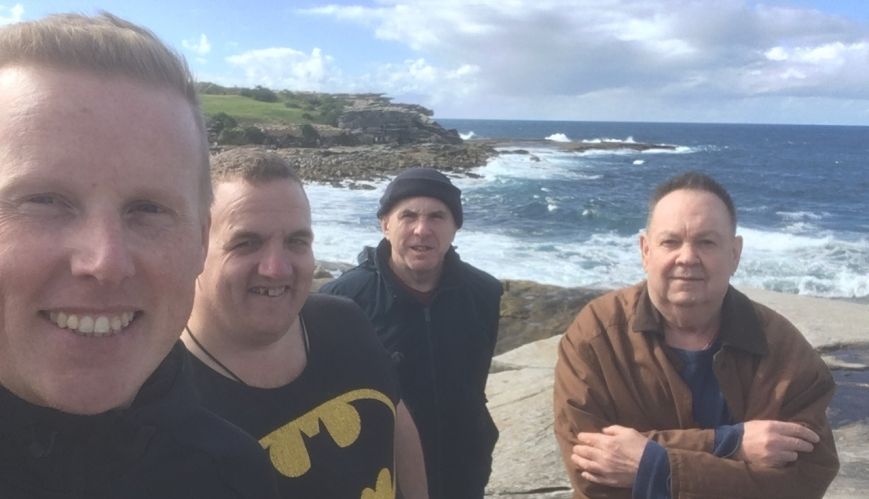 Streetlevel walking group steps out in faith
18 September 2019
Sydney Streetlevel Mission leader Mitchell Evans (left) with Dwayne Pitts (second from left) and other members of the weekly walking group.
By Lauren Martin
Year after year, like thousands of others all over the world, Dwayne Pitts made the same New Year's resolution – to get fitter and healthier.
"It's a really good idea ... but I never actually did anything about it!" said Dwayne, a volunteer and community member at The Salvation Army Streetlevel Mission in Sydney.
This year, however, Dwayne mentioned his New Year's resolution to long-time friend Mitchell Evans, who is the leader of Streetlevel Mission at inner-city Surry Hills. "Why don't we start a walking group?" Mitchell suggested.
"I was kind of like, 'Yeah, sure,'" said Dwayne of his response. "I didn't know if it was going to happen … I, of course, forgot about it and then a few weeks later Mitch messaged me and said, 'Hey, when do you want to start the walking group?' And, I was like, 'Walking group? Are you messaging the right person?'"
Within a few weeks, the Streetlevel Walking Group hit the road. The aim was to walk for an hour every Wednesday afternoon from Streetlevel Mission to anywhere they felt like.
"I really enjoy like the companionship," said Dwayne. "It's been really good to get to know [the walking group regulars] on a deeper level – being able to have a chat and a conversation.
"My energy levels are higher. I'm doing a lot more walking outside of our walking group as well, rather than catching a bus. So, my fitness levels are higher as well."
Dwayne has part of Streetlevel Mission for many years. He lives with mental health issues, which means motivating himself to get out of the house is sometimes difficult.
"Sometimes I'm not really in a headspace to be around people but, even when I'm in that, just being at the walking group, walking around with the guys, it helps put my mind at ease. I'm able to just put things aside – even if it is just for that hour – to just be present, and just enjoy."
Fellow walker and now close friend, Craig Baillie, says being part of the Streetlevel community and the walking group has been transformational. "I think it's making me a better person. I have had some battles with mental illness and a few other things, and it helps ten-fold spending time with these guys and out amongst the community here at Streetlevel."
Mitchell says many people who are part of the Streetlevel Mission community are socially isolated and although they are used to attending programs [at Streetlevel and other services] they often lack authentic friendships.
"The difference with the walking group is that it came about naturally, during a casual conversation amongst friends, about how good it would be to get fit together and motivate each other," he said. "Then we decided it would be great to get more people involved and that's how it started.
"Whilst Craig and Dwayne are the core guys that will come out walking, they're very inviting of others to come and join us as well. One of the things that I love seeing is just how welcoming everyone is in the group and just how the conversation flows as we keep walking."
God creates us to be in relationship with others, that's why life is better shared. The Salvation Army is committed to 'transforming Australia, one life at a time, with the love of Jesus' – could it be as simple as friends who do life together and invite others to join in?