You are here:
Home › News › 2019 › 10 › 04 › Tablelands Corps Opens New Facility In Far North Queensland
Tablelands Corps opens new facility in Far North Queensland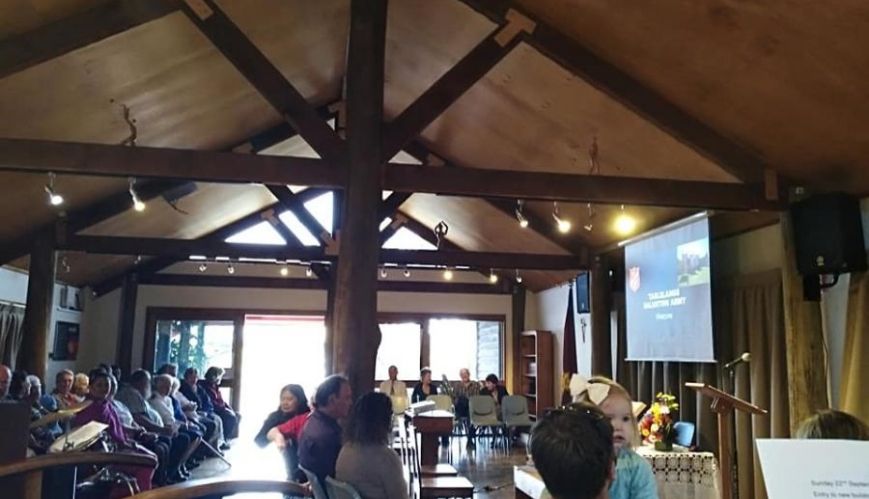 Tablelands Corps opens new facility in Far North Queensland
4 October 2019
Members of the Tablelands Corps, local churches and the Atherton community gather in the new facility to celebrate its opening.
By Simone Worthing
The Atherton Corps in Far North Queensland moved into its newly completed centre in nearby Tolga on Sunday 22 September.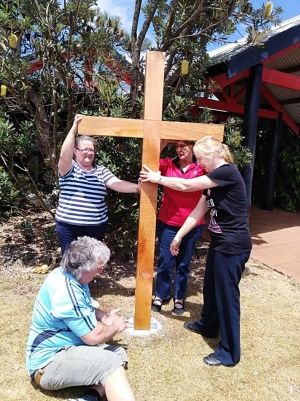 Miriam (right) and team setting up the cross in the grounds of the new facility.
The now renamed Tablelands Corps will operate from the Tolga facility, bringing together weekly worship and prayer meetings, junior soldiers and other programs, Doorways, Sal Connect and Tablelands Family Store. The Herberton Family Store, 20km away, is also part of the Tablelands Corps.
"This move enables us to have the doors of our church building open seven days a week as it puts all our expressions and services under one roof," said Corps Leader Miriam Newton Gentle. "It will give more holistic care to the community in line with our mission – caring for people, creating faith pathways, building healthy communities and working for justice. In line with this, we will be looking to start more community-based holistic programs around music times and we also have space for games activities and youth programs."
The new centre features offices, a multi-purpose worship space, the store and a fully equipped café. The corps plans to open the Connect Café in early 2020 and serve coffee, cakes and affordable meals. There is also a large storage area at the rear for The Salvation Army Emergency Services (SAES) trailer and second-hand goods for the stores.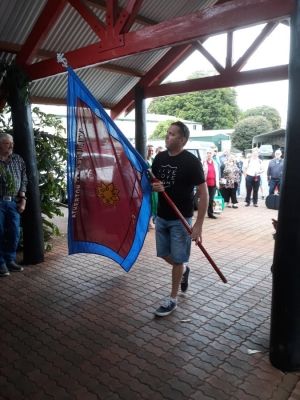 Aux-Lieutenant Phil Stark carrying the new corps flag.
"We want to focus on growing our 'junior corps' as the church of the future," said Miriam. "This includes both young people from the corps and the community. The little group we have already is really faithful in going through the material and increasing their faith.
"We also work closely with the community in the Tolga Van Park and go to them monthly with a meal prepared with our SAES trailer, and conversations. So now we want to begin some programs that they can attend so they can begin journeys on a 'Faith Pathway'.
"There are many needs in the community but the major ones are Jesus, jobs and housing for the growing number of people experiencing homelessness. We are working with other agencies in the area of transitional housing, but there is more we can and want to do.
"The Salvos on the Atherton Tablelands work closely with the other local churches. We always meet with the Atherton Church Leaders Group and this provides religious instruction to the schools in which we play an active role. It also runs activities like united Easter services, Carols by Candlelight and youth services. The leaders and their congregations are missional and community-minded people and pull together. Having experienced religious division growing up, this is beautiful for me to see and be a part of.
"I really believe that from little acorns, big trees can grow."
Miriam (left) and Area Officer Captain Meaghan Gallagher at the opening.
The opening of the Tablelands Corps began at the former church building in Atherton, where it had been operating since 1981. After a short service of thanksgiving, Auxiliary-Lieutenant Phil Stark, Divisional Youth Secretary, carried out the flag. Members of the Cairns and Townsville Corps formed a supporting band.
The group moved across to the new facility in Tolga, where previous Atherton Corps Officer, Lieutenant Kate Cathcart, accompanied by some of the local junior soldiers, opened the doors so the congregation could officially enter for the first time.
Corps leadership
Miriam took on the role of corps leader at the beginning of the year. Prior to this Miriam, originally from Surrey, England, had been serving with the corps and as the Atherton Family Store manager, since 2016.
The area is a vast one, with corps members spread as far as Watsonville, 190km to the north, and Ravenshoe, 130km to the south.
Miriam is completing a Diploma of Management and Leadership through Eva Burrows College, to assist her in the transition to her new role.
"I really appreciated all the support from Lieutenant Kate, The Salvation Army and other church leaders as I studied and prepared for this wholistic role," she said. "I know that, as Psalm 127 says, it's God who is building this house, otherwise it won't stand. I see myself as the corps leader, but essentially a spiritual ministry worker."
The corps also employs a part-time administration assistant.
Miriam's first husband, Salvationist Brian Newton, passed away after they had been married just over 30 years. In 2013, Miriam married Gordon Gentle, who she describes as her "faithful support party" in her new role.
Miriam enjoys kayaking with the family. She is also a keen pistol and target shooter and is third in the state for metallic silhouette – a group of target shooting disciplines that involves shooting at steel targets representing game animals at varying distances, seeking to knock the metal target over.
"I have to really concentrate when I do this, so I forget everything else and it's a really therapeutic stress reliever," she said.