'Totally Timbrels' takes off in Nambour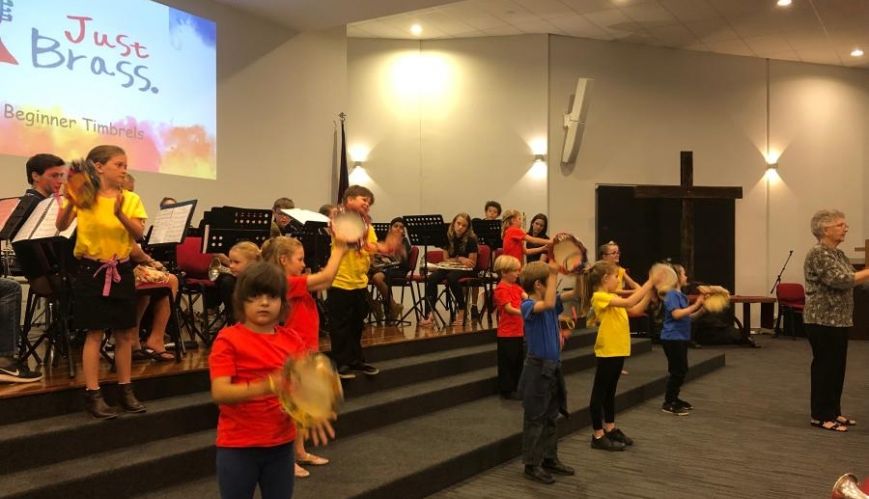 'Totally Timbrels' takes off in Nambour
4 October 2019
By their own request, local community children are engaging with the corps through the Totally Timbrels program. Thelma Smith (far right) and Rose Campbell lead the group.
By Simone Worthing
After seeing the senior timbrel brigade perform at last year's Christmas concert, the younger siblings of Just Brass program participants decided they wanted to learn to play this traditional Army instrument as well.
These children, who wait for their older brothers and sisters each week during Just Brass lessons at the Nambour Corps, asked the timbrel leaders, Rose Campbell and Thelma Smith, if they could learn the timbrel during this time.
So, at the beginning of Term 2 this year, Totally Timbrels was formed.
This learners group began with seven students, aged six and above. They played in the Just Brass concert at the end of Term 2, which motivated other young students to want to join.
"At the end of Term 3 concert, we had 13 beginners playing timbrels and a waiting list with even younger children wanting to join," said Major Karen Saunders, Nambour Corps Officer.
"Their parents are very supportive and most of them come to the concerts. Except one, all these children are from families not affiliated with the corps."
The students, both boys and girls, come in with their older siblings after school, sign in, have their lesson and practice for 30 minutes, and then spend 30 minutes doing craft until Just Brass finishes.
"I just love the sound of the timbrel," one young student said.
"I want to play something because my sister is playing something in Just Brass," said another.
"I love watching the ladies play the timbrel," was another comment.
"Most of the students stay for a meal afterwards, until their parents pick them up," said Karen. "They really enjoy it and love playing in the concert and wearing their own special shirts. We are hoping both the timbrels and Just Brass students will be able to play carols with the band at a nursing home this Christmas as well."
All the children know that The Salvation Army is a church that loves Jesus. The Just Brass intermediate tutor prays over the children as they leave, God is always acknowledged at the concerts, and we give thanks to God at the weekly meals.
"A few people have started coming to church through Just Brass, which is great to see," said Karen.