First sod turned on major project in Sydney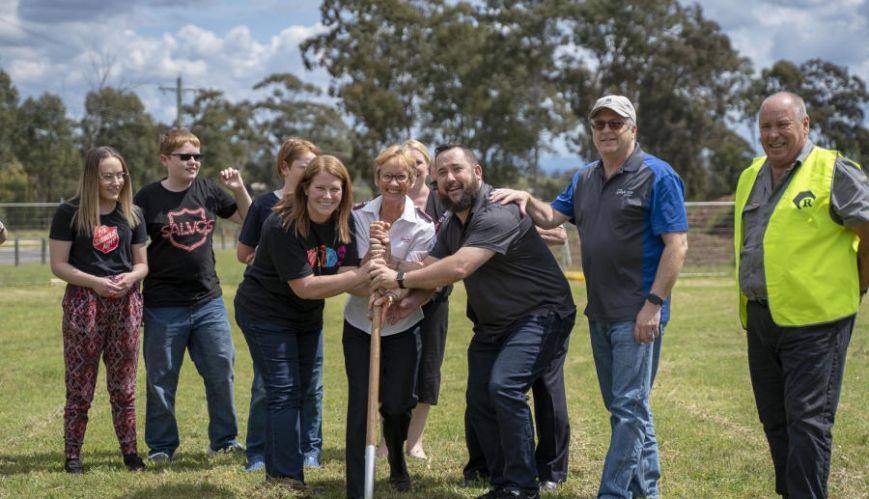 First sod turned on major project in Sydney
17 October 2019
Captain Belinda Atherton, Major San Holland and Liam Holland turn the first sod on the new Salvation Army complex in north-west Sydney. Next to Liam is Randy Wood, who is on the Rouse Hill Region leadership team, and Norman, the site manager from Reitsma Constructions. Photo courtesy of Reitsma Constructions
By Merv Holland
A sod-turning ceremony on Sunday 13 October marked the commencement of The Salvation Army's multi-million-dollar church and community complex development at Nelson in Sydney's outer north-west. 
The $7.1 million project on Edwards Road will provide a church plus ancillary rooms and facilities designed to accommodate a range of community services. It will be an administration centre for ministries in the rapidly developing Norwest region, as well as a facility for community-based organisations and groups.
Major Graeme Craig, Assistant Divisional Commander for NSW/ACT, said The Salvation Army purchased the land nearly a decade ago as part of its greater Sydney strategic development master plan to establish communities of faith in key locations where its ministries and services could be provided in developing urban growth corridors.
"Strategic acquisitions of land have been made here and in other growth corridors enabling us to be at the leading edges of Sydney's growth and development and supporting us in enacting our Christian mission: 'Wherever there is hardship and injustice the Salvos will live, love and fight alongside others to transform Australia one life at a time with the love of Jesus', making it possible for us to respond effectively and quickly to community need," Graeme said.
"This new development will not only serve this community region but will be the heart of The Salvation Army's engagement with the communities within the whole north-west Sydney corridor, coordinating, growing and consolidating our ministries and community services in the communities of Hawkesbury, Rouse Hill and Dural."
Michelle Byrne, Hills Shire Council Mayor, officially turned the first sod, making way for Reitsma Constructions to commence the dual-hall complex, which is scheduled to be completed by June 2020.
Mayor Byrne, in commending The Salvation Army for choosing to locate strategically in the heart of a rapidly expanding community, said: "The Salvation Army is well known and highly regarded for its Christian ministries and community services made available to thousands of residents throughout The Hills Shire.
"Since 2002 Salvos have developed significant ministries throughout the Rouse Hill region, working out of homes, school auditoriums and Beaumont Hills Community Centre and, currently, from The Ponds school. We welcome this development in the heart of the region, which is expected to grow to a population of nearly 300,000 by 2036."
Major San Holland, leader of The Salvation Army in the Hawkesbury, Dural and Rouse Hill region, said the facilities would be community-focused, offering an oasis for loving and caring connection and inclusion for the many families moving into the surrounding developing suburbs. "This centre is not just for us – it's for the whole community where we can share the love of Jesus," she explained.
The complex features a worship hall, a centrally enclosed courtyard specially designed for children's activities, accessibility and amenities for people with disabilities, meeting rooms, counselling room and offices as well as a kitchen for catering for weddings, christenings, funerals and community events.
The kitchen will enhance and expand the preparation and cold storage of meals distributed to families in emergency circumstances, especially through our Project CSC (Community Serve and Connect) operating from The Ponds school providing a wide range of ministries to children with disabilities and complex medical needs, their families and carers. A community garden is already established and tended by community volunteers.
The successful tenderer, Reitsma Constructions, has already commenced site preparation for construction to begin.
Reistma's other major regional church projects currently under contraction are the Stanhope Anglican Church at Stanhope Gardens and Parramatta Salvos, Church Street, North Parramatta.