You are here:
Home › News › 2019 › 10 › 25 › Student Drive Brings In 10 000 Nappies For Local Mums In Need
Student drive brings in 10,000 nappies for local mums in need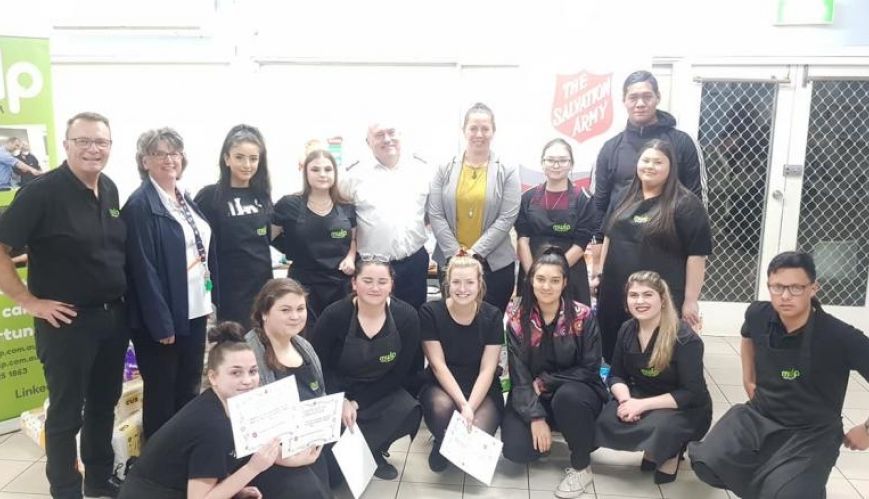 Student drive brings in 10,000 nappies for local mums in need
25 October 2019
David Williams (left), Major Belinda Spicer (2nd left), Major Lynden Spicer (5th from left) with the high school students who organised the nappy drive.
by Simone Worthing
More than 10,000 nappies are now available for young families connected to The Salvation Army Macquarie Fields/Campbelltown Centre, thanks to a group of high school students and their mentors.
The students were part of a partnership with MWLP, a not-for-profit community organisation that links young people in Year 11 and 12 with businesses and other stakeholders to provide work and learning placement experiences to help them in their future careers.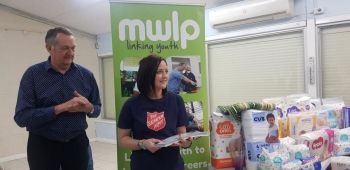 David Williams and Rachal Mills with some of the nappies ready for distribution.
"We connected with Dr David Williams, the CEO, who spoke about students coming to the centre to do a hospitality project," said Major Belinda Spicer, Mission Leader at the centre.
"We don't have our hospitality facilities operating yet, but we were interested in having the students doing a community project."
Every Tuesday for five weeks, the students from a range of high schools served at the centre, learning about The Salvation Army and the services available for the community.
"The students, as well as David and his business partners, were blown away by what happens here," said Belinda. "It was great to see their reactions and how they responded."
The students wanted to do something significant for the community and discussed their ideas with Belinda and her team.
"We spoke about the many young mums in this community and the basic, and constant need, for nappies," said Belinda. "The students swung into action and we were just overwhelmed by their hard work and generosity.
"David helped them with his business network and the young people set up donation boxes in local shopping centres, approached companies in the area and collected all the donations that just flowed in.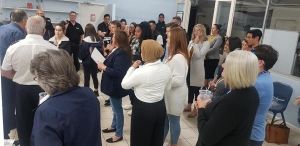 Students, staff and friends at the graduation and gratitude evening.
"We now have 10,000 nappies that we will share through our close and collaborative Area Leadership Team. These resources are very much in need here. These kids have made a huge contribution to the needs of the local community."
The centre hosted a graduation and gratitude evening for the students at the end of their five-week program.
"The students cooked for the night, made mocktails, dressed up in chefs' gear and invited their parents, friends and school principals," said Belinda.
"We gave them certificates, MWLP made a big deal of them and spoke about just what can happen in a local community when an organisation takes an interest in young people and instils good values in them.
"Seeing what The Salvation Army does in the local community just adds to their qualifications. It was also good for our volunteers and employees to show the kids the work they do in this multi-faceted centre and give them an orientation to it all."
Belinda and her team are planning to work further with MWLP and set up a training centre for students of hospitality and are already in the process of installing a commercial kitchen.