You are here:
Home › News › 2019 › 10 › 28 › Bundamba Volunteers Do Something Special For Drought Hit Town
Bundamba volunteers do something special for drought-hit town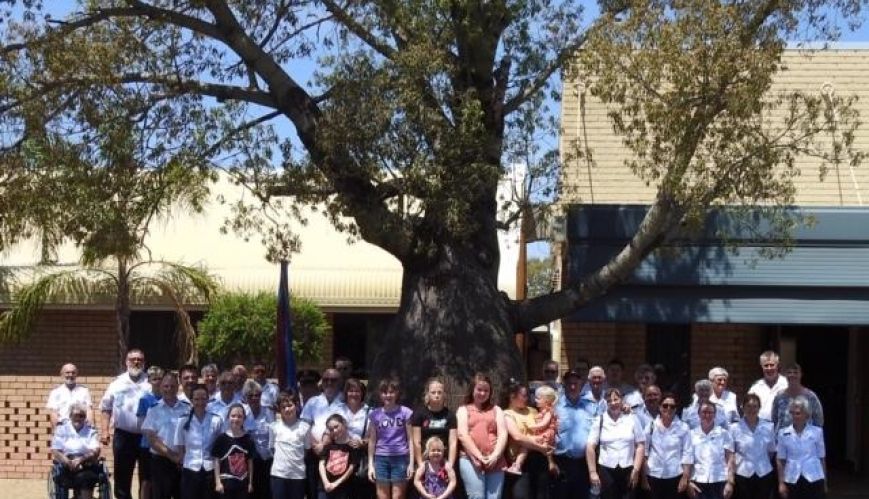 Bundamba volunteers do something special for drought-hit town
28 October 2019
The team that travelled to serve in Mitchell were all ages and backgrounds just wanting to do something to help farmers and townspeople impacted by the drought.
By Simone Worthing
"We have to do something."
These are the words of Bundamba Corps and Riverview Farm Chapel member Brad Strong, who earlier this year travelled to the drought-hit town of Mitchell on the edge of the Queensland Outback.
Accompanying Major Mark Bulow, of The Salvation Army Flying and Rural Services, based in South Queensland, Brad saw firsthand the devastation the drought is having on the farmers and towns in this part of Queensland's Western Downs.
The scene motivated him to share his thoughts and ideas with Joe Rule and Major Annette West from Riverview Farm Chapel, a mission outreach of Bundamba Corps, to see what could be done to help.
The chapel and corps, around 35km west of Brisbane, quickly formed an ideas and fundraising committee, headed by Joe, which swung into action.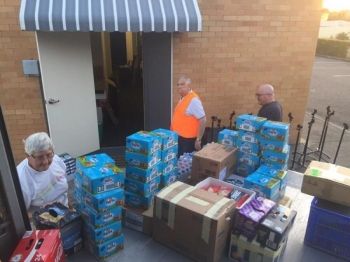 Volunteers help sort and pack the many donations.
The committee and supporters organised a traditional harvest festival as a combined event at the corps, complete with pies and mushy peas, fruit salad and ice-cream, a sausage sizzle and a range of different stalls selling crafts, cakes, plants, donuts and white elephant goods. The overall theme of the event was 'Come to country'.
The Brisbane produce markets donated fruit and vegetables for the event, including 1000kg of potatoes! Other local vendors, including a butcher and fruit shops, also donated goods, while several Woolworths stores made generous donations to the fundraiser.
"The fundraising goal was set at $5000, but as the local community and corps in the area heard about the efforts, donations started to pour in and the target was raised to $7000," said Annette. "We also had great publicity through Facebook and our local radio and newspaper."
The Bundamba Harvest Festival on 31 August raised $7500 with 300 Salvation Army and local community members attending the event, including the local Member of Parliament Mrs Jo-Ann Miller. An altar service, held both at Riverview Farm Chapel and Bundamba Corps the following day, raised another $6500. Leftover fruit and vegetables were sold, bringing the total raised to $18,500.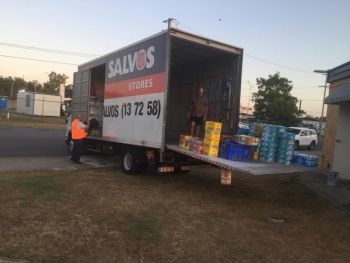 The Salvos truck was packed and headed off to Mitchell.
Annette and the fundraising team consulted with Mark on what to buy for the farmers of Mitchell and purchased petrol, grocery and bakery vouchers from local stores in Mitchell.
"We wanted to make sure we were investing back into the local community, where people in the town are also doing it tough," said Annette. "We also bought toiletries for men and women, lollies for the kids (and adults!), lovely hand cream for the ladies, fencing plyers and tape measures for the men, tissues, hand sanitiser, and chocolate biscuits. One lady made and donated 25 iced fruit cakes; another man donated pamper bags; while another of our ladies donated 50 hand towels.
"Riverview Gardens staff and residents had a special 'Country Day' and brought items for parcels, and one of the Woolworths stores invited their staff to donate items including gardening gloves, leather working gloves, and goggles. With all these donations, plus two pallets of 10-litre water bottles, we put together 50 hampers for farming families and included everything except perishable food."
Into the community
A team, including volunteers from as far away as Rockhampton's Capricorn Coast, travelled out to Mitchell last month, with a Salvos Stores truck generously donated to carry all the goods for the trip.
A local Mitchell family were delighted with their hamper.
"Majors Mark and Jo Bulow organised local accommodation for us and directed us where to go for distribution and delivery of the hampers," said Annette. "Ten cars headed off in 10 different directions.
"So many great stories came back from our volunteers who travelled many kilometres and many hours for their deliveries. One little boy was so excited about receiving spaghetti. One lady, who was alone with her daughters while her husband worked away shearing to earn money, just couldn't believe people's generosity. An elderly man whose wife had died in tragic circumstances was brought to tears."
On the Sunday morning, the team joined in worship with the local Anglican church. The band accompanied the singing and everyone joined in fellowship after the service. The volunteers also played and sang in the local hospital and nursing home.
"We will definitely go back next year, but do something different," said Annette. "It was an amazing experience and the biggest impact it had was on us!"