Fires keeping SAES crews busy around the country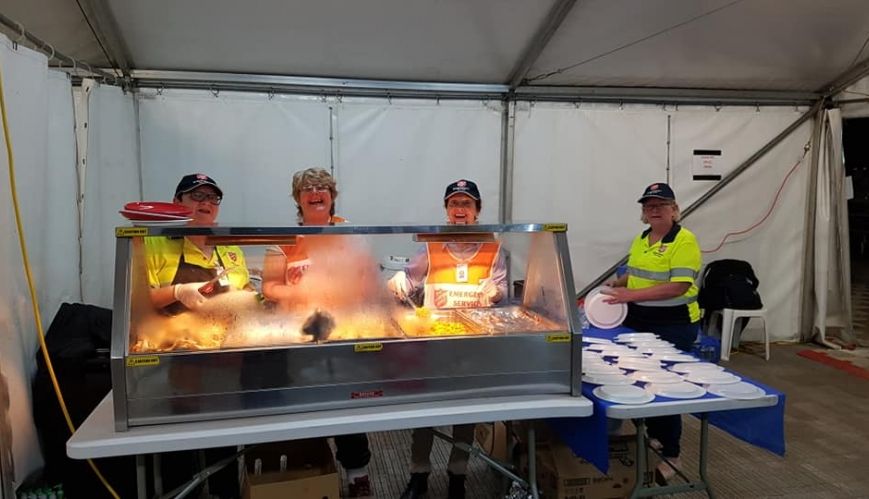 Fires keeping SAES crews busy around the country
30 October 2019
Four of the hundreds of SAES volunteers who have prepared and served meals to firefighters from the Glenn Innes Rural Fire Service base camp for the past five and a half weeks. 
By Lauren Martin
Salvation Army Emergency Services (SAES) crews have been active in supporting firefighters battling blazes that have threatened homes on the NSW Mid-North Coast and Northern NSW.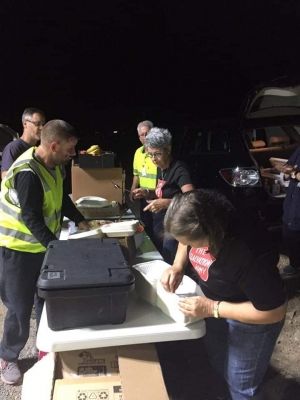 Forster-Tuncurry Salvation Army Emergency Services team in action.
The Forster-Tuncurry Corps SAES team manned the Tuncurry Evacuation Centre on Saturday night and provided around 200 meals to people impacted by the bushfire. They also prepared meals at the Kendall Showground fire-staging area and delivered meals to those working on the fire ground at Lake Cathie. 
Forster-Tuncurry Corps soldier David Hardaker said it was a busy time but an immense privilege to be serving in such a time of need. "Being able to support the firefighters and giving them something to eat after the hard work they've put in to fight those fires was amazing," he said.
Hans Schryver, The Salvation Army Strategic and Disaster Coordinator, based in Newcastle, said SAES trucks were now on stand-by ready to serve firefighters in the Port Macquarie area.
"We are so grateful to all our volunteers; they just come forward at a moment's notice," he said.
In north-west NSW, SAES crews are wrapping-up operations at the Rural Fire Service Glenn Innes base camp where they have served more than 27,000 meals over the past five and a half weeks.
Hundreds of SAES volunteers prepared and served meals to Glenn Innes Rural fire-fighters.
"It's a huge effort," said Norm Archer, The Salvation Army Strategic Emergency and Disaster Management Coordinator for NSW/ACT.
The operation is one of the longest-running emergency-meal responses the SAES has provided in the one location, with volunteers from Sydney, the Hunter region and other locations involved, as well as Northern NSW SAES teams.
Western Australia 
Western Australian Emergency Services crews responded to their first fire for the season over the weekend, when called to provide dinner for volunteer firefighters who were working to contain a blaze in Casuarina, south of Perth.
It was a busy weekend for volunteers who assisted at a number of different events and training exercises, as well as the incident.