You are here:
Home › News › 2019 › 11 › 06 › After 120 Years Even Greater Things In Store At Hurstville
After 120 years, even greater things in store at Hurstville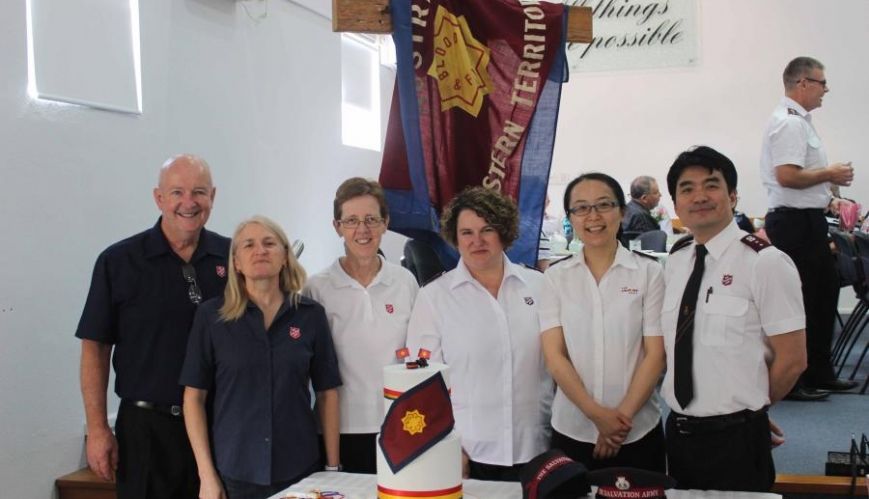 After 120 years, even greater things in store at Hurstville
6 November 2019
Majors Grant and Sharon Sandercock-Brown, Lieut-Colonel Miriam Gluyas, Captain Jocelyn McIver, Captain Lydia Hong and Captain Sean Li with the Hurstville 120th anniversary cake.
By Lauren Martin
Hurstville Corps celebrated its 120th anniversary recently, with a focus on 'Even Greater Things' to come.
Around 120 people, including ACT/NSW Divisional Commander Lieut-Colonel Miriam Gluyas, attended a high tea to commemorate the anniversary.
Majors Grant and Sharon Sandercock-Brown were guest speakers at the event and spoke about their nine years of soldiership at the corps, during which their three children were born and dedicated. Grant was the bandmaster and Sharon led the timbrel brigade, and it was from Hurstville Corps that they entered The Salvation Army officer training college.
Captain Sean Li, Hurstville Corps Officer, said the lead-up to the anniversary celebration weekend on 26-27 October, as well as the celebration itself, had been a wonderful time to reflect on the impact the corps has had on its community.
"It's a very marvellous history ... and now the Hurstville demographic has changed but Hurstville Corps hasn't been left behind; our corps reflects our community demographic with both Chinese and English-speaking members."
Sean said corps folk were overwhelmed by the number of people in the community who wanted to celebrate the anniversary with them. A community lunch on the Sunday afternoon had to be capped at 350 people due to the size of the facility they had booked.
"It was a beautiful, unexpected response from the community," he said. "This is not just an internal celebration, this was a community celebration." The luncheon involved members of Hurstville Salvation Army's Just Brass program, SAGALA, Kids Music, Chinese Dancers and the singing group.
"We are trusting God for even greater things in the future," said Sean.