Alex 'lucky to be alive' after fire escape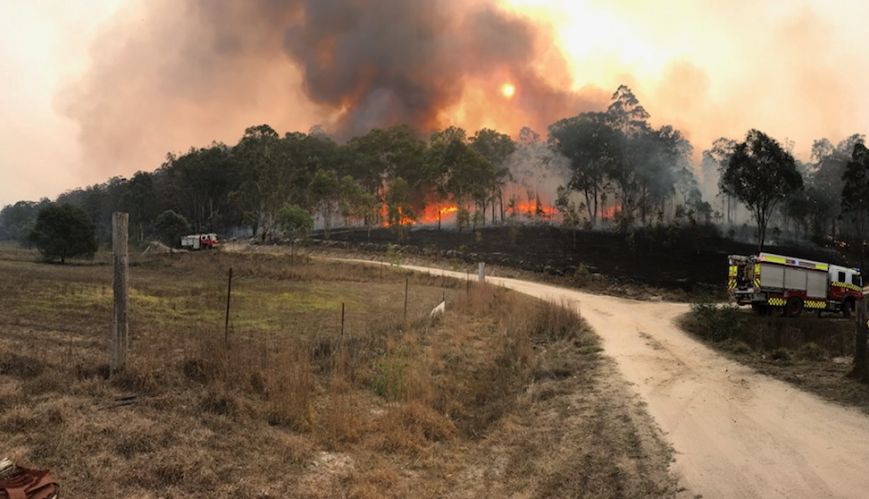 Alex 'lucky to be alive' after fire escape
12 November 2019
As catastrophic fire conditions grip New South Wales and Queensland, Salvation Army Emergency Services teams across both states are either active or on stand-by to support.
By Lauren Martin and Simone Worthing
Alex Harper feels very lucky to be alive after a ball of fire struck his home in Nymboida, about 50km south-west of Grafton, destroying his property within minutes. 
"I was trying to do some spot-fire control burning on my property as the big fire was coming over [on Friday]," he explained.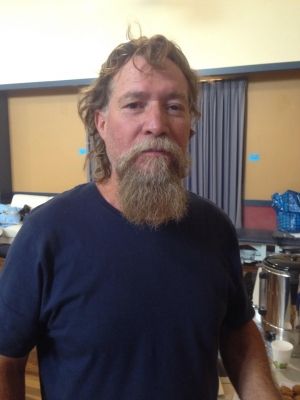 Alex is grateful to be alive after his home was destroyed.
"My mate and I sheltered in the cellar, which was a safe haven for about 10 seconds, but then this 'phenomenal' firestorm hit, just out of nowhere. Within three to four minutes the windows exploded, the back door blew out and the house started collapsing.
"We ran outside and jumped in the one vehicle that wasn't also on fire. My dog ran back into the house and I couldn't get him, so sadly, Bodie was lost.
"I headed straight for my partner's property because I knew it was good there. Driving along, my mate and I couldn't see a thing with all the smoke, so one of us was hanging out the passenger window directing when to turn left and right. Cinders were coming in all over the place.
"We got to my partner's, who was helping rescue a neighbour who didn't have a car. We figured out where the fire was headed and took the back road into town [Grafton].
"At the evacuation centre the Salvos have fed us, we've got some vouchers, some work clothes, and some good moral support. They've been wonderful. It's been good being able to talk to people and not having to worry about cooking and getting meals.
"We have nowhere to go and although we've lost our home, we haven't lost everything because we still have each other."
rainbow flats couple lose everything
In Rainbow Flats, 20km south-east of Taree, Brian and Karen Nixon thought they'd only lost a shed in the fire that ripped through their area on Friday. Sadly, they discovered later that their entire home was destroyed.
"We'd evacuated on Friday morning, a workmate told us they'd heard on the radio that those in Rainbow Flats should evacuate. We'd raced home, packed a few things with our daughter, and left with some clothes and our dog. We couldn't find our cat.
"The area was just full of smoke and we didn't really know what was happening."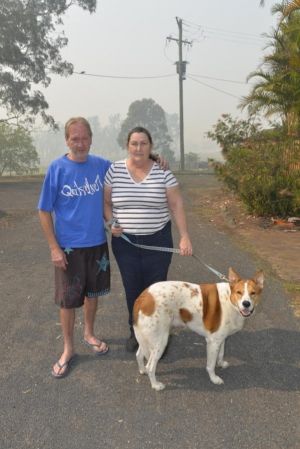 Brian and Karen Nixon are thinking of those worse off.
The Nixons found a motel where the owners let them keep their dog with them and have been spending time each day at the evacuation centre in Taree where they have been cared for by Salvation Army Emergency Services personnel.
"We are so thankful for family and everyone has been so helpful and supporting each other," said Brian.
"It's a bit overwhelming though; nobody thought it would be like this.
"We heard that our home was burnt out, and even had photos sent to us so we knew what to expect and that it wasn't good, but we could only get back there yesterday (Monday).
"There was only a bit of our bedroom not burnt, so I could get a few clothes full of ash, but everything else was gone. I found our cat, who hadn't made it.
"There were other houses burnt out in our street and quite a few others in the area.
"We are making do with what we have, there are others far worse off and waiting to see what happens. What else can you do?"
NSW fires update
As catastrophic fire conditions grip New South Wales and Queensland, Salvation Army Emergency Services (SAES) teams across both states are either active or on stand-by to support.
Several fires in the state's north continue to burn out of control, with new fires starting today.
Norm Archer, The Salvation Army Strategic Emergency and Disaster Management Coordinator for NSW/ACT, says SAES teams are responding incredibly well in the ever-changing conditions.
"Before this fire event, from September to the beginning of this event, our crews have already provided in excess of 60,000 meals, supporting firefighters and people affected by bushfires.
"I have put everyone in the state on stand-by before, but today there is a much larger likelihood of people being activated than ever before.
"Our people are putting in a huge effort and we need to keep praying for them, and everyone involved. And above all, please pray for rain."
Queensland fires update
All SAES teams across the state are on alert.
The teams are continuing to provide catering for the Queensland Fire and Emergency Service in Boonah, the Queensland Police in Noosa, and affected community members in both those places.
Catering also continues in the Yeppoon evacuation centre.
The Salvation Army has joined other agencies in the Noosa recovery hub to help provide immediate needs of those impacted by local fires.