Bushfire crisis not over as SAES teams stay on alert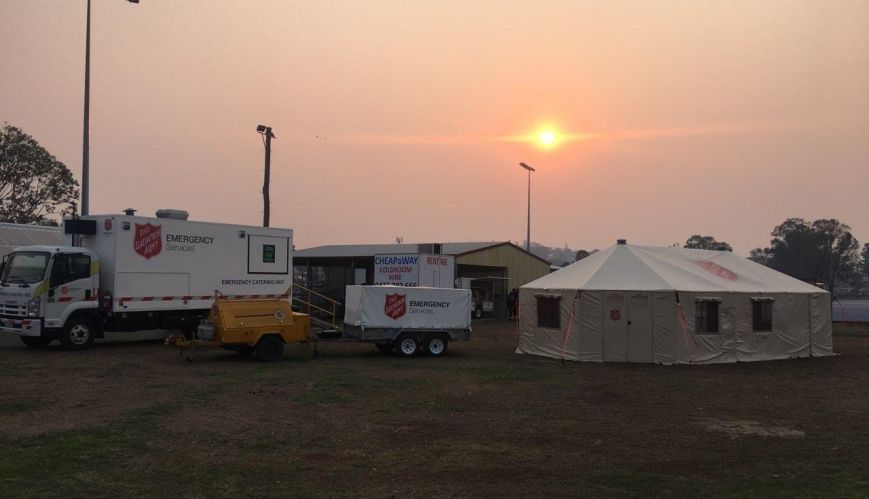 Bushfire crisis not over as SAES teams stay on alert
14 November 2019
The Salvation Army Emergency Services (SAES) continues to be active across Queensland, as 80 fires continue to burn around the state.
By Lauren Martin and Simone Worthing
The bushfire crisis gripping New South Wales and Queensland, although easing in some areas and transitioning to recovery, is far from over.
"Roads have started to reopen and people have started to return home. But that's not happening everywhere and more severe fire weather is predicted for the next few days," said Norm Archer, The Salvation Army Strategic Emergency and Disaster Management Coordinator for NSW/ACT.
"Conditions have eased but our people are still incredibly busy supporting firefighters and people affected by these very large fires."
Queensland fires
The situation in Queensland is still changing quickly, as fires begin, reinvigorate, or are contained and reduced. There are currently 80 bushfires burning across the state.
Smoke and haze are part of the Queensland landscape.
"We still have multiple SAES teams and local corps involved throughout the state, and we have good community support," said Adam Cole, State Coordinator – Queensland, Strategic Emergency and Disaster Management.
"At the moment, we are serving around 800 meals per day. We expect to continue until at least Sunday."
Gatton and Bundaberg SAES teams are now catering for the Queensland Fire and Emergency Services at Grantham, 100km south-west of Brisbane, and in Bundaberg, respectively. This is in addition to the teams in Boonah and Noosa.
The evacuation centres at Yeppoon and Childers have been closed.
In Noosa, the Queensland Government has invited The Salvation Army to participate in the Community Recovery Hub, alongside Lifeline, the Red Cross, Department of Housing and a range of other agencies.
"They refer the people to us, so we're helping those who've lost everything," said Major Sue Hopper, Strategic Emergency and Disaster Management Specialist. "This includes home visits for those who have lost their homes or have had their sources of water and electricity destroyed.
SAES teams are serving Queensland police and firefighters.
"These are families we will assist initially and also in long-term recovery.
"They are mainly people who fall through the gaps and are experiencing extreme hardship. They may have spent a long time in evacuation centres, or, for whatever reason, can't go to an evacuation centre. For some people, these centres are great for chatting and sharing stories, but for others, it's laying on a bed next to a complete stranger and they're not comfortable with that."
Sue shared that she was able to give a grant to one community member who had come in particularly traumatised and upset.
"When this person received the money, they looked at it and then said that, with this, they might be able to do what was needed to start cleaning up the mess their home was left in," she explained.
"It took the focus off the trauma and helped them think about what they could do to move forward. We can't help people to replace everything they have lost, but we can give people hope and help them change their focus, which is part of the healing process.
"That's why we are here – to really help people at their point of genuine hardship and need, both now and for the long term.
"We are responding to needs as they continue to emerge and are assessing what might be needed long term and how to appropriately move forward in response after this event."
Sue will now travel to NSW to assist with the recovery process there. Captain Leanne Stevens, Associate Strategic Emergency and Disaster Management Coordinator for Queensland, will direct The Salvation Army's response in Noosa.