Serving up hope on a dish in Melbourne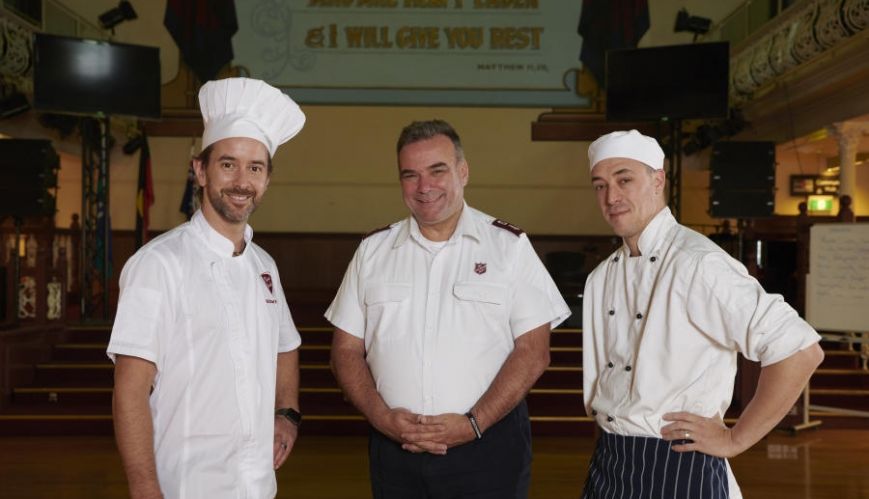 Serving up hope on a dish in Melbourne
18 November 2019
The Melbourne 614 Cookbook Launch brought together (from left) Michael Plarre, General Manager of Operations at Ferguson Plarre Bakehouse, Major Brendan Nottle, Corps Officer at 614 and Adam Thomson, Head Chef at Magpie Nest Cafe. Photo: Matt Irwin Photography courtesy of Wilkinson Publishing
By Jessica Morris
Dinner is a community affair for those who gather at Melbourne 614 Magpie Nest Cafe (formerly the Hamodava Cafe). The power of gathering over a meal is at the heart of their newly launched cookbook One Table: A collection of our family favourites.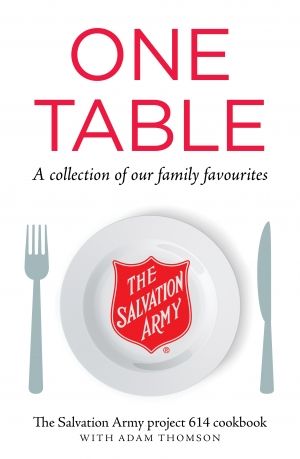 The mission expression released the book last month under the guidance of cafe head chef Adam Thomson, who experiences first-hand every day how food brings people together.
Each week, Adam and his team feed more than 4000 Melbournians at the cafe. Their free meals are often the difference between guests going to sleep hungry or experiencing the dignity of a full belly as they connect to services.
"My heart has always been split between creating comforting, easily approachable, uncomplicated food and helping those in need," said Adam.
"I love that our community can come in and have proper table service."
Adam has served up more than 100 tried and tested recipes in the cookbook, inviting readers to create the same community in their lives by creating delicious, home-cooked meals.
Brendon's Toad in a Hole? Check. Sandra's Prawn Chowder? Check. There's even Christmas Pudding courtesy of Ferguson Plarre Bakehouse, because what use is a meal without dessert?
Throughout the book, Adam explains how to complete basic tasks like cutting fruit, how to steam vegetables and what it takes to create a basic salad dressing – making it accessible for even the most cooking-challenged of us out there.
Adam's additional 'chef secrets' sprinkled through the book remind us that these meals have hit the mark many times before, providing people with more than sustenance, but hope for a future.
"I know that my style of cooking, being uncomplicated food that we all know and are comfortable with, will never win me great accolades for innovation throughout the industry, but regardless I am really proud of what we achieve here," said Adam.
"Giving that sense of worth to someone and letting them know they matter is truly something special. And if I can let someone know they're valued through some roast pork and an apple crumble, then that's a good day's work to me."
As the book states: Food is the great equaliser. And now, thanks to Adam and the team at 614, we can experience this in our communities too.
Every sale of One Table: A collection of our family favourites goes towards the work of The Salvation Army 614 in Melbourne. It is available now at Melbourne Trade, Fergusson's Plarre and Dymocks.