New leadership structure for Australia Territory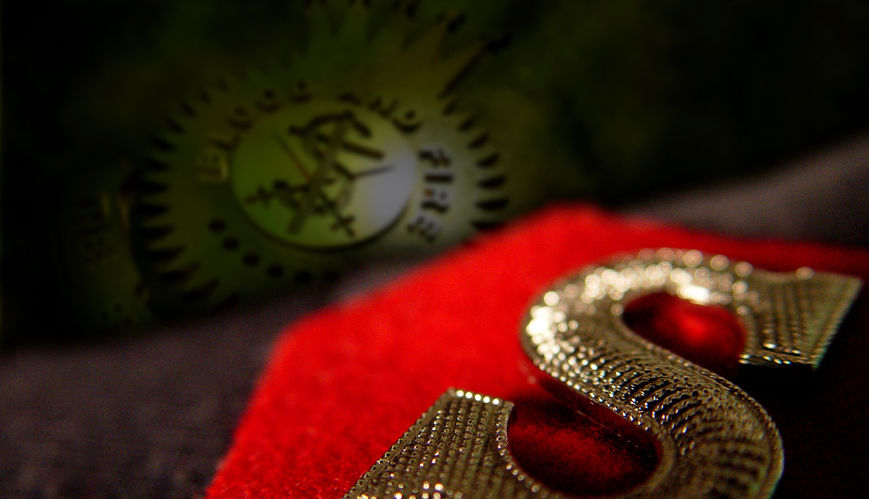 New leadership structure for Australia Territory
20 November 2019
Three significant new appointments and major changes to the leadership structure of the Australia Territory have been announced by territorial leaders Commissioners Janine and Robert Donaldson.
In a letter to the territory (below), the Donaldsons have explained how the new structure will operate and who is involved in the three new appointments. A number of other appointments have also been announced and these can be found at the conclusion of the Donaldsons' letter.
Good morning everyone,
Throughout the Australia One journey, our territory has experienced extensive change on many levels.
These changes position The Salvation Army with a united voice, aligned vision, increased innovation, stronger partnerships and better stewardship for greater impact – a Salvation Army leading a fresh movement of God across Australia.
We want to thank you for your prayers, resilience and patience during this process and especially the past year.
We continue to embed territorial leadership and governance structures as well as new processes and procedures. Over the past few months, we have been reviewing how the territorial leadership structure is working to support our vision of transforming Australia one life at a time with the love of Jesus.
You have heard us talk in recent months about our support for a holistic approach to our mission. For us to focus more intentionally on delivering this holistic mission, we would like to announce the following leadership changes:
Chief Secretary and Cabinet: The span of control of the Chief Secretary role is unsustainable in its current form and, to decrease the reporting-line responsibilities of the role, the Assistant Chief Secretary role will be repurposed.
The portfolios will be realigned with Divisions and the Mission portfolio reporting to the Assistant Chief Secretary. This will ensure that the front-line teams receive appropriate and dedicated support. Lieut-Colonel Kelvin Merrett will take on the role of Assistant Chief Secretary, with promotion to the rank of colonel.
Importantly, the Divisional Commanders and the Secretary for Mission remain part of the territorial leadership team.
A new role (Assistant to the Chief Secretary) with responsibility for governance has been created. Major Darren Elkington will take up this new appointment in 2020, overseeing the Governance and Risk, Enterprise Project Management Office, Internal Audit, Professional Standards and Quality and Salvation Army International Development departments.
Women's Ministries and Gender Equity: Commissioner Janine Donaldson retains the role of Territorial President for Women's Ministries (TPWM) and will offer her leadership of women throughout all mission delivery. The focus on our gender equity agenda will continue, with the function included in the responsibilities of TPWM.
Mission Support: The Mission Support department is being refined to be more focused on their mission resourcing. The Adults Ministry stream will resource both women and men in their Christian faith and overall wellbeing. The Diversity and Inclusion stream will support front-line mission expressions to build an inclusive culture and practice of ministry.
Following a review of our Governance and Management Forums, we would also like to announce that the Executive Mission Leadership Team (EMLT) will cease at the end of 2019. The Cabinet will transition to a Pastoral Committee commencing in 2020, to support us, as the territorial leaders, in ensuring the spiritual health of the territory.
The Executive Mission Council (EMC) will continue to support the Chief Secretary in the implementation of strategy and oversight.
The new leadership structure and appointments take effect on 1 February 2020. Please find below, for your reference, the new Territorial Executive Organisational Chart.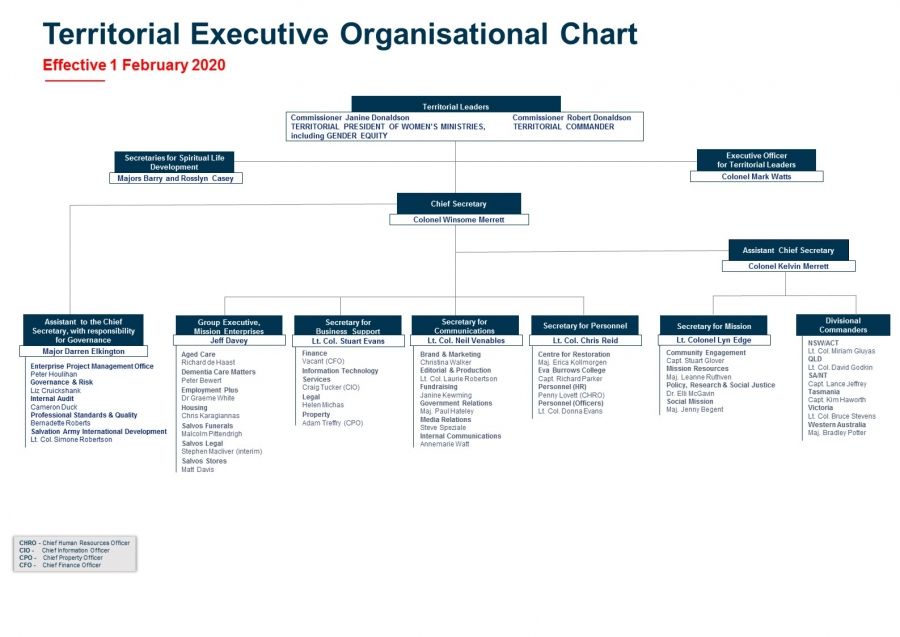 Please send questions or feedback to askthechief@salvationarmy.org.au
May God continue to grant wisdom, discernment and courage to his Army in these exciting days.
God's richest blessings,
Commissioners Janine and Robert Donaldson
New appointments
Effective from 8 January 2020
Major Darren Elkington – Assistant to the Chief Secretary with responsibility for Governance, Office of the Chief Secretary.
Major Alwyn Robinson – Corps Officer Perth Fortress Corps, Western Australia Division.
Major Deborah Robinson – Corps Officer Perth Fortress Corps, Western Australia Division.
Captain Richard Parker – Head of Eva Burrows College/Training Principal Eva Burrows College Office of the Secretary for Personnel.
Captain Brenda Young – Leader, Officer Formation/Senior Training Officer, Eva Burrows College, Office of the Secretary for Personnel.
Effective from 1 February 2020
Lieut-Colonel Kelvin Merrett – Assistant Chief Secretary (with promotion to the rank of Colonel), Office of the Chief Secretary.
Lieut-Colonel Chris Reid – Secretary for Personnel.
Lieut-Colonel Stuart Reid – Corps Officer Waverley Temple, Victoria Division.
Major Bradley Potter – Divisional Commander, Western Australia Division.
Major Katrina Potter – Area Officer (Northern and Rural WA), Western Australia Division.