Bushfire crisis reveals the 'mission behind the mission'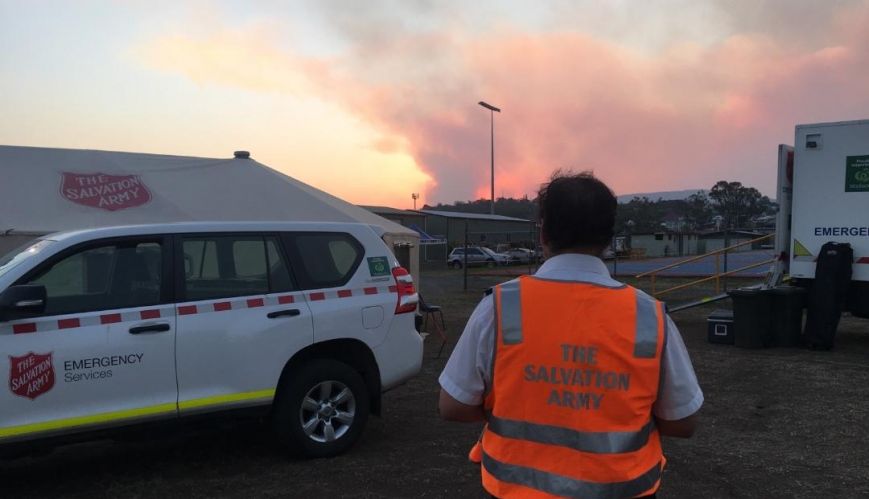 Bushfire crisis reveals the 'mission behind the mission'
21 November 2019
The Salvation Army's Adam Cole surveys the ongoing fires in the Boonah area of Queensland where SAES volunteers are still active.
By Lauren Martin and Simone Worthing
Queensland fires
"We know what our mission is, to give practical support, hope and reassurance in these tough times, but there is also the 'mission behind the mission' – that of kingdom building," said Adam Cole, State Coordinator – Queensland, Strategic Emergency and Disaster Management.
"As we face conditions we haven't faced before and are involved in multiple tasks in the same region, the needs are getting more complex and knowing our mission is even more critical.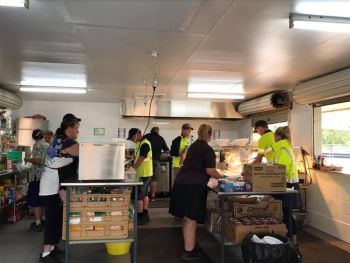 Victorian and Queensland SAES teams serve at Boonah.
"We have great backing from our volunteers across the state and beyond, local communities, and the fire brigades themselves who see our work as so helpful and supportive.
"We have many tired people, though, in many places, doing great things and needing prayer and support."
About 70 fires are burning across Queensland, with erratic winds and hot, dry weather creating especially horrendous conditions on the Darling Downs where firefighters are battling a blaze at Crows Nest that tripled in size over the weekend.
"Unless we get significant rainfall, this fire is expected to burn for weeks," said Adam. "It won't stop until it rains, or everything is burnt out."
A Salvation Army Emergency Services (SAES) crew is catering at the Pechey Evacuation Centre, 40km north-east of Toowoomba. The team is serving three meals a day to people impacted by the fires, as well as staff associated with the centre.
There is also a SAES team at Toowoomba, preparing meals that are taken to the staging area for Queensland Fire and Emergency Services (QFES) personnel at nearby Highfields.
The Toowoomba team is catering for emergency services personnel.
"Our involvement in evacuation centres and recovery hubs has enabled community recovery staff to provide referrals for people who have lost everything, people experiencing extreme hardship and an early connection to those in need," said Adam.
Adam explained that the ongoing drought and current weather conditions are exacerbating the fires, which have begun very early in the season.
"It's the severity of the drought that will have ongoing and cascading impacts on local communities," he said. "They have been dealing with drought, and now big fires that have taken whatever was left.
"The challenge of providing hope to people is going to get harder as the needs get more complex.
"The Strategic Emergency and Disaster Management team remains available and willing to support (and partner with) corps and their communities as they navigate the recovery journey."
SAES teams are also active in Boonah, where crews from North Queensland and Victoria are assisting to help spread the workload catering to QFES personnel.
Queensland has experienced more than 2000 bushfires across the state since the start of September. More than 174,000 hectares have been burnt and 34 houses destroyed.
Noosaville Recovery Hub
The Salvation Army continues to provide emotional support and financial assistance in the Community Recovery Hub at Noosaville alongside local councils, the Queensland government and other non-government agencies.  
"We are working with people who were evacuated from their homes but don't fall into the zone that the community recovery grants cover," explained Captain Leanne Stevens, Associate Strategic Emergency and Disaster Management Coordinator for Queensland.
"This also includes people whose daily lives are impacted by this event in many different ways. We can assist them with Woolworths and Universal gift cards, and journeying beside them."
Leanne shared the story of one woman, who, pregnant and with a two-year-old toddler, came home from the shops but couldn't get into her street due to the fires. She had no bottles with her, no formula, no food or hygiene products. She didn't know about the evacuation centre and couldn't afford accommodation, so spent the night in her car with the toddler. She spent the money she'd saved to renew her licence on extra food and their needs for the night.
"She came to see us, very upset that her driver's licence was expiring that day and she no longer had enough money to renew it," Leanne said.
"We were able to help her renew her licence and give her some financial support for groceries.
"Community recovery grants don't cover those sorts of things, but she was evacuated and impacted by the fires."
The Salvation Army also helped a man with a disability, confined to a wheelchair, who couldn't go to the evacuation centre and had to pay for accommodation away from his wife and daughter.
"The evacuation centre was not a good environment for him and it couldn't cater for his needs, so he outlaid money for accommodation and was very upset," said Leanne. "We were able to compensate him for the money he spent.
"There are so many stories like these, including those of some families who were evacuated three times in one day and each time weren't sure what they were going back to. They have been hugely impacted emotionally by the fires.
"This is how we can support and help. We have disaster recovery volunteers and employees assisting, both local and from around the state. It's One Army One Mission, and we want to give the best assistance we can with the resources donated by the Australian public."
The Noosaville Hub is expected to close on Monday 25 November. The Salvation Army will potentially be involved with additional recovery hubs, including Yeppoon, Bundaberg and other regions.
New South Wales fires
Fires are still burning in the state's north, but the emergency phase is winding down and The Salvation Army is moving into disaster recovery operations. 
Casino Corps Officer Lieutenant Natarsha Laundon and her SAES crews spent several days providing meals and a listening ear at the nearby town of Rappville, which was severely impacted by the bushfires.
"A big firestorm swept through the town really quickly," Natarsha said. "Around 20 houses were lost and properties close to the school burnt down as people were sheltering inside the school.
"Listening is a really important part of the journey with people at the moment," she said. "People are coming in for assistance and telling me their stories."
The Salvation Army in Casino has helped around 30 families. Some have lost their homes, other property owners have lost stock, fences, sheds and other farm equipment. The fire has destroyed their livelihoods and Natarsha says it's going to take people a long time to recover. "And with the fires still burning, I'm sure I will see more people as time goes on."
In the north-west of the state, at Tenterfield, The Salvation Army is working with other churches and organisations to deliver assistance to the surrounding towns and villages that have been affected by the large blazes that have been burning for more than a month.
Captain Joel Soper is preparing for the arrival of a semi-trailer load of donated non-perishable food items and water, which The Salvation Army will distribute to affected families and individuals. 
He says the area is feeling the effects of the "double-disaster" of drought and bushfires. "Christmas is going to be really tough for people in our area. People already affected by drought have now lost stock and fencing in the bushfires. There's not a lot of money around and a lot of shops in town are feeling it too. 
"We are expecting to assist many more people this Christmas season as a result."
South Australia fires
In South Australia, the SAES has been called to serve in Yorketown, where a fire started in yesterday's catastrophic conditions on the Lower Yorke Peninsula and has already impacted at least 11 properties and burned across 4500 hectares.
"When we got the call at 3.30pm local time yesterday, we had already guessed we would be needed and so were already one hour down the road," said Des Ellery, SAES Coordinator. "Our truck is based in Adelaide and we have trailers at different corps all over the state."
Des and his team, including SAES volunteers from Gawler and across Adelaide, are catering at the staging area for the Country Fire Service, police and emergency services personnel.
"It's very hectic and we are run off our feet," he said. "It's nothing like our teams in New South Wales and Queensland though, and we are thinking of them. For now, though, we are serving here and will stay as long as we are needed."