Little fundraisers with a big heart for the homeless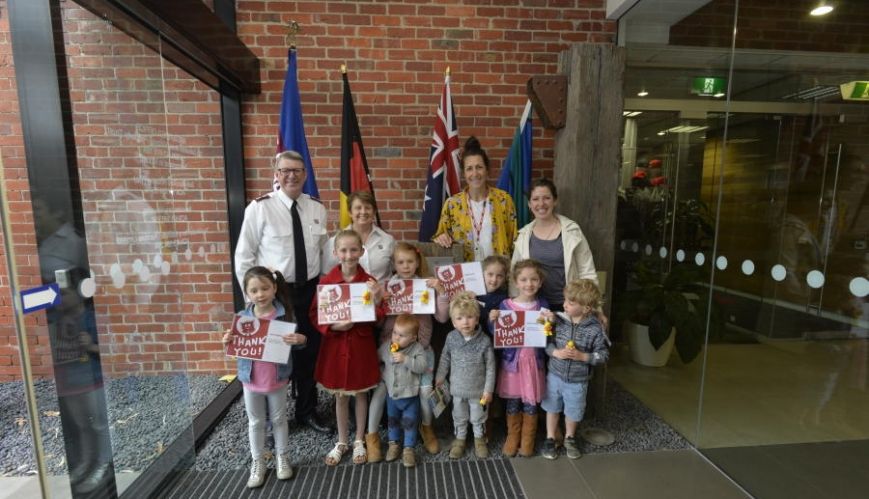 Little fundraisers with a big heart for the homeless
22 November 2019
Colonels Mark and Julie Campbell (back left) with Melinda Eagleton and her neighbour Liz, and the group of children who raised $400 for The Salvation Army to help those impacted by homelessness in Melbourne.
By Jessica Morris
Kids can make a difference – just ask seven-year-old Isla Eagleton and her four-year-old sister Emma. They raised more than $400 for The Salvation Army after seeing homeless people on the streets of Melbourne.
The sisters were so impacted by the sight of people sleeping rough that they gathered their neighbourhood friends to come up with a fundraiser.
With their simple aim to "help the homeless", they decided to create and sell wheat bags. Isla and Emma's mother, Melinda Eagleton, provided the group of girls with all the materials and they set about their mission. 
The sisters and their friends – Anika (8), Grace (7), Myriam (6), Imogen (6) and Molly (5) – made more than 50 wheat bags and sold them to friends and family.  
"I don't believe they were aware of any charity that took care of homeless people. They just saw people living rough and thought of them," Melinda said. "[We decided] it was best we pass the money on to a charity that would best take care of their donated money and spend it on homeless people. I did a quick Google search and we decided on The Salvation Army because of their history and familiarity."
The Eagleton family had no prior connection to the Salvos, but when high-ranking Australia Territory officers Colonels Mark and Julie Campbell heard about the ingenuity of Isla, Emma and their friends, they invited them all to The Salvation Army Territorial Headquarters in Melbourne to thank them personally.
"It was such a privilege to meet these kind children and their mums. Thank you," said Colonel Julie Campbell.
These little world-changers remind us that you are never too young to #livelovefight alongside others. All it takes is a compassionate heart and some creativity – Isla and Emma are proof you never know where it can take you.
"I like to encourage our kids to not just take interest in community issues but also take action because I think that is how you get outcomes," said Melinda.
"In Isla's words, they felt 'proud of themselves' after meeting the colonels. They hope the money 'can be used to make people more comfortable'."