Salvos Discipleship School celebrates 28 years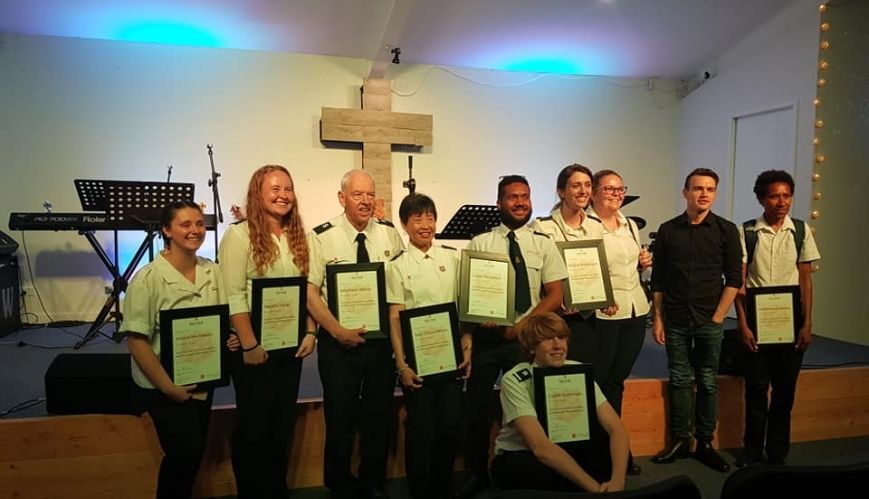 Salvos Discipleship School celebrates 28 years
22 November 2019
Students proudly display their 2019 Salvo Discipleship Program certificates at the Celebration and Graduation Ceremony.
By Lauren Martin
Nine students have graduated from the 2019 Salvo Discipleship Program during a celebration event to mark the school's 28th anniversary.
The graduates from across Australia and overseas spent the past year studying at the program, which is located at Berkeley Vale on the NSW Central Coast.
"This year has completely changed my life," said graduate Jessica McFadyen at the Celebration and Graduation Ceremony held at Long Jetty Corps. "I've just completely fallen in love with Jesus again. It's the best thing that's ever happened to me."
"I've learned so much," another graduate Keyra Robinson said. "I've learned who I am as an individual, my own spiritual gifts, my strengths and who I am in God's Kingdom."
Many past students and leaders attended the graduation, including Majors Jean and Ray Herron, founders of the school, and Majors Gary and Judith Baker, who led the school for four years from 2002.
Gary honoured current leaders, Long Jetty Corps Officers Majors Andrew and Melissa Humphreys, saying, "they believe transformation is always possible."
"It's a real honour to be able to represent the territory in saying 'thank you' to these two Jesus followers for what they have brought to the college, their passions, their gifts, their experiences." This was followed by a standing ovation.
Salvos Discipleship Program manager Major Andrew Humphreys.
"The school has had a massive impact on my life," said Andrew. "I've had something to do with it, either as a student, a ministry assistant or a teacher for all but three years of its life. We have loved our time here.
"We believe that over the past 28 years the school has been the most successful youth discipleship program in Australia, with many, many lives changed."
Proud history
The Salvos Discipleship Program began as the School for Youth Leadership in 1992 under the guidance of the Herrons, who were Planting Officers at Eastlakes Corps, Lake Macquarie.
Students and staff were accommodated in the former Swansea Corps facilities in the first four and a half years. An excerpt from a newsletter produced to commemorate the school's history states: "Hairy's [Herron's] organization, innovative ideas and recruitment ability along with Jean's faith and practical gifts saw the School flourish over 10 years, training 107 students. In 1996, the Swansea facilities were struggling to accommodate a record 11-student School. Utilising a caravan with annexe, hall with extra rooms as bedrooms, and units a few blocks away, the School was requiring housing with a larger capacity. Opportunity arose for The Salvation Army to purchase 'Kiwi Ranch' on the shores of Lake Munmorah. Within weeks the School was packed up and moved to the new site with more bedrooms and the most spectacular view from lakeside frontage."
In 2013, the school moved to the site of the former Selah Recovery Services at Berkeley Vale. Over the years, students have come from all over Australia and overseas to study.
The newsletter continues: "Many things have changed. The name Youth Leadership Training Centre, School for Youth Leadership, became the Salvos Discipleship School, and most recently, Salvos Discipleship Program. Students graduate with a Certificate in Salvation Army Youth Ministry, to Certificate IV in Youth Work, to Certificate IV in Christian Ministry and Theology. Originally, the intake was for 18-28-year-olds, today we have residential 18-30 years and mature aged day students. For those unable to commit nine months to the School, 'Sharpen' was launched with one-week intensives with 34 students taking part in the Sharpen modules. To help students continue to grow in ministry experience, a second-year internship ran over the last six years with nine Interns graduating."
Program on hold
The Salvos Discipleship Program will not operate in 2020. The program has been put on hold as Eva Burrows College evaluates the discipleship needs of the territory. Head of College, Major Deborah Robinson, who attended the graduation, spoke about the positive impact the program has had on The Salvation Army in Australia.
"I tip my hat to the team," Deborah said. "I think the vision given to Major Ray Herron almost 28 years ago was marvellous and the school has had a significant impact on The Salvation Army. People have gone on into leadership positions, into officership, into ministry. People have discovered who they are, God's calling on their life and it's had a significant impact over the years."
A working group has been established under the leadership of Eva Burrows College Leadership Specialist Karen Lattouf, which will look at the Australia Territory's discipleship needs and what role Eva Burrows College plays in the delivery of resourcing and teaching in that space.
Majors Andrew and Melissa Humphreys will continue as Long Jetty Corps Officers in 2020 and the Salvos Discipleship Program site in Berkeley Vale will continue to be used by The Salvation Army to offer transitional accommodation for graduates of the Dooralong Transformation Centre.