Making Hobart safer for street sleepers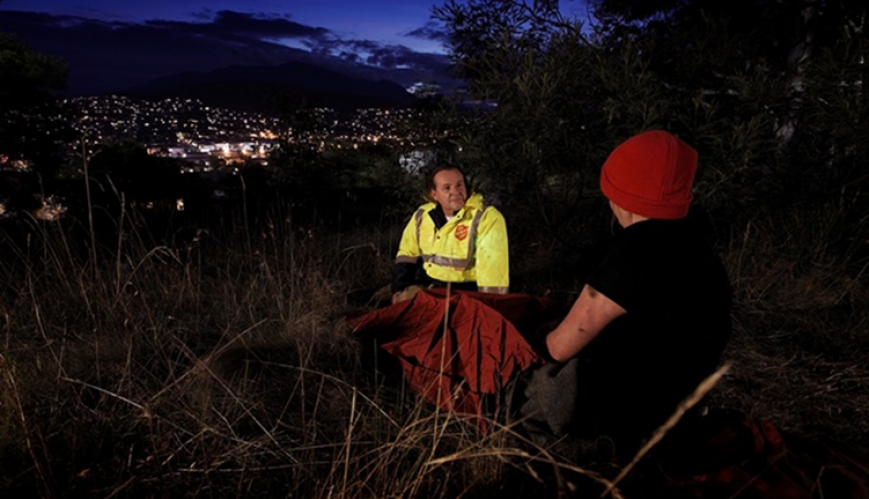 Making Hobart safer for street sleepers
28 November 2019
Street 2 Home Manager Don McRae interacting with a homeless person in a squat.
By Jessica Morris
More people are sleeping rough in Hobart than ever before, but a new Safe Night Space program in the Tasmanian capital is set to change this.
The Salvation Army has partnered with Hobart City Mission to run a six-month pilot program in the hope it can be replicated across the state. Offering respite to 10 people a night, the $450,000 program, funded by Hobart City Council, will operate from a building behind the Hobart Hospital. 
"We have seen across a number of major cities that people sleeping rough has become more prevalent, and this is certainly the case for Tasmania with 70 people sleeping on the streets of Hobart each night," said Major Paul Hateley, Acting Public Relations Secretary in Tasmania.
"Unlike most other major cities, Hobart is bitter and cold. This Safe Night Space will give people somewhere to rest and get away from predators and potential violence. They will be fed, kept warmer, drier, and people will be treated with dignity."
When the Safe Night Space opens soon, it will be available seven days a week from 8pm-7am. Clients will be given a place to sleep on foam mats and facilities will include a kitchenette, bathroom and lockers.
A television and games area will mean the Safe Night Space is more than just a safe place to sleep – it will be a launchpad to physical, emotional and spiritual transformation. And every client will have the opportunity to be connected to support services such as Housing Connect, Mental Health counsellors and Alcohol and Other Drug specialists.
"This is the first step so people can interact with professionals and access services so they can enter sustainable housing," said Paul.
The Tasmanian Government kick-started the program by donating $150,000. Paul said the local and state-wide partnerships were pivotal in the program's success.
"This is literally The Salvation Army living out our mandate to live, love and fight alongside others," he said.