You are here:
Home › News › 2019 › 11 › 29 › Cadets Families And Mentors Honoured At Graduation Ceremony
Cadets' families and mentors honoured at graduation ceremony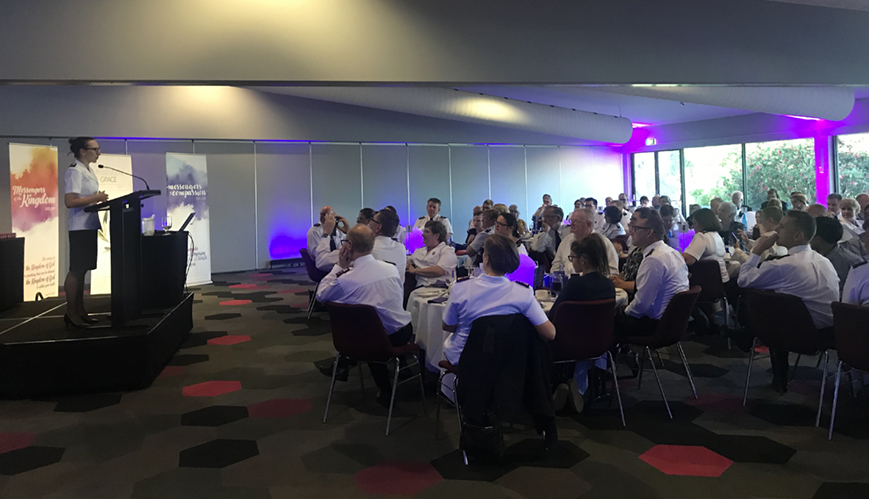 Cadets' families and mentors honoured at graduation ceremony
29 November 2019
Cadet Alice Edge addresses cadets and their families at the Silver Star dinner last night.
By Jessica Morris
Cadets from the Messenger officer training sessions have honoured their families at a Silver Star reception, ahead of their commissioning as Salvation Army officers this weekend.
Eleven cadets from theMessengers of Compassion, Messengers of the Kingdom and the Messengers of Grace sessions gathered at the Karralyka Centre in Melbourne on Thursday night. The event also served as a graduation ceremony. The cadets will be involved in commissioning services this weekend in Melbourne (30 November) and in Rockhampton, Queensland (December 1).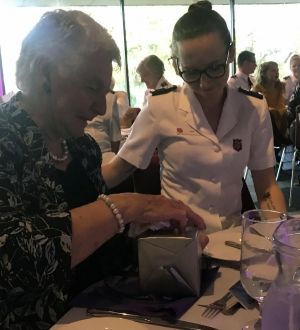 Cadet Alice Edge gives a gift to her Grandma.
The Silver Star dinner hosted the cadets  and their families and close friends, staff from Eva Burrows College and leadership of The Salvation Army from across Australia.
Australia Territory leader Commissioner Janine Donaldson conducted the Silver Star presentation, rounding out 
the cadets' Covenant Day by recognising the people who have been influential in their ministry formation.
"These [Silver] Stars are a constant expression of The Salvation Army's gratitude to parents [and other influential figures], for shaping your officer child and your sacrificial service," she said.
Cadet Alice Edge used the ceremony to reflect on the role her parents and Grandma had played in her life. 
"Do not underestimate the impact you've had. Your life matters, your influence matters. You matter to us," she said, echoing the sentiments of the cadets in the room.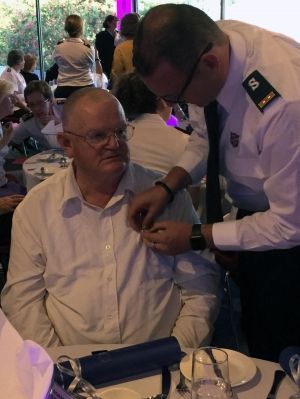 Cadet Paul Trotter pins a Silver Star on his father.
Each cadet was also presented with their Certificate of Salvation Army Officer Training, in recognition of their graduation from the officer training college.
Cadet Paul Trotter said his training had taught him to place his identity in God, in readiness for officership.
"I am no longer defined by the expectations of what others think of me, but by the person God has made me to be," he said.
The words of Captain Karyn Wishart a decade after her own commissioning as a Salvation Army officer, closed the night, reminding everyone present what the true nature of calling actually is.
"Officership does not define you; God defines you. You have been called for a purpose," she said.
"It doesn't matter what colour epaulettes you wear, what your appointment is or the name of the rank, what defines you is being a Godly person."
Watch the Messengers be commissioned as Salvation Army officers via live stream. Go to https://www.facebook.com/OthersAU at 2.30pm (AEST) on Saturday 30 November to watch the Commissioning held at Waverly Temple in Melbourne. Two cadets will be commissioned on Sunday 1 December at Capricorn Region Corps in Queensland.