SAES on the front line again as fires flare in NSW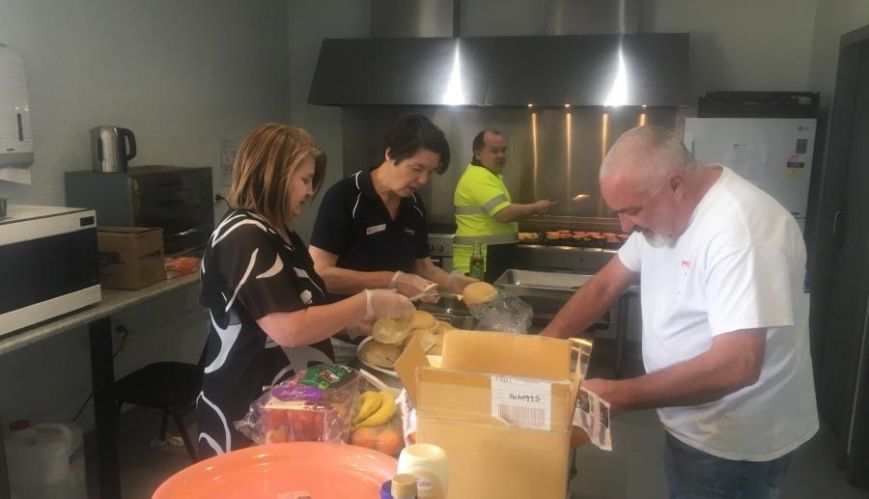 SAES on the front line again as fires flare in NSW
2 December 2019
The Batemans Bay Salvation Army Emergency Services team prepares a meal at a local bushfire evacuation centre in southern New South Wales.
By Lauren Martin and Simone Worthing
The Salvation Army is responding to a number of out-of-control bushfires in New South Wales.
Strong winds are fanning more than 150 fires across the state, with Salvation Army Emergency Services teams active on the South Coast, in the Hunter region and in parts of Northern NSW. Some of these teams, especially those in the north, have been active, on-and-off, for the past two months.
"The lead-up to Christmas is already a busy time of year for The Salvation Army," said Norm Archer, The Salvation Army Strategic Emergency and Disaster Management Coordinator for NSW/ACT. "We really appreciate the stamina and resilience of our people who are stepping up to provide resourcing for these current emergencies."
On the South Coast, where an out-of-control bushfire has led to the evacuation of a number of small coastal communities north of Batemans Bay, local corps officer Lieutenant Ben Knight and his SAES team are providing meals at the evacuation centre.
"There's lots of smoke visible," he said. "People [at the evacuation centre] are not too chatty, they're just waiting.
"One person this morning said the hardest part is just waiting and watching."
The Salvation Army is also active at an evacuation centre in Ulladulla, north of that fire.
At Cessnock in the Hunter Valley, an SAES team provided meals last night and was on stand-by today as conditions keep being monitored and updated.
Queensland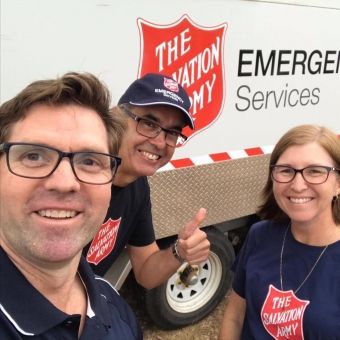 Captains Dale and Darlene Murray with Councillor Geoff McDonald (right).
The SAES still has one active task remaining – catering for Queensland Fire and Emergency Services personnel in the Boonah area. This is expected to continue until at least 6 December.
"Things currently are fairly stable, but early indications are that we are expecting less than ideal weather conditions this week," said Adam Cole, State Coordinator, Queensland, Strategic Emergency and Disaster Management.
In Crows Nest, north of Toowoomba in Queensland, the local community gathered to thank the emergency services for their hard work with the Pechey Fires. The Salvation Army Emergency Services team attended the event, with Toowoomba Corps Officers Captains Dale and Darlene Murray saying it was a wonderful event filled with community spirit.
All Queensland SAES teams remain on standby. To date, more than 21,000 meals have been provided, across 13 different sites.