You are here:
Home › News › 2019 › 12 › 10 › More Salvationists Urged To Assist During Bushfire Crisis
More Salvationists urged to assist during bushfire crisis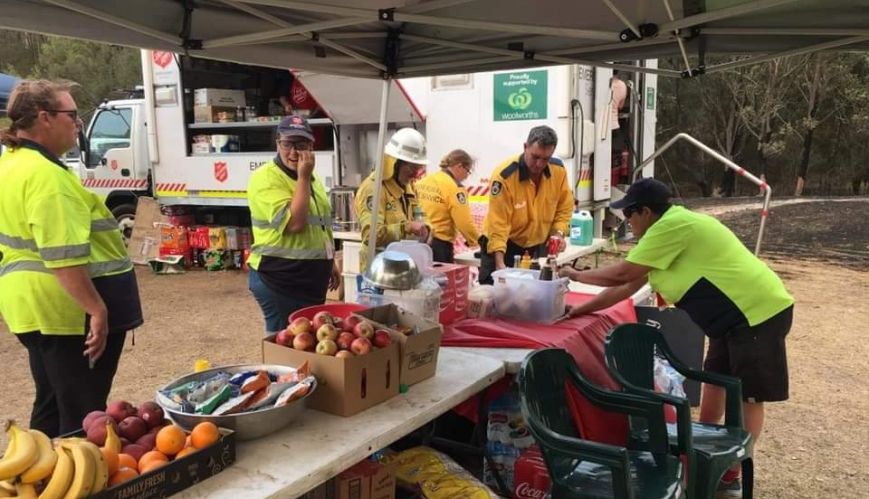 More Salvationists urged to assist during bushfire crisis
10 December 2019
Volunteers support Rural Fire Service teams fighting fires at Martin's Creek, north of Newcastle, NSW.
By Lauren Martin
As bushfires continue to burn across New South Wales, the head of the state's Salvation Army Emergency Services (SAES) has urged more Salvationists to assist.
SAES teams are active at the Mangrove Mountain staging ground, north of Sydney, as well as a number of other evacuation centres and staging grounds, feeding firefighters hundreds of meals a day.
Over the past month, the SAES has responded to 67 emergency tasks in NSW and the Australian Capital Territory, most of them fire-related.
The Salvation Army Strategic Emergency and Disaster Management Coordinator for NSW/ACT, Norm Archer, says the scale of the emergency is unprecedented.
"Our volunteers are working really hard, but we're always open for new people to come and help us. At this stage, unless the state gets significant rain, it looks like these fires will be ongoing for some time.
"Anyone wanting to assist can contact The Salvation Army Emergency Services through their local corps officer. We would love people to get in touch."
South Coast
Ulladulla Ministry Worker Stephen Dunn has been stationed at the town's evacuation centre since 1 December. He has been working with the Ulladulla civic centre's catering staff to organise meals for evacuees (up to 375 people at one point) as well as meals to be delivered to other centres.
At one point he administered CPR to a person having a heart attack.
"This is my first time being the Salvos coordinator in an evacuation centre," Stephen said. "It's been long and tiring and ... emotional [but] it's a great community here and people look out for one another.
"My role is catering, but you listen to people and you spend time in a pastoral role as well."
When a group of residents was told they could go home, local State Emergency Services personnel and firefighters offered to take meals to people who might have difficulty getting back into town for supplies, so The Salvation Army helped to make up boxes of groceries for them to deliver.
While the situation appears to be easing at that fire-ground, SAES teams are still active and ready to respond as needed.
Hunter Valley
Teams from across the region have been working throughout the fire emergency. SAES volunteers have been on hand at evacuation centres in Gosford, Singleton and Kurri Kurri, as well as a Rural Fire Service staging area at Kurri Kurri, Martins Creek and Gospers Mountain.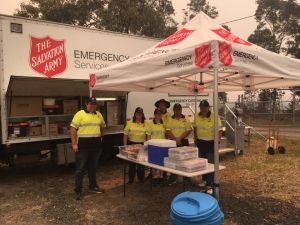 SAES volunteers at the Gospers Mountain fire-staging area.
The Salvation Army is also active at a large fire-staging ground at Mangrove Mountain.
Hundreds of meals have been served and operations in some areas are ongoing.
"The volunteers up here from all over the Hunter have been brilliant – nothing has been too much for them," said The Salvation Army Strategic Emergency and Disaster Coordinator for Newcastle, Hans Schryver.
"The Hunter region works as a big team ... every corps does its bit. It's been a massive exercise over the last five days, feeding approximately 500 to 600 people a day."
Salvos wishing to volunteer with The Salvation Army Emergency Services should speak to their corps officer. Please note that during times of peak emergency activity, it may take some time for the SAES to be in touch.