You are here:
Home › News › 2019 › 12 › 13 › Mr Graham Wheeler Receives Queensland First Others Award
Army honours tireless Townsville volunteer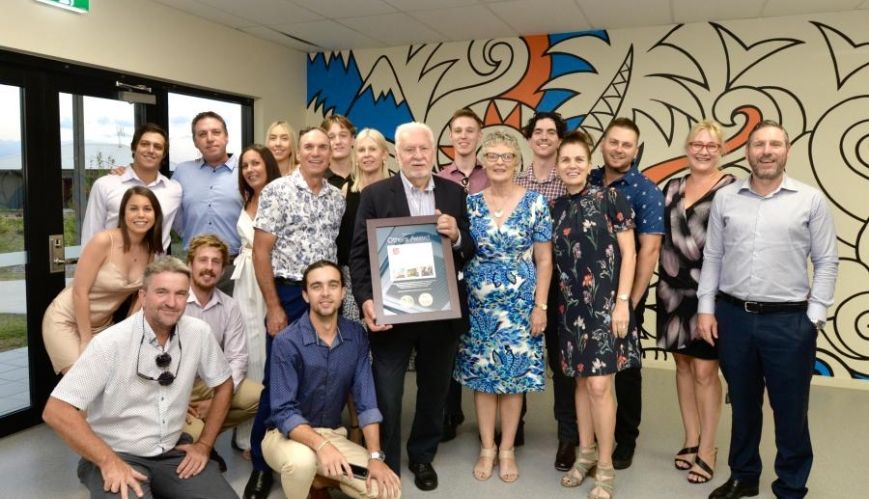 Army honours tireless Townsville volunteer
13 December 2019
Graham Wheeler is surrounded by his family and friends after receiving the Others Award in Townsville.
The Salvation Army's highest honour for a member of the public has been awarded to a retiree who has supported the Army's work for over 30 years.
Graham Wheeler became the first Queenslander to receive the 'Others Award' during a ceremony at Townsville Recovery Services centre.
The award [not linked to our magazine] honours an individual or organisation exemplifying an extraordinary spirit of service to 'others'.
Lieut-Colonel David Godkin presented Graham with the award on behalf of Territorial Leaders Commissioners Janine and Robert Donaldson and spoke highly of Graham's tireless service to the Army.
"From growing, then firmly establishing the Red Shield Appeal and the RSA Business Launch in Townsville as a must-attend event, to his endless campaigning for the recently opened residential drug and alcohol rehabilitation service, Graham has found opportunities to use his connections and considerable influence to help The Salvation Army service the people of North Queensland in new and innovative ways," said David.
Lieut-Colonel David Godkin presents Graham with his award.
Graham was the main driver behind the establishment of a youth drug and alcohol service in Townsville, which caters for children under the age of 18 who need residential and non-residential support. He has continued his involvement at the centre as a regular guest speaker, providing guidance and mentoring to young people.  
Graham was supported by his adult children, his grandchildren and other influential members of the community at the ceremony.
Mayor of Townsville, Councillor Jenny Hill, also honoured Graham during her speech, mentioning that Graham was the Townsville Citizen Of The Year in 2007.
Graham was chair of the RSA Committee for many years, a position now filled by his son Peter, and he still sits on the Army's State Advisory Council, influencing Army practice across Queensland.