Pour your art out for Jayne Wilson exhibition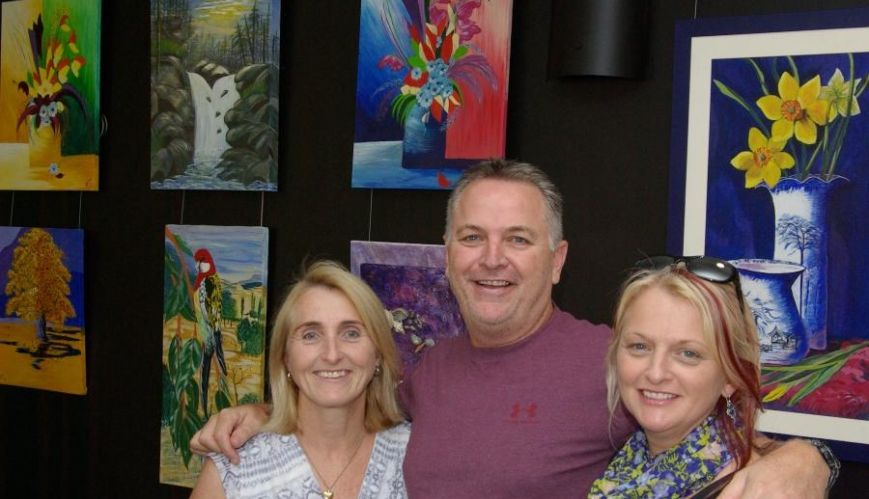 Pour your art out for Jayne Wilson exhibition
19 December 2019
Jayne's children (L-R) Kim McMullan, Paul Flemming and Lisa Luis at last year's Jayne Wilson Memorial Arts Competition and Exhibition in Wollongong, NSW.
By Dean Simpson
Entries are being accepted for the sixth annual Jayne Wilson Memorial Arts Competition and Exhibition, which honours the legacy of a woman who established the First Floor counselling program in Wollongong.
The exhibition will run from 23 January to 3 February at Wollongong Corps with entries closing on 6 January.
Jayne, who passed away on Christmas Day 2013, was instrumental in the development of a holistic and family-inclusive counselling and support program for those impacted by alcohol and other drug misuse, mental health issues, grief and loss and trauma.

Jayne left behind an inspiring legacy of helping people through dark times and for her creativity, being known to use artwork activities in the support and counselling groups she ran.
Jayne Wilson's service to the community is honoured by the annual art exhibition.

"This is our annual celebration of creativity, honouring Jayne's service to the community and her passion for family, recovery and hospitality," said Marilyn Dunn, the First Floor Program coordinator. "Arts have a central place in our programs, and we hope people who attend the exhibition are encouraged to participate, to explore their own creativity." 
The theme of the 2020 exhibition is 'Community'.
"Works must feature, include, reference or evoke the theme of community," Marilyn said. "This could include painting and drawing, sculpture, photography, musical composition, written expression, fabric art or mosaic, or other forms of art."
The exhibition often receives more than 100 entries from people of all ages, and there are prizes in different categories.
Among the awards on offer, the Wilson Family Awards are selected by Jayne's family members and are given to the artists whose work best represent Jayne's spirit and legacy.

"The focus is getting community participation. That's what Jayne wanted. Having a hospitable place where people can feel welcome," said Marilyn.

Go to the First Floor Program Facebook page for more information or call Marilyn Dunn on 42 291079 for an entry form or download Jayne_Wilson_2020_Guidelines