Anzac spirit thriving on the fire-ground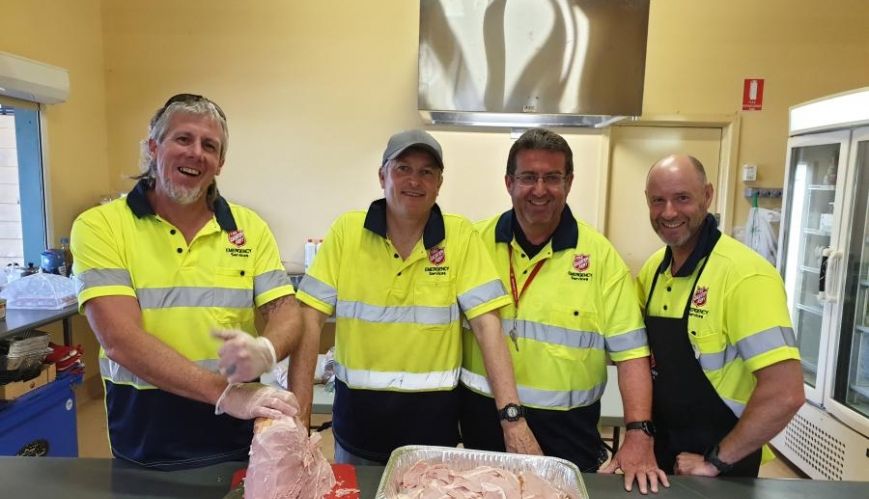 Anzac spirit thriving on the fire-ground
9 January 2020
New Zealand Salvos (from left) Captain Karl Foreman, Captain Steve Molen, Michael Douglas and Captain Robert Adams assist at the Moruya Evacuation Centre in NSW.
By Lauren Martin
When New Zealand Salvation Army officer Captain Gerry Walker was asked if he'd fly to Australia to assist with the ongoing bushfire emergency, he jumped at the chance to help.
"You've [Australian Salvos] helped us so many times, particularly with earthquakes," he said. "Christchurch earthquake in particular back in 2010-11, I remember serving alongside a whole lot of Aussie Salvos.
"It's that Anzac spirit. We're mates and, when the chips are down, you're there for us and we want to be there for you."
Gerry, Assistant Secretary for Mission in New Zealand, Fiji, Tonga and Samoa Territory, arrived in Australia on Monday with a team of seven other Salvation Army officers and employees. They were deployed to the NSW South Coast, where fires have destroyed hundreds of homes and businesses in many townships.
"The level of devastation on either side of the road as we drove down from Sydney on Monday, the magnitude, was hard to comprehend," he said from the Narooma Evacuation Centre. "Area-wise we can't compare in New Zealand. Also, you see clusters which aren't burned and you don't understand why that didn't happen. Some houses are okay and then many houses have been destroyed."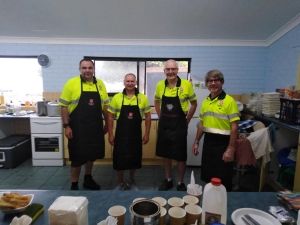 Captain Stu Lee (left), Steve King, Captain Gerry Walker and David Medland, all volunteers from New Zealand, have been stationed at the Narooma Evacuation Centre on the South Coast of NSW.
Gerry and the team are working with the local community to provide meals to people who have been displaced. They are expecting a big increase in numbers at the centre today [Thursday 9 January] and through the weekend due to forecast higher fire danger.
"We are preparing all the necessary food and resources available for when and if that happens. We are doing prep work – anticipating the worst but praying that doesn't happen."
Gerry said it had been a privilege to serve: "We have spoken to people here who have lost everything and, on the face of it, have remained resilient and want to help and are volunteering. It's very humbling."
Salvos wishing to volunteer with The Salvation Army Emergency Services should speak to their corps officer or send a private message to The Salvation Army Strategic Emergency and Disaster Management Australia Facebook page. Please note that during times of peak emergency activity, it may take some time for the SAES to be in touch.