Rural chaplaincy - being a presence with purpose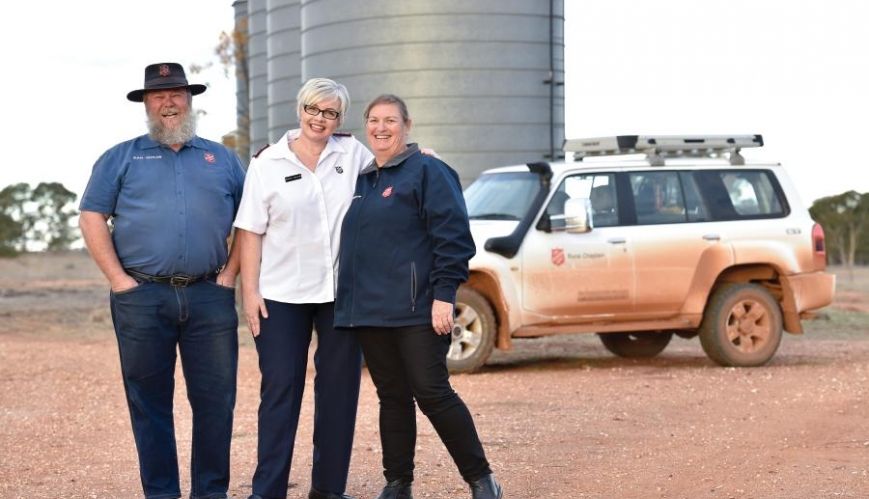 Rural chaplaincy - being a presence with purpose
14 January 2020
NSW/ACT Assistant Divisional Support Officer Major Sue Davies (centre) with rural chaplains Di and Rusty Lawson.
By Nicky Gangemi
Rural chaplains throughout Australia support many people through their ministry.
Chaplains are also invited to attend community events to conduct assessments for financial assistance. They spend hours driving to visit farmers on their properties, providing a listening ear and, in some instances, working alongside farmers doing day-to-day tasks, allowing for deeper relationships and a real level of practical assistance. They visit country towns and speak with community members about funding support, such as the Drought Community Support Initiative.
While the financial assistance available to those doing it tough is helpful, many farmers and community members speak of the emotional and spiritual support they have received from chaplains.
Rural chaplain Major David Pullen says the aim is "to be a presence with purpose". The ministry of the rural chaplains is effective because The Salvation Army has developed long-term relationships with those on the land.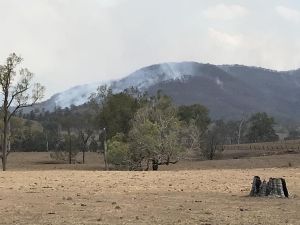 The willingness of chaplains to stick it out with people through varied circumstances means they are trusted and respected by the community. "Our ministry is a presence ministry, focused on pastoral care. We visit people, sit with them and talk to them. We speak with them about their life in general," says Major Robin Pullen, Rural Chaplain Team Leader.
"We can be a listening ear when many people don't really have someone to talk to. Even when people do have a good support network we are able to be there as someone outside of their network to talk about what is going on with them.
"We are able to offer financial support and even refer people to services like the Rural Financial Counsellors and the Rural Adversity Mental Health Program, who can help them with specific needs."
The support for farmers goes beyond face-to-face interactions. Many chaplains maintain relationships through phone calls and emails. One farmer responded to the work of the chaplains, saying, "I was very humbled by the prayer said for us; I felt blessed that we really mattered."
While chaplains often do their daily work in isolation, they are not alone in their mission.
Many corps support the chaplains:
• Dubbo Corps (NSW) has been partnering with rural chaplains through referrals and prayer support.
• Members of Bundamba Corps (Qld) travelled 534km west to Mitchell to distribute 50 hampers and also visit the local hospital and nursing home.
• Tamworth Corps (NSW) partnered with its local community for the 'R U Aware We Care' campaign, which raised awareness and resources that were distributed to those in need by rural chaplains and the corps.
• Grafton Corps (NSW) has been supporting chaplains by holding fundraisers, providing prayer ministry and collecting items to create care packages for farmers.
• Chaplains have received knitted blankets and hats from Tuggeranong Corps (ACT).
If you would like to help support the chaplains and those on the land they minister to, please continue praying for rain. Even if the drought were to break tomorrow, many farmers and local businesses would need five years to get back on their feet.
Support is needed for a long time to come.
The Federal Government last year announced an extension to its Drought Community Support Initiative, with $15 million earmarked for The Salvation Army to continue to support farmers and other affected individuals.
"The Salvation Army is in a well-established position to continue to support those who are drought-affected," says Secretary for Mission, Lieutenant-Colonel Lyn Edge. "The work being done is truly collaborative. The infrastructure of our Strategic Disaster and Emergency Response Team and Doorways Team supports the local corps and rural chaplains as they deliver face-to-face help."
At the conclusion of the first round of drought relief funds, the Mission Department's research team compiled a report that found The Salvation Army's involvement had a significant financial, social and spiritual impact on communities.
Those needing assistance can contact the Salvos at:
• 24/7 Assistance Line – 1300 551 030
• Online application – salvos.org.au/drought