Samuel baking a difference, one cookie at a time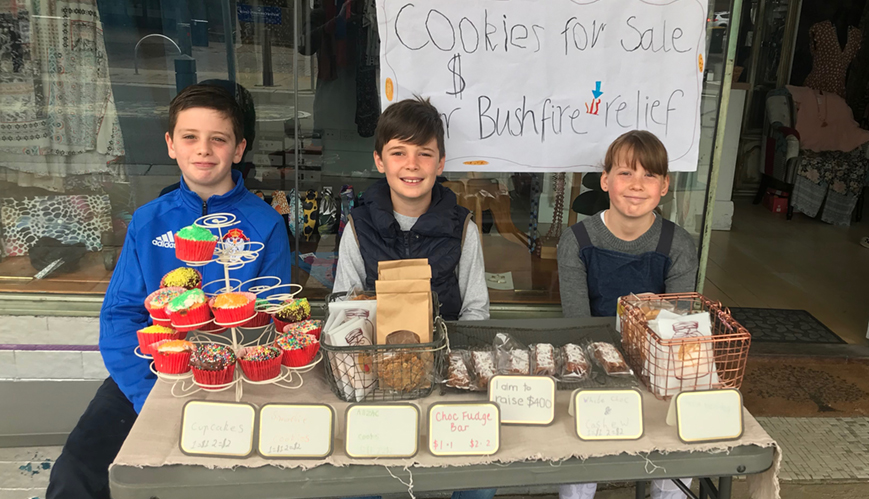 Samuel baking a difference, one cookie at a time
17 January 2020
Samuel Sayer (centre) with his friends Zach and Abby, who have delighted locals on the Mornington Peninsula with their homebaked goodies for bushfire relief.
By Jessica Morris
A regular kid can change the world – just ask nine-year-old Samuel Sayer from the Mornington Peninsula in Victoria.
Over the past two weeks, Samuel has baked hundreds of cookies to raise funds for The Salvation Army Disaster Appeal and has so far made $500.
"I think I had the idea at the dinner table one night. I really enjoyed doing it for the homeless [last year], and because of all the bushfires at the moment I had the idea [to do it again]," said Samuel.
The young entrepreneur is no stranger to using his mum's kitchen for fundraising purposes – last year he set up a stall and sold baked goods at Seaford Shopping Centre, raising $200 for the Salvos' work in homelessness prevention. This year, he was moved to make a better life for people affected by the bushfires.
"I don't want them to be affected by the fires anymore," he said. "I want them to still have a good life."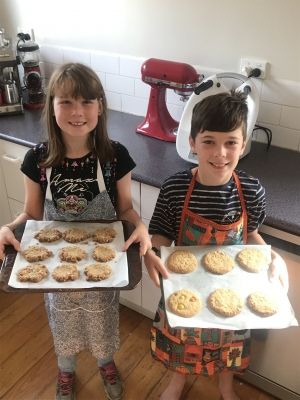 Samuel Sayer and his friend Abby with a batch of freshly made cookies.
Samuel and his mum, Kellie Jo, decided to donate to The Salvation Army because they knew the money would go where it was needed most. They also have a family connection with Mornington Salvation Army.
"The Salvos have been around forever and have been at the forefront of any point of assistance in the community in terms of being out there and living what they talk about," said Kellie Jo. "It's such a community focus as a whole, and that's why we went through them."
Over the past few weeks, the Mornington Peninsula has been blanketed in smoke haze from the East Gippsland fires, which has given Samuel extra incentive in his fundraising endeavours.
"We've got a caravan and we travel, so we've been to small communities and see how they operate," Kellie Jo said. "Samuel's had a little bit of an understanding of how such a small community could be affected by something so devastating. He's very compassionate and sensitive and has an understanding of people."
Samuel's compassion has inspired his friends as well. Not only have they helped with baking and selling cookies, but some have also set up their own stall to raise money for bushfire relief.
"I have a friend who made cupcakes and brownies for when we did [our] stall. He brought an extra money box because mine got really full!" said Samuel. "Some people didn't even buy a cookie, they just donated. I'm going to keep going. And I am doing another stall this Saturday."
Last week, Samuel exceeded his earnings goal by $100, and he shows no sign of putting away his apron. He says cookies will keep rolling out of the oven as long as it takes to make a difference. Something he has undoubtedly already done by the trayful.