Dual focus for Salvos in bushfire relief effort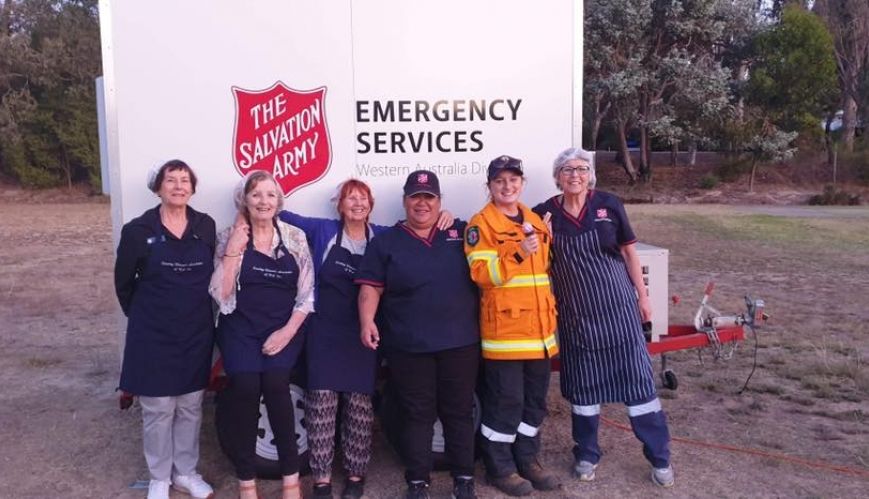 Dual focus for Salvos in bushfire relief effort
24 January 2020
The Western Australia Salvation Army Emergency Services partnered with the Country Womens Association to feed fire-fighters at Nannup, south of Perth recently.
By Lauren Martin
The Salvation Army remains active in its emergency response, supporting emergency personnel fighting a number of fires still burning out of control in Australia, while also well into its long-term recovery response.
Speaking today (24 January) to Salvation Army officers and employees via a livestream video feed, Assistant Chief Secretary, Lieut-Colonel Winsome Merrett, provided an operational and fundraising update in relation to the Army's bushfire response.
She said The Salvation Army has committed to spend or allocate all money raised from its Disaster Appeal by June this year, to the immediate and longer-term recovery of those affected in the 2019-2020 bushfires.
To date, the Army has distributed 80 per cent ($8.4 million) of the $11 million in funds that has been received. Over $43 million has been pledged to The Salvation Army since the launch of its Disaster Appeal on 9 November.
The Salvation Army is still working in emergency response, with Salvation Army Emergency Services (SAES) teams active on Kangaroo Island and at new evacuation centres that were opened yesterday (23 January) due to increased bushfire activity on the South Coast of New South Wales and in Canberra. A team in Western Australia has also been active, feeding firefighters and other emergency responders at Nannup, south of Perth.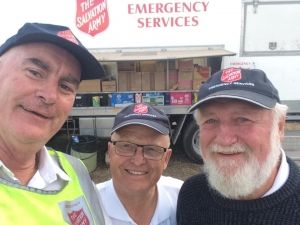 The Salvation Army Emergency Services remain active at Kangaroo Island in South Australia. 
Earlier this week, after seven weeks serving firefighters and emergency services personnel at the Bulga staging area in the Hunter Valley, the SAES crew served its last meal.
"It has been a pleasure serving meals to all emergency services and the Australian Defence Force," read a post on The Salvation Army Strategic Emergency and Disaster Management Australia Facebook page. "From The Salvation Army Emergency and Disaster Management, staging coordinators and SAES volunteers, thank you for being part of our extended family." 
Recovery operations are also well underway in five states. In Queensland, Salvation Army personnel are continuing to support those impacted by blazes in late 2019. Those fires also impacted northern NSW, where Lieut-Colonel Merrett said trauma assistance was being provided, as well as financial support.
"Counselling with psychological care – particularly on the (NSW) North Coast where the actual emergency may be over, but they're really needing to get into recovery mode and suffering the trauma of the loss that they've experienced," said Lieut-Colonel Merrett.
Salvation Army recovery workers and Moneycare financial counsellors are in place in recovery centres that have been set up on the NSW South Coast, and a Salvation Army rural chaplain is working in the affected areas further away from the main centres, "where there is not a great presence necessarily yet with recovery," Lieut-Colonel Merrett said.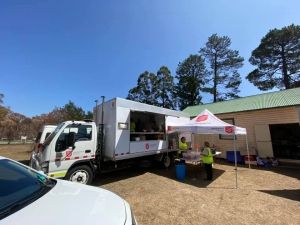 The Salvation Army serves lunch at a disaster assistance point in Balmoral Village in the NSW Southern Highlands.
Recovery work is also well underway in the Blue Mountains, west of Sydney, and in the Southern Highlands of NSW, where recovery workers set up a lunch stand at a disaster assistance point in Balmoral Village on Wednesday.
Salvation Army Doorways personnel are working alongside SAES crews on Kangaroo Island, which remains in both the emergency response and initial recovery stage. In Western Australia, recovery needs are being met on a case-by-case basis.
"I want to say a sincere thanks to The Salvation Army's emergency services team under the leadership of Major Topher Holland," said Lieut-Colonel Merrett.
"They have done an amazing job. They've been on the ground really consistently since September and they continue to deliver what they need to deliver on the ground. It's a long time to be involved in such intensive ministry and service.
"I also want to say thank you to the corps officers who've been involved as well, many for long periods of time, and to the teams of volunteers – they've done an amazing job. We really stand on their shoulders and say: 'thanks for what you've done'."