Kids learn power of community during fundraiser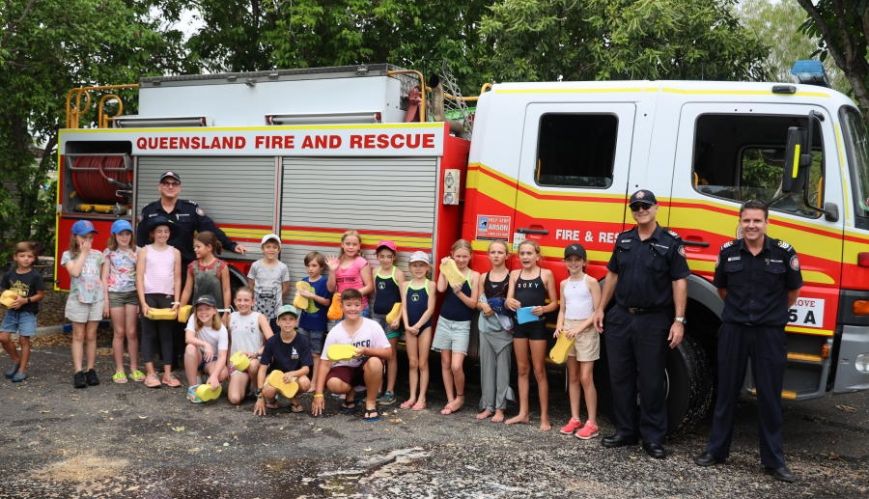 Kids learn power of community during fundraiser
29 January 2020
A local Fire and Rescue Service crew arrived to lend a hand at a Brisbane fundraiser for The Salvation Army Bushfire Disaster Appeal.
By Lauren Martin
A group of kids from Brisbane have raised more than $3000 for The Salvation Army Bushfire Disaster Appeal during an event that taught them about the power of community.
When 10-year-old Josie saw the devastation caused by bushfires around Australia on television, she, like most other Australians, felt incredible compassion for those affected. "I just saw all the horrible things that were happening, so I asked my mum, 'What could I do?'"
Josie (in her Ithaca Sharx swim club hat) with her sister Maya and cousins Emma and Jemima, who helped organise a fundraiser for The Salvation Army Disaster Appeal to help people affected by the recent bushfires.
That question sparked a brainstorming session between Josie and her cousins and resulted in a hugely successful fundraiser.
"We had a sausage sizzle, we sold soft drinks and water and poppers, and we had a cake stall and then lots of kids came and washed all the cars and other people came," said Josie. "It was a big community effort."
Josie's mother, Fiona, said she and the other parents were impressed by the kids' passion and helped them find a charity that they believed would be able to help people directly affected by the bushfire disaster.
"When they were doing the brainstorming session with the cousins they had a chat about where to donate the money ... and they wanted to support a front-line charity and we knew that the Salvos do a lot of great work."
The kids approached local businesses to ask for donated goods to assist with their plan. "They wrote out their little speech of what they were going to say," said Fiona, with Josie adding: "We went in and we were so nervous but straight away they were like, 'Yes!'"
With help from Josie's aunt, Kate Quinn, who used her community networks through the Ithaca Sharx Swimming Club and Ithaca Creek State School in Bardon (where she volunteers much of her time), the kids and their families held the fundraiser on 11 January.
To their surprise, their local Fire and Rescue Service arrived with a fire truck and a few firemen to help wash cars.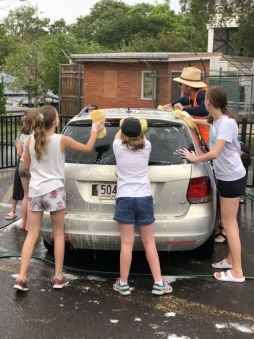 A group of kids in Brisbane came up with the idea of a car-wash fundraiser to assist people affected by the recent bushfires, raising more than $3000.
"We were all having fun there washing the cars," said Josie. "Some of us were standing down on the street with posters and flags yelling out for people to come and get their car washed and we had this big blue bucket and people were donating masses of money on top of the car wash and the other stuff."
When they counted the money that evening and realised they had raised more than $3000, the kids (and their parents) were elated.
And, according to Josie, the key to helping people is found in "community". "It felt really amazing, like, I felt good that we had raised that much money for the people. It's pretty hard but it's worth it. You just need a lot of help and a lot of support and then it happens."
The money will be donated to The Salvation Army at a special presentation at Ithaca Creek State School on 7 February.