Flourishing on the front line of crisis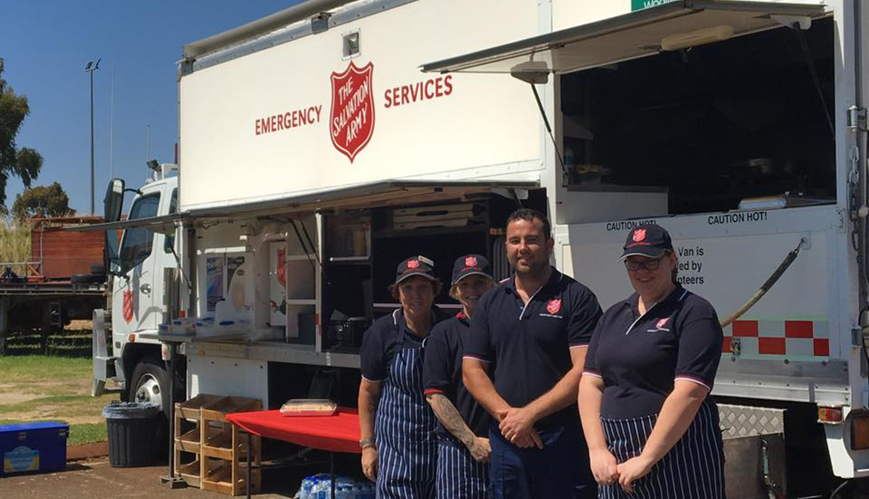 Flourishing on the front line of crisis
4 February 2020
Ben Day and three of his faithful SAES volunteers in front of one of the catering vans used throughout Western Australia.
By Jessica Morris
Everyday Salvos have been on the front lines of the bushfire crisis around Australia this summer, offering support to emergency services, the displaced and the distraught.
One of these Salvos is Ben Day, State Director of Salvation Army Emergency Services (SAES) in Western Australia, who has just celebrated 10 years with the SAES.
"I have witnessed lots of disaster and tragedy over the years and I have some events that will stick with me forever," he said.
"I certainly value my friends and family more because tragedy can strike at any time and your world can be changed very quickly. Being a younger person working with lots of older and wiser people, I have grown up fast."
Ben first encountered the Salvos at age nine. After his parents' separation, he moved into the same street as the local Salvation Army in Swan View, an eastern suburb of Perth. He came to faith and, over the next few years, his obvious leadership skills were given a chance to flourish – first as a youth leader at the church and then in the community when he enrolled as a volunteer firefighter.
At 23, these two passions in life converged when he secured a job with the SAES that had been advertised in the church newsletter.
"My job has grown and developed over the years. My role now involves coordinating a team of staff and volunteers to respond in a practical way by providing meals and refreshments around the clock during major incidents or disasters," Ben said.
"There are always challenges, and when you think you are ready for anything, something bigger comes along. I have seen bushfire activity increase heavily over the years and the response now is enormous."
Ben and his team have been faced with multiple crises during the past decade – from fires in places like the Goldfields and Eucla, to multiple scenarios involving missing persons. It's fair to say the work takes a toll, but Ben knows it's worth it every time he sees the relief on people's faces when they recognise The Salvation Army shield.
"[In the current crisis] I think we provide a huge level of comfort for our firefighters," he said. "When we arrive on-site and they see our trucks, they know they are going to be looked after, be it a cup of tea, meals or snacks or simply a listening ear. We give the guys and girls on the ground reassurance that they have the support to keep going to bring the fires under control," he said.
"One incident that really sticks out for me was back in 2014 when a two-year-old boy went missing in the [Perth] suburb of Landsdale. It was a truly devastating outcome [when his body was found in a lake by police divers]. Thousands of people sat around the lake that day and it is an incident that I remember as one of the most significant in my time."
Whether he is providing a meal or a shoulder to cry on for evacuees, firefighters or other personnel caught up in a crisis, Ben's job is made possible by the generosity of volunteers he proudly works alongside.
"I have a great bunch of volunteers ... many of them I consider as friends. We are a big family and we all work exceptionally well together," he said.
The love is obviously mutual. To celebrate Ben's 10th anniversary with the SAES, the team thanked their 'Big Kahuna' on Facebook with the best compliment an Everyday Salvo could receive: "From the humble beginnings, you have achieved so much. You are the reason Salvation Army Emergency Services WA are what we are today."